The reality television show 'Life Below Zero' has reached the global audience through its cast's succumbing life under extreme weather conditions. And if you are a regular viewer of the program, how can you be unaware of the central cast, Chip Hailstone and his wife, Agnes Hailstone? But despite the immense fame, Chip faced many allegations and arrest warrant under his name.
Chip Hailstone's Crime: What Did He Do?
Edward "Chip" Hailstone of BBC Documentary series, 'Life Below Zero' was sentenced to 15 months in jail in Anchorage Correctional Complex on July 27, 2012. The arrest was a result of two crimes that he was charged and convicted in 2012.
Chip was charged and convicted twice of perjury and twice of making false statements to police officers in the Second Judicial Court in Kotzebue. In 2011, the hunter claimed that a state trooper had physically assaulted his eldest daughter, Tingmak, who was just 17 years of age.
He also added that the state trooper placed his daughter into a submissive hold when she stretched her arm out. Similarly, he claimed that someone pointed a rifle at his daughter after an altercation which also involved his son Jonathan.
The Rise To Fame
'Life Below Zero' is undoubtedly incomplete without Chip Hailstone. Although his wife, Agnes Hailstone was included in the ninth season of the show in 2017, it is unknown that Chip will ever return to the show or not.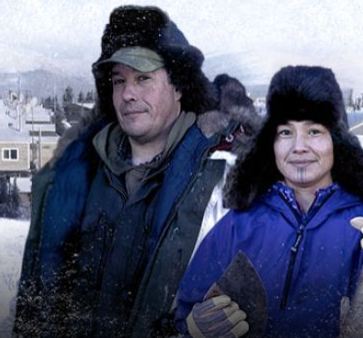 The Hailstone couple photographed back in 2012 (Photo: nationalgeographic.com)
The primary characters of the show include Sue Aikens, Glenn Villeneuve, Andy Bassich, Erik Salitan, James Franzo and the couple themselves. All the people involved in the show struggle as they hunt and depend on themselves to survive the weather, storms and man-eating beasts.
Personal Life: Family of Seven Children!
The extreme climatic conditions of Alaska will surely make the readers imagine the survival of one big family with seven children. For the past 20 years, Chip and his family members are hunting, fishing and gathering raw materials for a living. They use an antique rifle, a 12-gauge, and even bow and arrow for hunting.
Chip married Agnes, who already was involved in a marital life with a mystery man with a family name Carter. The wiki source of  Agnes doesn't reveal much about her first husband, but the pair had a son together. However, Chip and Agnes are now the parents of seven children which include Iriqtaq, Tinmiaq, Mary, Qutan, Carline, Jonathan, and Douglas.
How Much Is Chip's Net Worth?
Chip and Agnes Hailstone are trappers, hunters and reality stars who together managed to earn a net worth estimated to be around $100,000. Both the couple has the expertise to live and survive despite the weather condition. They gained immense fame from the BBC Documentary that also adds a great fortune to their bank balance.
Chip Hailstone's Short Bio
Chip Hailstone is around 48 years of age, born in 1969 in Kalispell, Montana. The Hunter grew up hunting and fishing in his hometown till he moved to Alaska three decades ago where he was thrilled in coping the living habitat of Alaska.