Nick Van Exel is a former NBA player of Los Angeles Lakers and Mavericks who was named NBA All-Star in 1998. The prolific basketball player was inducted into the James P. Kelly Sr. Athletic Hall of Fame and later continued his career as a coach, being attached to the basketball. 
Exel is also recognized for his son's sixty years of a prison sentence charged for shooting death in 2013.
Married Life; Wife
The former Los Angeles Lakers player has remained taciturn regarding his love life. Neither he has given signs of his romance that he carried out throughout the years nor has he spoken about his love affair in Interviews.
However, it is a known fact that he has a son named Nickey Maxwell Van Exel III from his alleged relationship. However, the identity of the biological mother of his son lies beyond the mystery. As per the reports, his son lived with his mother in Texas during his childhood. But, whether Nickey's mother was his wife or girlfriend is not disclosed.
As of now, Nick relishes a single life with no traces of his love interests and possible wife.
You May Like This: Teddi Jo Mellencamp's Husband Edwin Arroyave Wiki: Age, Nationality, Ethnicity, Job, Net Worth
Son Sentenced To Sixty Years Of Prison
The son of Nick Van Exel was sentenced to serve sixty years in jail for shooting case in February 2013. His son, Nickey, who shot his best friend, Bradley with a 12-gauge shotgun as Bradley was about to supply the robbery stories that they did together in Houston back in 2010. Bradley was charged with robbery and had pleaded guilty. He was expected to share the crime incidents to the Harris County authorities. However, he was killed ten days before hearing.
The son of former Los Angeles Lakers player will be eligible for parole in 30 years.
Wiki, Family & Height
Nick Van Exel was born on 27 November 1971 in Wisconsin, the United States. The body measurements of the former professional basketball player include his height of six feet and one inch tall and the weight of 195 lbs. 
Nick is the son of his parents; Nick Van Exel Sr and Joyce. But, his parents are no more together. After their divorce, Joyce raised him as a single mother in Kenosha, Wisconsin. Sadly, she died in 2006, the same year that Nick retired from the NBA.
Career And Net Worth
As a former basketball player and current coach, Nick Van Exel has summoned the estimated net worth of $40 million. Throughout his career, he accumulated a total salary of $74,408,867. 
He started his basketball career since his academic years and played his high school career from St. Joseph High School. After playing his first career from Trinity Valley Community College, he joined the University of Cincinnati and played under coach Bob Huggins.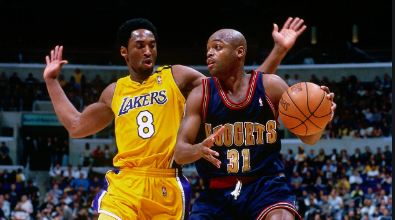 Nick Van Exel from Denver Nuggets (Photo: YouTube) 
Later, Los Angeles Lakers selected him as 37th overall pick in 1993 NBA Draft. He played from San Antonio Spurs, Portland Trail Blazers, Golden State Warriors, Dallas Mavericks, Denver Nuggets, and Los Angeles Lakers in his thirteen years of NBA career.
However, Nick was suspended for seven games in 1996 and paid fine of $187,000.
Also Read: Justin Cornwell Wife, Girlfriend, Net Worth, Family
After the long jouney to Basketball, he retired on 24 March 2006.
After three years of his retirement, Texas Southern hired him as an assistant coach on 15 October 2009. Later, in September 2010, he started serving as Atlanta Hawks assistant coach. Also, his coaching career trails his role in Milwaukee Bucks. After serving as Texas Legends (D-League) assistant coach, he got promoted to Texas Legends head coach on 8 July 2015.