The profit turnover of The Boeing Company often benefits its employees and Dennis Muilenburg's 30 years plus association in the firm inflates his paychecks every other year.
American businessman Dennis Muilenburg is acknowledged as the chairman and chief executive officer of The Boeing Company. He also graced the chairman of the board of directors of The Boeing Company since March 2016.
How Much Salary Does Dennis Muilenburg Earn?
The 54-year-old businessman summons the significant portion of his salary from the American multinational corporation named The Boeing Company. He is the CEO of the aircraft manufacturer from July 2015.
Don't Miss: GamerGirl Wiki: Age, Real Name, Height, Parents, Siblings, Boyfriend, Dating
According to the CNBC, Dennis was reportedly paid $15.1 million as total compensation. His base salary was $1.6 million including $5.2 million of Stock awards, Incentive plan compensation of $6.4 million. The full pay also included his pension earnings of $956,711 and other compensation of $837,148.
A year later, in 2017, his salary package increased to 22% that made him receive total compensation of $18.5 million.
Before taking the role of the CEO, Dennis served the firm as the vice chairman and chief operating officer. Dennis' association with the Boeing spans over three decades since his arrival back in 1985.
With the increasing figures of his net worth, Dennis and his wife, Rebecca Muilenburg paid a colossal sum of $2.66 million for a 48th-floor condominium unit in a 62-story tower on the New East Side.
Read Also: Francia Raisa Boyfriend, Husband, Parents, Net Worth
Facilitates Professorship For Engineers With Wife
Dennis is living a blissful life along with his wife, Rebecca and their two children, a son and a daughter. The couple, who choose to remain tight-lipped about their matrimony, sponsor an endowed professorship in Iowa State's Department of Aerospace Engineering.
The interim chair of the Department, Dr. Christina Bloebaum expressed her gratitude for getting connected with Dennis and his wife through their endowed professorship.
Talking about their children, Dennis loves to go hiking with his son and his 22 April 2018 tweet suggests that both the father-duo loves Granite Mountain, East of Seattle to travel.
Back in 2001, during the 9/11 terror attack, Dennis was assigned to aid arrangements of Boeing's Air Traffic Management firm in Washington DC. He was the vice-president for programmes and engineering, and it was a short period since he relocated from Seattle, driving 4345 kilometers in a truck to meet his wife and young son.
Dennis also encouraged his 13-year-old daughter to pursue a STEM (Science, Technology, Engineering, and Mathematics) education.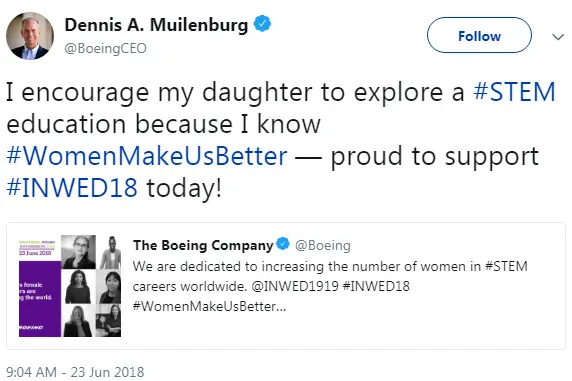 Dennis Muilenburg's Twitter post about his daughter on 23 June 2018 (Photo: Twitter)
He wrote an empowering tweet for his daughter to explore STEM education since he is fully aware that a woman should be treated equally with all the educational needs.
Family Life: Sought Inspiration From Father
Dennis was very close to his dad who was a lifelong Iowa farmer. He is thankful for his dad for teaching him the value of hard work and integrity. He thanked his father in an admirable Father's Day Tweet on 17 June 2018.
He also remembered his father on the 3rd day of the Engineers Week on 21 February 2018. He tweeted stating that hard work, integrity, how you treat others, and how you respect your teammates are the things that matter. The very next day, the 4th day of the Engineers Week, Dennis sought inspiration from his dad and posted another Tweet stating how he became a better leader.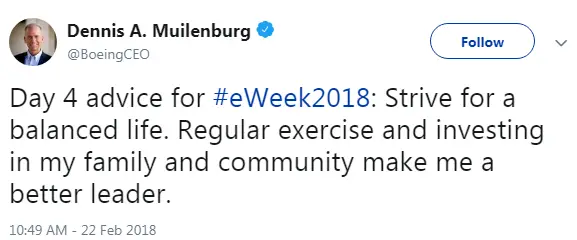 Dennis Muilenburg's tweet about his secret that made him a better leader (Photo: Twitter)
He also added that regular exercise and investing in his family and community makes him a better leader.
Know About: Guy Adami CNBC, Wife, Net Worth, Height, Age
Short Bio
Dennis A. Muilenburg, age 54, was born in the year 1964 in Orange City, Iowa, as per wiki.
The head of The Boeing Company obtained his bachelor's degree in Aerospace Engineering from Iowa State University. After that, he advanced to the University of Washington to complete his Master's degree in Aeronautics and Astronautics.