Gina Rinehart is a famous Australian wealthiest citizen who also happens to be an Australian mining magnate. She is best known for being the chairman of her father's privately owned mineral exploration and extraction company. 
Gina is exceptionally talented and hardworking women who took over more than half of her father's business after his death, and as of now she has been ranked 68 in Billionaires 2018 and ranked 1 in Australia's 50 Richest 2017. 
What Is Gina's Net Worth?
Gina Rinehart summons her net worth of $17.3 Billion by working as an Australian mining heiress.
Gina was fortunate from her childhood as she was the only child of Lang Hancock and inherited her father's mineral exploration and extraction company. Gina completed her school education from St Hilda's Anglican School for Girls in Perth. Later, she graduated in Economics from the University of Sydney. Soon after completion of her graduation, she joined her father's business and helped him come out of bankruptcy and rebuilt the market again and made the business most successful private companies in Australia's history. 
In 1992, Gina took a 76.6% share in the company after the death of her father and also became the chairman of the company. Her takeover was just the start and even at that time she had the net value of Australian $75 million.
Talking about Gina's wealth ranking, she has got featured inside top 10 since 2006 in AFR Rich 200. She was ranked no.1 for straight six years from 2011 to 2015. Similarly as per Forbes Australia's 40 Richest Gina was listed 14th back in 2007 and since then she has always featured inside top 10, ranking no.1 for five years from 2011 to 2015.
Don't Miss: Jon Taffer Wiki, Wife, Daughter, Net Worth | How Much is His Worth?
Gina's Family And Her Tremendous Weight Loss! 
Australias most affluent women Gina Rinehart is not just married once but twice.
Gina first got married to Greg Hayward back in 1973 at the age of only 19. The couple also gave birth to two children John Hayward-Hancock (1976) and Bianca Hope Rinehart (1979). Later after eight of their marriage, the couple decided to go their separate ways and got divorced in 1981. 
Two years after getting divorced from her first husband Gina got married again with Frank Rinehart in 1983. They also got blessed with two kids Hope Rinehart-Welker and Ginia Rinehart.
Unfortunately, their relationship had a sad ending as Frank died of a heart attack in 1990. 
Gina then hit the newspaper headlines after it got rumored she had a new dating partner in the name of Tony Bellia, an Italian socialite. Tony is known for being a ladies man who is very charming and handsome.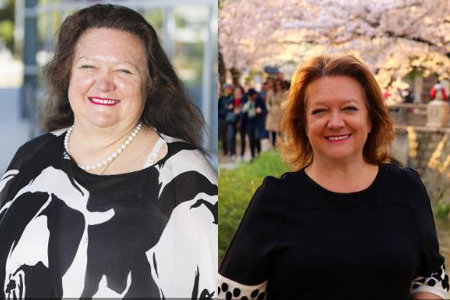 Gina Rinehart before and after her weight loss (Photo Collage: wikinetworth.com)
Talking about Gina now she has transformed surprisingly after her weight loss. Gina has lost forty percent of her body weight and has been losing weight since 2014. 
As of now, all of her four children, two sons, and two daughters have joined their mother, Gina, among the world's wealthiest people (as per Forbes) and the entire family is living in peace enjoying their lavish and luxurious life.
You Might Also Like: John Miller Wiki, Age, Net Worth, Dating, Jennifer Garner
Short Bio
Gina Rinehart, age 64, was born on 9 February 1954 in Perth, Western Australia. As per wiki, she holds Australian nationality and belongs to white ethnicity. 
She is the daughter of Lang Hancock and Hope Margaret Nicholas. She and her stepmother, Rose Porteous has shared a cold bond ever since the demise of her father.
She is very talented and hard working woman. Gina got ranked 45 in Power Women 2017 and also was listed 66 in Powerful People 2014.