Harold Hamm is a businessman and an entrepreneur who has founded the Continential Resource, Inc., Domestic Energy Producers Alliance, and Save Domestic Oil, Inc.
Before being the CEO at Continental Resources, he has remained the head of ten different companies, including Save Domestic Oil, Inc, Hiland Partners LP, President Of National Stripper Well Association, and Director at Oklahoma Medical Research Foundation.
As of now, he serves as the Co-Chairman for Council For A Secure America and a Chairman & CEO at Continental Resource, also a chairman of Hiland Partners GP LLC and at Hiland Partners GP Holidings LLC. Alongside his distinguished works, he also does a social job and donates money to several social organizations.
Harold Hamm's Bio And Family
Harold was born on 11 December 1945 in Oklahoma as a 13th child to sharecroppers Jane Sparks and Leland Hamm. His sister, Fannie Mary Elizabeth (Hamm) Holder, died on 29 August 2019 in Lexington at the age of 94. Also, his older brother Marvin Hamm (born on 18 August 1940), died on 9 December 2008 in Lexington.
Besides, his other siblings are Carolyn Skinner, Annis Hayles, Frona Idlett, Joel Hamm, Leland Alfred Hamm, Clara Harper, Jimmie Hamm, Lonnie Hamm, and Lois Penrod
Interesting: Who Is Myles Garrett Girlfriend? His Dating Status & Net Worth Details
Holding only a high school diploma, Herold began his career at the age of 16. He worked as a gas station employee in Oklahoma. He later worked at a trucking company until 1967, the year he founded Continental Resources, an independent oil producer headquartered in Oklahoma City.
Harold's Married Life
Harold got married to Sue Ann in April 1988 and shares two adult daughters as of now. The pair had first met in the legal department where Sue Ann used to work and had flourished a love link, which later turned into estranged marriage.
However, Sue Ann wasn't the first wife of the CEO of America's fastest-growing oil company, Continental Resource's founder, Harold Hamm. He was previously married to Judith Ann, with whom he shares three other children. He had divorced Judith Ann in 1987.
Divorced Settlements
Although Harold and Sue Ann had tied the knot with promises to stay beside each other until eternity, their wedding life did not last long. After a long 26 years of marital experience with many ups and downs in between and long tangled divorce processings, the duo finally divorced in 2014. However, they had split and started living separately long ahead in 2005.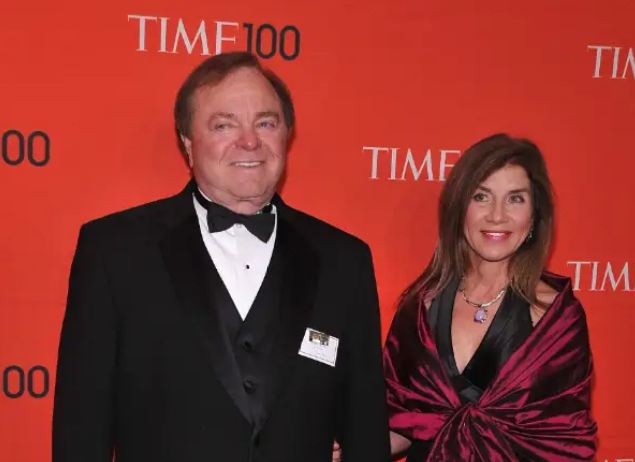 Harold and his estranged wife, Sue Ann. (Photo: Businessinsider.com)
Sue Ann had first filed for the divorce on 19 May 2012 in Oklahoma court; however, the case got sealed. Later in 2013, she again alleged Harold for being unfaithful and having a secret girlfriend, which prompted her to file for her divorce one more time. Unlike last time, this time, she had a strong reason for filing a divorce; she had been surveying Harold since 2007 through electron surveillance.
According to Legal analysts, the divorce could lead to a record-breaking financial settlement that could exceed the most expensive divorce worth $1.7 billion of News Corp founder Rupert Murdoch and his ex-wife Anna in 1999. However, $1.7 billion seemed little in case of business tycoon Harold as he was suspected of giving his estranged wife the 68% in Continental that worths $11.2 billion.
With her 68% in Continental, the divorce of Harold and Sue Ann would have been the most expensive divorce; however, Harold did not proceed with the most expensive divorce idea. He only agreed to pay $995.5 million to his wife of 26 years, even though she, as a lawyer and economist, has had helped her husband's company to thrive.
Following the disappointing property, she first had rejected the check. But as Harold didn't add any further payment, she later changed her mind and accepted it.
Don't Miss: What Is Arielle Charnas Age? Net Worth, Husband, Children
His Children
Harold shares two adult daughters: Jane and Hillary, from his second wife, Sue Ann. Amid their divorce, Jane worked for the Republican Party of LA Country while his second daughter, Hilary, was attending Dartmouth College. Meanwhile, the divorce was making hot headlines, his daughter Jane tied the knot with Thomas Lerum in the middle of her parents' divorce. 
His son from the first wife, Tom Hamm serves as a president in the oil and gas industry and has earned 25 years of experience in his career. Also, he owned and operated service companies in the petroleum industry. 
Harold Hamm's Net Worth
Despite paying over $1 billion to Sue Ann, Harold is still listed as one of the richest men in the USA and the wealthiest person in Oklahoma with his net worth of $17 billion. He has garnered his net worth as a key player in Hiland Partners and Hiland Holdings as well as the Oil-exploration Company Continental Resources.
He owned 62% of Hiland Partners, which he later sold to Kinder Morgan in 2015 and gathered $1.2 billion. Apart from Hiland Partners, he has another company, oil and gas producer Continental Resource where Harold owns 76%. Also, he sold over 180 million shares of Continental to the Harold Hamm Family LLC in 2016.
Learn This: Chris Larangeira Wiki, Job- All About Angelina Pivarnick's Husband
Additionally, Harold is also fortunate to hold an acclaimed record of getting $2 billion more abundant in a day after an aerial attack on Saudi Arabia's Abqaiq oil complex crippled production. The incident led the global oil price surged, drastically knocking out 5% of the world's supply. 
Harold is not only a business tycoon but also a generous man. He often donates his earnings to social organizations. As he also has type-2 diabetes, he donated $34 million to the Harold Hamm Diabetes Center at the University of Oklahoma.