Technology has given birth to many talents and has become a vast and independent platform to many self-seeking humans. While it has showered many stars, the Fashion and style blogger, Arielle Noa Charnas, has shined the brightest amongst all. 
Known as SomethingNavy, Arielle is a fashion blogger, who turned into a model and influencer after her solo, hard work (blogging) became nationally successful. Her success not only attracted many souls but also grabbed the opportunity to get featured in magazines like Glamour, BRIDES, Cosmopolitan.
What more? She also got to collaborate with reputed brands like Marc Jacobs and Kate Spade.
What Is Arielle Charnas Age? Her Family
Daughter of Oded Nachmani and Carrie, Arielle, was born on 13 July 1987 in New York City, the USA. Her father, Oded Nachmani, was into the fashion business for ages; as a result, she grew up in the same air of fashion and clothes identification. However, Arielle was not only the one who got influenced by her father's profession but her two siblings sisters as well.
Her sisters, Danielle Nachmani, is a fashion stylist, and Michaela Podolsky is a makeup artist. Although Michaela shares a different profession, she doesn't back down when it comes to fashion and style. 
Arielle, who was online bullied for her weight once, now has learned how to flaunt the body she is in and styles her appearance in accordance. 
Arielle's Husband And Wedding
Arielle is happily married to Brandon Charnas, who holds Doctor in Law from Yeshiva College.
Both the pair shares the same obsession with Halloween and Horror movies. So, it is of no surprise to know that Brandon, Arielle's long term boyfriend had proposed her on Halloween with an Emerald cut diamond engagement ring dressed up as a Zombie bride to which Arielle's answer was a big 'yes.' The engagement took place on 31 October 2013 and later married a year apart on 18 October 2014.  
Unlike their scarious engagement, their wedding was all classic with the white scheme, deep plum, and gorgeous Miami venue. Arielle was clad in a perfect combination of traditional and modern custom-designed glowing gown with a complete beaded belt at the waist and draped embellished sleeves.
The white-and-plum Casablanca calla lilies bouquet added more beauty while her husband was clas in a black tuxedo and a ruby ring cut in an oval-shaped to gift his beloved wife.
Learn About: Aaron Pedersen Wife, Partner, Family
Children
Currently, Arielle and her husband, Brandon is living the best part of their lives, sharing two beautiful precious daughters, Ruby Lou and Esme Rae, and watching them grow. Ruby first stepped into the world on 10 March 2016 and her younger sister Esmee in 2018.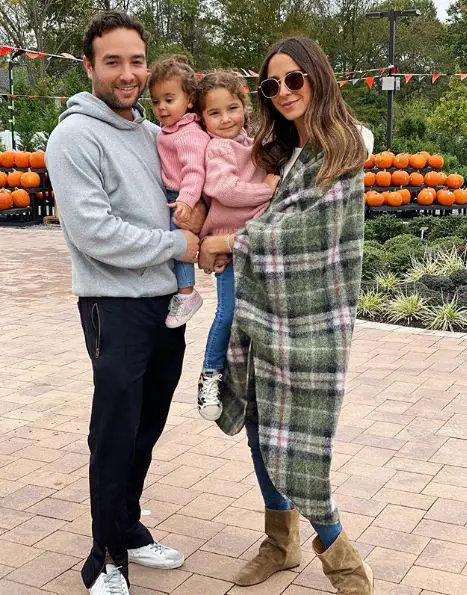 Arielle Noa Charnas and her husband Brandon Charnas with their daughters, Esmee, and Ruby at Hick Nurseries on 12 October 2019. (Photo: Instagram)
The two toddlers, although born and raised by the same parents, share different characteristics. While Esme hardly faces cameras on the other side, Ruby never gets bothered by the camera and keeps posing for photos. 
Career Growth
Arelle was in fashion and on Instagram since it started in 2010. But, before that, Arielle worked as a salesgirl at the Theory store in Meatpacking District for almost two years.
Do Not Miss: Rebekah Vardy Wiki, Children, Husband, More About Jamie Vardy's Wife
Although she had started her blog SomethingNavy in early 2009, her fashion and style were noticed after her official Instagram was launched. She would post her pictures and would gain 100,000 followers every month. Karen Rabinovitz, the co-founder of the Digital Brand Architects agency, was one of her followers. 
After Rabinovitz approached her, she started photoshoots to snap behind the scenes images to bring her online content to the next level. The shoots brought a fortune towards Arelle, and she grew her blog SomethingNavy into an actual business with a clothing line. 
Net Worth
The founder of the brand SomethingNavy, Arelle launched her collection in September 2018 and made more than $4 million in sales within less than 24 hours, reported by Business of Fashion. Her elevated basics collections that ranged from $19 to $349 got sold in just one hour, which is a huge success in comparison to her last year's sales with nordstrom.com, which garnered her 1 million in less than 24 hours.
As of 2019, Arelle is set to expand her business SomethingNavy into an independent company. She will also continue to bank on the platform to connect with consumers. No doubt, the expended business will further garner her a great fortune with bagful money. 
Read More: Aidan Davis [BGT] Wiki, Age, Who Is He Dating Now? Girlfriend Info
Following her peak height business, she has become successful in buying an apartment at the Flatiron-neighbourhood in 2017. Arelle, her husband, and their two daughters had moved to the residence of nearly 2900 sq ft that has four-bedroom and extremely high ceilings.