Jamie Dimon is one of the billionaire business executives of America. Prominently, he is renowned as the CEO of the most significant four American banks, JPMorgan Chase.
Interestingly, he was included in Time magazine lists of the world's 100 most influential people. Let's figure out the Billionaire, Jamie Dimon's personal life in detail!
Family Background, Parents And Education
Jamie Dimon, who was born on 13 March 1956, is the native of New York City. His mother Themis Dimon and father Theodore Dimon were Greek immigrants. He was brought up with his older brother, Peter, and a twin brother Theodore Dimon, Jr, in New York, the USA.
During his early age, he went to Browning school. For further study, he enrolled at Tufts University and did a major in economics and psychology. Later in 1982, he graduated from Havard Business school in Business Administration. He used to work in Goldman Sachs while he was at Harvard.
Married Life, Wife, And Children
"If someone stays by your side through your worst times, then he/she deserve to be with you through your good times."
Jamie and Judith Kent are the best illustrations to this saying. The couple met for the first time in Harvard Business. Both of them were classmates.
At that time, Jamie couldn't even afford his sweetheart to take her to a romantic date. At one moment, his spouse Judith had paid the bill. Regardless of their rollercoaster ride, neither of the pair hesitated to assist one another.
Sneak Inside: Howard Graham Buffett, Warren Buffett's Son: Net Worth & Family Life
With a full swing of love, Jamie got married to his Judith in 1983. Jaime's wife, Judith, is a graduate of Tulane University, who received a master's degree in organizational psychology from Catholic University.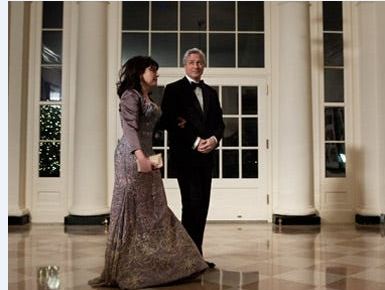 Jamie Dimon with wife Judith Kent (Photo: Business Insider)
Now, Jaime and his wife reside with their three daughters named Julia, Lara, and Kara Leigha.
Career And Achievement
Jamie's career started with American Express as an assistant when Sandy Weil managed to convince him to join the assistant post.
In 1985, Weill and Jamie left American Express, and they subsequently took over control of the financial consumer company, Commercial Credit, from Control Data. Jamie worked there as a chief financial officer.
Go Through Once: Bruce Flatt, CEO of Brookfield Asset Management: Wiki, Net Worth, Family
In November 1998, Jamie resigned from Citigroup on Weill's request during an executive retreat. There were rumors that they had some disagreements, including Jamie's denial to promote Weill's daughter, Jessica M. Bibliowicz. Later, he revealed that Weill fired him.
In 2000, Jamie joined U.S. fifth-largest bank, Bank One. But, later, JPMorgan Chase purchased Bank One in July 2004 and also became a Class A board member of the Federal Reserve Bank of New York in March 2008.
Now, he is the CEO of JPMorgan Chase since December 31, 2005. In the same year, he became president and chairman of the company.
Net Worth Plus Salary
As of now, Jamie, a banker, has been placed in the lists of the billionaires with a net worth of $1.7 billion. The prominent part of his income comes from JP Morgan Chase.
Jamie reportedly receives a base salary of about $27.5 million from JP Morgan Chase. His annual total compensation typically tops $30-40 million, including bonuses, stock options, private jet usage, and personal security.
Read About Another CEO: Chuck Robbins, CEO of Cisco Systems Wiki: Net Worth, Wife, Salary
Apart from stock investments, Jamie owns $30 – $40 million worth of real estate, including a Park Avenue apartment New York, 15,000-sq-ft house costs of $9.5 million in the Gold Coast area and, a 30-acre property in Bedford Corners.
Interesting Facts
 Jamie Dimon underwent eight weeks of chemotherapy and radiation treatment at Memorial Sloan Kettering Cancer Center for throat cancer treatment in 2014.
 

His real family name was Papademetriou, which was later changed by his paternal grandfather Panos Papdemetriou to Dimon.
 

 He joined a business forum amass by Donald Trump to provide strategic and policy suggestions on economic issues.
 

Jamie's career started as an assistant at American Express, persuaded by Sandy Weill, though the compensation was less at American Express.
 

During his 15th anniversary with wife, Jamie gifted her a stock certificate handing over 1/3rd part of his net worth.