Johnny Dang is a Vietnamese entrepreneur, who is an owner of Hoston based wholesale jeweler Johnny Dang & Co. The jeweler has been referred to the press as 'The Jeweler to the Stars.' His shop is a must-go destination not only for world-renowned celebrities but also for the travelers and local peoples.
From Beyonce to Cardi B, he has created the exquisite pieces of jewelry for several top-notch celebrities. His wholesale alone has more than 50 employees that handle the orders from design to production.
Who Is Johnny Dang? His Wiki
Johnny Dang is a Vietnamese-American immigrant, who was born in Vietnam on 21 November 1974 and moved to Houston in 1996. In the family, he seems to have two siblings, as evident in his Facebook post.
After deciding to venture towards jewelry line, the 44-years-old Vietnamese guy opened jewelry shop at a flea market during the late 90s'. Soon, the Houston-based rapper Paul Wall became his partner, and they now run a large two-story building on Richmond Avenue.
Explore This: Tameka Empson Married, Husband, Partner, Pregnant, Family, Net Worth
It was not easy for Johnny to achieve such feats. Despite hailing from a small village in central Vietnam, his father motivation always kept him to learn on making jewelry. At first, Johnny made $100 per month at a flea market repair stall. But he paved the way, and his hip-hop connections came in handy.
Net Worth
The estimated net worth of Vietnamese entrepreneur Johnny Dang is $20 million, as per Celebrity Net Worth. His Houston based jewelry store Jhonny Dang & Co has a revenue worth of $13.2 million. In addition to his 14,000 square-foot palaces located at 6224 Richmond, he has three locations and wholesale accounts.
Apart from that, Dang has made earnings by appearing on the shows like BET's Spring Bling and MTV's Super Sweet Sixteen. Also known as King of Bling, he partnered alongside Warner Bros in May of 2019 for creating Godzilla diamond chain and a pendant for the movie Godzilla: King of the Monsters.
You Might Enjoy: Emerald Fennell Married, Dating, Net Worth, 2019
Since immigrating to the US from Vietnam, Johnny has had set the mind towards jewelry. He moved from having a store in Sharpstown Mall to the Galleria. He had continued his family's legacy as his father as well as grandfather were also in the jewelry line. Also, his store is filled with the sneakers; fashion wears, designer backpacks, and more.
Wife, Children
It's not surprising that The King of Bling, Johnny Dang is a married man. His better-half is non-other than Jennifer Dang. Although the pair has yet to speak on their wedding date, they mark their sweet anniversary every year on the 14th of August.
Dang and his wife Jennifer are parents to two children, a son, and a daughter. Their daughter Jacy Dang turned 13 on 6 September 2018. Also, their son Johnny Dang Jr. celebrated his 12th birthday on 19 April 2019.
Read On: Casey Noble Wiki, Age, Wedding, Husband, Baby, Net Worth, HGTV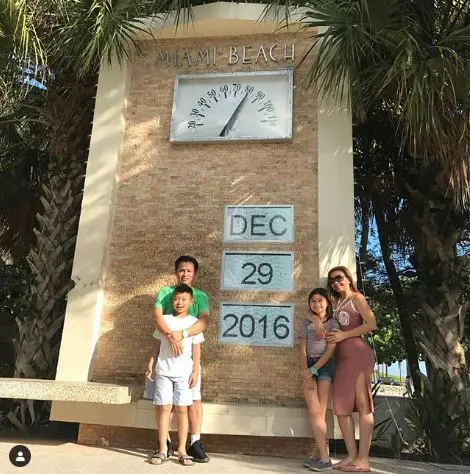 Johnny Dang and his wife, Jennifer with their two kids (Photo: Instagram)
As evident in their social posts, as of now, Johnny and his wife Jennifer shares a warm bond and treasures their quality time with their two kids.