Marc Benioff is the CEO, chairman, and founder of the Salesforce.com Foundation, which is listed under one of the fastest-growing top-five enterprise software companies. Besides, Salesforce, he is also on the Board of Directors at The World Economic Forum USA, Inc.,  Forum Mondial de L'Economie, and at the University of Southern California.
His extremely successful career and innovative ideas have been honored with many rewards and titles. Innovator of the Decade by Forbes, he got ranked 3rd on Fortune's 2017 Businessperson of the Year list, listed under World's 25 Greatest Leaders by Fortune, and as one of the 15 Best-Performing CEOs by Harvard Business Review.
Marc Benioff Wiki (Age)
California based entrepreneur Marc Benioff was born on 25 September 1964. He is the son of late Russell Benioff, the president of Stuart's Apparel of San Jose and mother, Joelle. He grew up alongside his two siblings Julie and Jill, in San Francisco, CA, learning about business entities from his father.  
Marc graduated from Burlingame High School in 1982. Later, he earned a B.S. in Business Administration from the University of Southern California in 1986
Family- Father
Marc's late father, Russel Benioff, who stood at the tall height of 6 feet 7 inches (2.006 meters), was a third-generation San Franciscan and a founder of chain apparel stores and a president of Suart's Apparel of San Jose. Russel had learned about the apparel industry from his parents, who owned Benioff's Department Store in San Francisco and had served as an executive until 1966.
Sadly, he passed away in January 2012 at 83 after suffering from prostate cancer.
Learn More: Reed Hastings, CEO of Netflix Wiki: Salary, Net Worth, Wife, Kids
Marc believes that he learned the work ethics from his late father. The guidance and knowledge from his father became a major factor for being a business tycoon and a co-founder of SalesForce.
Salary And Net Worth
Marc, who is also an author and philanthropist, has a net worth of about $6.7 billion.
Benioff spent 13 years working for database software giant Oracle under then-CEO Larry Ellison, and eventually, at the age of 25, he became a millionaire from his salary earned from Oracle. 
Later, he founded SalesForce.com and started receiving earnings. He owns 4% of SalesForce, as of 2019. He is credited for his leadership that swelled the salesforce to $121 billion market cap and the annual revenue of $10 billion for the 2018 fiscal year.
Later, they launched a new form of cloud computing: software as a service (SaaS), which helped the company's estimated market size to grow above $116 billion as of 2018.
Do Not Miss: Who Is Misse Beqiri? Everything About Anders Lindegaard's Ex-Wife
Marc is not only into making money, but he is also involved in social work. He and his wife Lynne donated $250 million to the University of California to found UCSF Benioff Children's Hospitals. Again in 2014, they donated $100 million to US San Franciso for the support of Children's hospital in San Francisco and Oakland.
Furthermore, they have donated $20 million for the construction of Lawrence J. Elison Institute for Transformation Medicine of USC in LA in 2016.
Career Journey
Marc's first job was at a jewelry store where he worked after school to buy his first computer. Later, at the age of 15, he developed his first company called Liberty Software, where he made and sold his first piece of software called How to Juggle for $75.
After his first business, he further made and sold several 8-bit games, including Atari, Crypt of the Undead, The Nightmare, Escape From Vulcan's Isle, and King Arthur's Heir.  
Related: Tim Cook, CEO Of Apple: Salary, Net Worth, Partner, Boyfriend
Following his first success, Marc got to work at Oracle Corporation, a database company for 13 years. Later, he founded Salesforce in March 1999. Afterward, Marc developed the company into a leading company. The company's notable accretion was when it purchased the email marketing company ExactTarget for $2.3 billion in July 2013.
In 2015, Marc was even rewarded with an honorary degree of Doctor of Humane Letters by the USC. There, he got the opportunity to do a summer intern at Apple as a programmer in the Macintosh division under Steve Jobs.
Marc's Wife And Children
Marc is married to Lynne Benioff, and together, they have shared two daughters.
Marc and Lynne are accompanying one another in difficult situations, either personally or professionally. They both serve as the board of directors overseas at the University of Californa. Also, they serve at The Rise Fund, UCSF Benioff Children's Hospitals, Common Sense Media, Forwards, and the Benioff Ocean Initiative.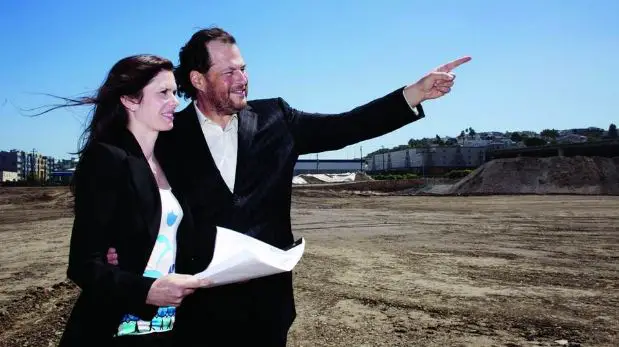 The CEO and chairman Marc Benioff and his wife Lynne Benioff, the UCSF director. (Photo: forbes.com)
Just like their professional career, the pair are also equally best in parenting their two daughters. However, the identity of their kids is yet to get disclosed.
Wife's Details
His wife, Lynne, is a philanthropist and the board of directors of Overseers of the University of CA San Francisco Foundation and The Rise Fund, USCF Benioff Children's Hospitals, Common Sense Media, and The Benioff Ocean Initiative.
Talking about her educational background, Lynne earned a BS from the University of Washington.