American skateboarder, Aaron Kyro's life is what every young boy would have wanted for. Along with being a professional skateboarder, Aaron is also a very prominent YouTuber having had quite the success in online video making.
Kyro is nothing less than a celebrity as he has garnered more than 4 million subscribers. In his YouTube channel, he regularly posts various tips and tricks regarding skateboarding.
Married With Wife?
Aaron Kyro is a married man. This does not come as a surprise because Aaron's love life is thoroughly visible on social media, more specifically, his Instagram. Aaron is constantly uploading pictures of his wife and can be seen dedicating his love and affection towards her. 
Read More: Amber Riley Net Worth, Husband, Family, Now
As for the identity of his wife, her name has been revealed to be Danielle Kyro. The two met while Aaron was a student of Scientology. The two bonded over the love for it and started dating, which eventually led to them sharing a marital bond. They officially tied the knot in 2010. And as of 2019, the pair have marked the nine-year of their marriage. On 29 April 2019, he wished his wife the ninth wedding anniversary via Instagram.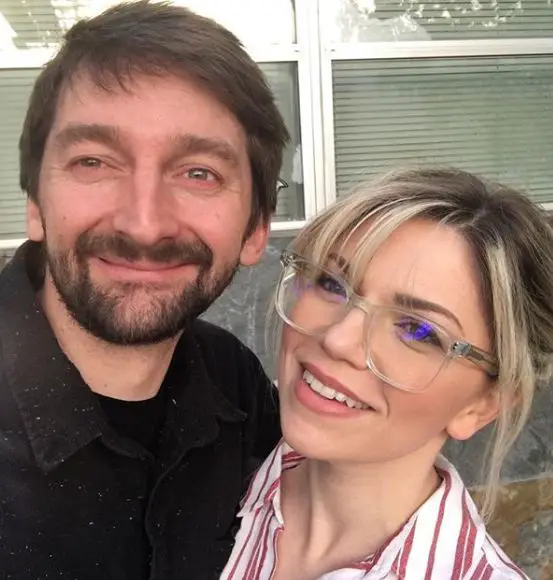 Aaron and his wife, Danielle. (Photo: Aaron's Instagram | 29th April 2019)
Though the love duo has marked their several years of togetherness, they don't share any children. Instead, they have a pet dog, which Aaron calls his son. It seems at the moment their pet dog is enough to keep them company. Maybe in the coming time, a new member might surely be on the way.
Similar: Wes Borland Wiki, Net Worth, Spouse
Net Worth
A prominent skateboarder and a YouTube star, Aaron has cemented his name as a skateboarding great. He has managed to amass a wide fan following through his skateboarding tutorials on YouTube. His unorthodox teaching methods and his ability to break down his tutorials into simple methods have made Aaron one of the most sought after tutors online. This is why his fame in the past few years has soared to great lengths.
Likewise, in 2017, Aaron opened his online skating school called Braille Skate University, which is designed to teach skateboarding fanatics everything there is to know about skateboarding. From simple to complex skills, to just skating around, his online school aims to deliver everything to help a beginner skater turn pro. 
And with all that, Aaron managed to amass a decent net worth to his name. With several sponsors and endorsements to his name, Aaron is living his best life. Although the exact numbers remain under review, it is a safe bet to assume that his numbers surely reach the range of millions.
Wiki & Bio
Aaron Kyro, who was born in 1983, celebrates his birthday on the 10 September every year. He grew up in Denver, Colorado. In one of his facebook posts, he mentioned that he was born prematurely with high fevers, prompting doctors to speculate he would no survive very long. But he managed to make it through.
Interesting Topic: Anthony Jeselnik Net Worth, Wife, Son, Parents
Standing at the height of 5' 8", Kyro holds American nationality and possesses white ethnicity. He currently lives in San Fransico, California with his wife and dog.