Abigail Cowen is a singer, actress, and model, who is set to reprise with a lead role as Bloom in Netflix's young adult series Fate: The Winx Saga. The story is based around a five friend attending a magical school where they learn to tame their magical powers.
The talented actress is signed with MC2 Model Management. She moved to Los Angeles to set a mark in the film industry in 2016. But, it wasn't a comfortable journey for her. She had to share a small apartment with a female roommate and had just two mattresses.
Abigal has come a far way from the struggles and has now impressed the fandoms with her magnificent performance. She has already set a footprint in the industry in a short period.
Wiki, Age, Family
Abigail was born on 18 March 1998 in the United States to her mother, Leslie Lemasters Cowen. She graduated from Oviedo High School, Oviedo, Florida, in 2016 and attended the University of Florida, Gainesville, Florida, majoring in the degree of public relations.
This Looks Interesting: Madison McLaughlin Wiki, Boyfriend, Parents, Net Worth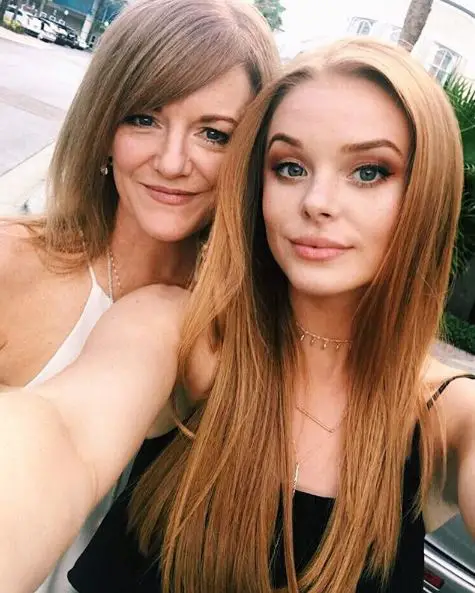 Abigail with her mother Leslie Lemasters Cowen (August 2017) (Photo: Abigal's Instagram)
In the family, she has a brother named Dawson Cowen. Her brother majored in Bachelors's degree in Health Science and currently works as a Critical Care Tech at UF Health Shands. Dawson also served as an EMT and an assistant director at the gator Emergency Medical Response Unit.
As for the height, Abigal is 1.7 m (5 feet 7 inches) tall with a slim build and weighs approximately 56 kg. Besides having a busy schedule in the entertainment industry, Abigal likes enjoying beaches, mountain climbing, hiking, and swimming in her free time.
On-Screen Dating In 'The Fosters'
The beautiful red-haired actress Abigal shares a fair share of romantic moments on her on-screen romance life as Eliza Foster in the romantic-drama The Fosters.
Eliza and Brandon Foster admire each other, but it was out of pure work ethics and weren't romantically involved in the beginning. But, after they go out for a coffee, they found the connection deep inside and share the first kiss.
Don't Miss: Caitlin Dickerson Age, Married, Parents, Salary
The pair even got engaged in the series after Brandon proposed to her in Boston, and she accepts. They later break the news of their engagement at Jude's graduation party. 
American actor David Lambert played the role of her on-screen boyfriend as Brandon in the series.
Dating, Boyfriend Behind The Camera?
Unlike her real-life romance, Abigail's romantic aspects behind the camera have not been that easy to trace.
She might be enjoying a single cruise focusing solely on her career. On the other hand, Abigal could have already landed on her knight, keeping her dating life away from the public eye.
Whatever the case might be, it can be only hoped that the coming days will shed some light on her romantic affiliations.
Net Worth
Abigal has set a mark in the industry with her magnificent performance, which has won the hearts of millions. Along with her flourishing career in the industry, she has featured in acclaimed movies and TV shows like The Foster, Stranger Things, Red band Society, and Chilling Adventures of Sabrina.
She also has done brand endorsements for CONFORTI, American Eagle, SpiritHoods, Francesca Paige Skin, and Stella McCartney. There is no doubt that her career has inevitably attracted immense fame and relative wealth in her life. But, at present, her net worth is yet to be disclosed to the public. 
Similar Content: Erica Gimpel Husband, Children, Net Worth
(Note: The estimated salary of an actress ranges to $19,564 to $207,748 yearly, as per Payscale. The bonus is expected to bound from $31 to $51,168 with upto $8,000 commission.)