Actress and singer Aijia Lise gets acting and producing credit for Joy Bomb with Aijia. She has been actively involved in the entertainment industry since she was ten years old. She appeared on numerous commercials, TV shows and even worked as a voice actor during her early years.
Aijia has been a backup singer for renown singers such as Selena Gomez, Cobie Caillat, Hilary Duff, Jack Black, and her husband. She also participated as a contestant for The Voice in March 2016. Even though she wasn't able to turn the chairs in her audition, she kept following her passion in the music industry and has grasped the feat she is in today.
Married Life- Wedding
Aijia got married to a fellow singer-songwriter, Andy Grammer. The wedding bells chimed for the couple on 7 July 2012 in Fullerton, California.
She and her husband were at a music school together at California State University, Northridge. The pair was simply friends without having any kind of attraction immediately. They were more like acquaintances at the very beginning.
Enjoy Reading: Noah Brown Bio, Age, Wife, Wedding, Net Worth
After the passing of Andy's mother, when the pair got together to write a song they felt some weird energy. Aijia told Andy that she liked him but he said no to dating at the period. But, after a week, Andy changed his mind, the pair started dating and the rest is history.
Children?
Along with their happy married life as a couple, Aijia and her husband welcomed their first child, a daughter Louisiana 'Louie' K  Grammer on 28 July 2017. 
Now, Aijia is ready to extend her family. Her husband shared the happy news of their to-be-born child, another daughter on 16 October 2019. The announcement was made in quite a unique and funny way. All three members of the family suited up in a black leather jacket in the eighties hairstyle alike hilarious wigs.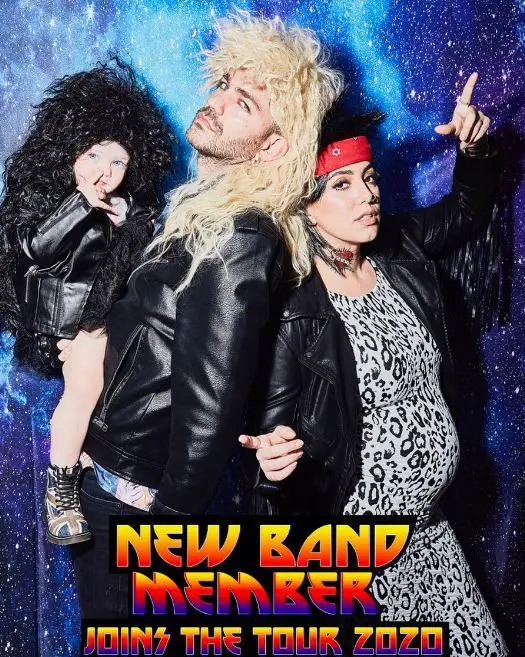 Aijia with her husband and daughter announcing the arrival of 4th member in the family(October 2019) (Source: Instagram)
They even captioned the photo 'New Band Member joins The Tour 2020' indicating the additional member joining the musician family earlier next year.
See This: Sheaun McKinney Married, Dating, Parents, Net Worth
Family
Like Aijia Lise, few of her family members are artists. Her aunt Elizabeth Daily is a voice actress and singer known for Rugrats, Powerpuff Girls, Say It, Say It and Love in the Shadows. She also has a big brother in the family, Robin Banks, whose birthday falls on 20 August. Robin became the father to his daughter in 2016.
Even though there aren't many details to go on about her family background and her parents, She often gives glimpses of her family members via social media. From the look of it, Aijia's father's birthday on 28 May. 
Net Worth
The actress and singer, Aijia Lise has done pretty well in the entertainment industry. She has got featured in music videos of her husband, Mayer Hawthorne, and Hilary Duff. Besides that, she has also debuted in Snare, Drew's 5th Birthday, The First Step, and Girls Night.
Don't Miss: Celina Jade Married, Husband, Dating, Ethnicity
Aijia's career in the music and film industry has inevitably garnished her immense fame and wealth in her life. However, her net worth is yet to be disclosed to the public. She could be holding thousands of dollars as her net worth. Also, she might relish her husband's massive $10 Million net worth.
Wiki-Age, Height
Aijia Lise was born on 26 June 1986 in Los Angeles, California with the birthname Aijia Guttman. She is Baha loving Jew who was raised by a Catholic and a Sudo Buddhist. But, she favors Christianity over others. For higher education, she enrolled at California State University. Besides that, she also attended the Vocal Jazz class focusing on vocal improvement.
On her physical features, she stands at the height of 1.6m (5 feet 3 inches) with a modest build and weight.