Like many others, Alex Lange was also not sure if he wanted to date, but when he met his actress girlfriend for the first time, something clicked, and the duo is now relishing their relationship of two years.
French born-American model Alex is one of the emerging social media stars of the current generation. With more than 2.5 million Instagram and 583K subscribers on YouTube, he is a top draw social media sensation.
Who Is Alex Lange dating?
Alex was dating actress Bailee Madison, who is also famous for her role as Dusty Rhodes in the 2017's American film, A Cowgirl's Story. These two lovebirds were dating for two years since September 2016.
Read About: Reggie Youngblood Wiki, Age, Girlfriend, Dating, Net Worth, Height
The pair often flaunted their chemistry and share sizzling pictures on social media ever since they made their relationship official with an Instagram post on 18 December 2016. His girlfriend, Bailee posted a photo with Alex on 1 August 2018 with a caption; there's a whole lotta love.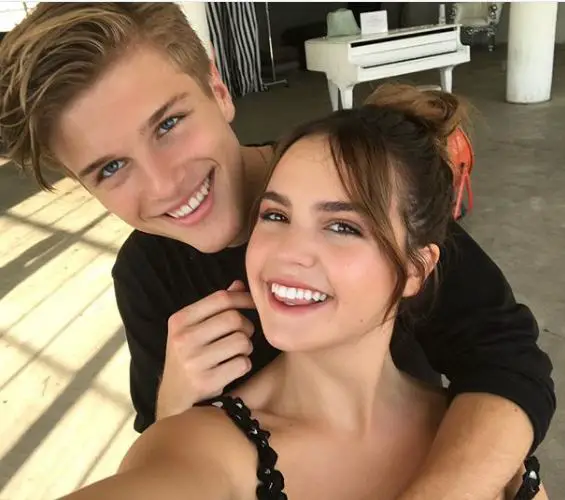 Alex Lange and his girlfriend, Bailee Madison on 1 August 2018 (Photo: Instagram)
Bailee also posted an Instagram image to mark their 20 months of togetherness on 5 May 2018. Alex lifted Bailee on his arms in front of the seashore where the cutest pair shared a passionate kiss.
Do Not Miss: Terence Nance Wiki, Bio, Age | Random Acts of Flyness' Star Facts
The adored couple was in Florida to celebrate Alex's birthday week in March 2018. The YouTuber posted a picture on his IG account on 2 March 2018, taken by Bailee with a caption,
"it's my birthday week so absolutely no negativity whatsoever will be tolerated until March 3rd. thank u @baileemadison for taking this and making me smile."
 
Alex also has a few videos featuring Bailee. In one of a YouTube video on 17 December 2017, where he googled his girlfriend and shared the results with his fans. While searching, he found that "bailee madison dead" was on the top of the search engine, so he called his girlfriend to make sure she was alive.
The YouTuber had also posted a picture on 14 December 2017 where the lovebirds were giving some couple goals. He quoted that his girlfriend only agreed to kiss for the picture after he got her the Eeyore, the animated character of a book titled Winnie-the-Pooh.
Up until December 2018, everything was hunky dory between the two. Bailee had opened up about her relationship with her boyfriend Alex on her podcast Just Between Us. Bailee and co-host Kaitlin Vilasuso, who also is her sister, both had brought their significant others onto the show and discussed everything from on-screen kisses to saying "I love you."
Also Read About: Oprah Sideverson Wiki: Age, Real Name, Girlfriend, Dating, Height, Net Worth
On the podcast, he revealed that he said I Love you, the very first night he met Bailee. Bailee then went on to explain why the relationship took a while to start off. She explained how after initially meeting at the opening of a clothing store the couple only talked over the phone for three months.
And even though they met after three months, the couple could not be together for more than a day. The reason behind it, was Alex rushing back to his family in London.
So, the only means of communication between the two was texting and talking to each other on the phone. She also revealed, in one instance Alex had sent her a picture of a pebble to woo her. She said,
'He goes, "Do you know what penguins do when they choose their mate for life?"' she said. 'And I go, "No," and he goes, "They give them a pebble; so here's a pebble."
The whole time Alex was persistently confessing his feeling while Bailee took six months to say I love you back. But when she finally did, he could not have been happier. He said,
"When you said it back, it was worth it. It meant something, Don't get me wrong, I wish you hadn't left me hanging for half a year, but I'll take what I can get."
So, when an insider broke the news to Entertainment Tonight on January 2019, that this love-struck couple has broken up. It came off as a surprise to all their fans. 
Alex's Net Worth:
Alex net worth as of 2018 is $75,000. This ex- team 10 member has a whopping 2.5 million Instagram follower. He originally launched his YouTube account in 2015, his account has since amassed over 580,595 subscribers with more than 19.3 million video views.
Some of his top videos include Carpool Karaoke with Jerika, Carpool Karaoke with the Martinez Twins, Never Have I Ever, and We Have Something to Share.
Short Bio
The Instagram model celebrates her birthday on 3 March. He is 17 years of age, born in the year 2001 in Paris as per wiki. His birth sign is Pisces. Alex stands at the height of 1.72 cm (5' 8") and belongs to Caucasian ethnicity
His father name is Marc and has an equally popular brother named Matthieu Lange.
Facts You Don't Want To Miss About Alex Lange Brown
If you want to learn more about Alex, take a quick look at the following facts;
His family migrated from France to England and Los Angeles where they currently reside.
 
He is fluent in English and French.
 
The YouTuber was a part of the web group Team 10 for almost two years before he parted ways in December 2017. Anthony Trujillo, Chad Tepper, Erika Costell, Jake Paul and Tessa Brooks are still associated with the group.