Aviation and adventure are the two sides of the coin, and the profession of aviation has excitement and danger, but above all, it is a life-long adventure. Amelia Rose Earhart who carried the name of late Amelia Mary Earhart is a private pilot and a reporter who made her passion for aviation a reality and battled financial strain during her pursuit. So, she established a foundation to support the young girl's dream of becoming a pilot.
Career and Professional Life:
Amelia Rose Earhart not only carries the spirit but also the name of legendary pilot Amelia Mary Earhart. On 2nd June 2004, she took her first flying lesson and achieved her private pilot license in Cessna 172; she recreated transcontinental flight from Oakland, California to Miami, Florida to complete her instrument training hours.
She received Amelia Earhart Pioneering Achievement Award in July 2013. She became the second youngest woman to fly around the globe behind Richarda Morrow-Tait. She is also a reporter for KUSA-TV which is NBC affiliated TV. She announced Fly Amelia Foundation in 2013 which grants scholarship to girl aged 16-18 to help their dream of becoming a pilot a reality.
And on the 11th of July Amelia Earhart became the youngest woman to successfully circumnavigate the globe. 
Amelia is Dating Jack Wodlinger!!!
The private pilot is in a long-term relationship with Jack Wodlinger. Amelia spends a lovely time with boyfriend Jack, and they currently are in a loving relationship in Nashville.
As of now, she is not married; however, she is undoubtedly having fun with her boyfriend Jack. The couple often travels around the globe in some beautiful location, be it cycling in the rain or having a date for a romantic night.
You Might Enjoy: Tanner Tolbert Job, Net Worth, Wife, Children
It seems Amelia and her boyfriend Jack are mad about one another. She can often be seen posting a lot of messages that express her love towards her beau. She prefers to call her man as a loving, smart and patient person.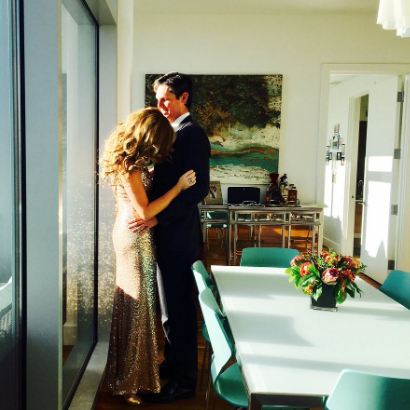 Amelia and her sweetheart on 2018th Valentine's day (Photo: Twitter)
Things are going buttery smooth in love of the pair and their frequent social media updates about thier romance are evidence of it.
As for now, it seems like Amelia and her boyfriend are taking their fullest of time to decide on the next step in life. The couple are yet to get married.
Connection To Amelia Mary Earhart!!!
Late Amelia Mary Earhart became the first woman to fly solo across the Atlantic Ocean in 1932. But when she attempted a flight around the globe with navigator Fred in 1937, she vanished over the South Pacific and was never recovered.
Amelia Rose Earhart wanted to complete the flight around the world to pay symbolical tribute to late Amelia. On her official website, she said that she seeks to develop a deeper connection to her namesake and encourage others to pursue adventure.
But was she genetically related to late Amelia raised some question and curiosity? 
During her young age, her family told her that she was descendant of Amelia Mary. She even hired a genealogist to find the connection. But in the second attempt in 2013, there was no visible evidence of the connection to Late Amelia Mary Earhart.
Amelia's Short Bio:
According to her wiki, Amelia Rose Earhart took her first step on 18th January 1983 in Downey, California. Amelia who currently ages 36 likes to celebrate her birthday in rather a secretive manner with few friends and family. The private pilot holds American nationality and belongs to white ethnicity. She possesses a decent height and maintains great curves.