As the 18-year old, she entered the stage of America's Got Talent with a point to prove that determination and discipline can make you able, and you don't need a fancy school to hone your skills.
Sofie Dossi is a self-taught contortionist, hand balancer, and aerialist who received Golden buzzer, but above all, won the hearts of many. As a 12-year old, she got inspired watching an online video and combined her skill as a dancer and gymnast to create a mind-numbing combo with hand balancing.
Career As Contortionist!
The self-taught contortionist is the recipient of the Golden buzzer on the 11th season of America's Got Talent, where she managed to impress the star, studded judges like Simon Cowell, Mel B, Heidi Klum, and Howie Mandel showing her physic's defying agility and balancing.
During the age of 12, she got inspired to pursue a career as a contortionist and aerialist.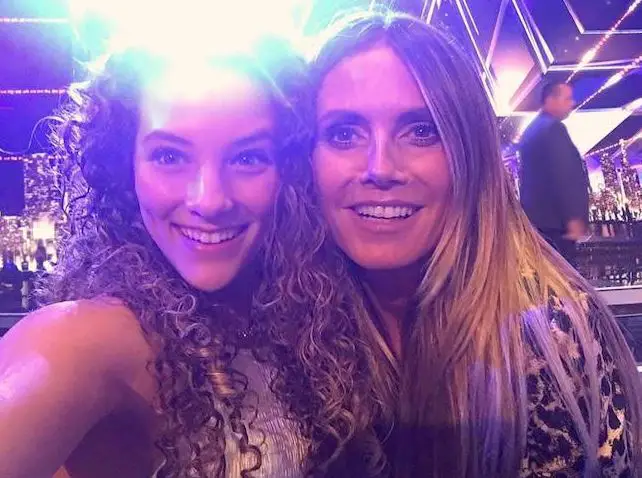 Sofie with Heidi Klum (August 2017) (Source: healthyceleb.com)
As she already excelled in dancing and gymnastics, it provided a base for Sofie to conquer and become a legend as a contortionist. She learned her skills through videos on YouTube, and now she is that level where she gives a tutorial to many young aspirants, which indicates the growth of Sofie.
Keep Exploring: Martel Maxwell Wiki, Husband, Family, Children
She booked the place as the finalist on the popular NBC show America Got Talent, where she competed against the eventual winner Grace VanderWaal, 13, who narrowly defeated the aerialist on the vote count. Though she couldn't write her name in as the winner, she won the hearts of many, which evident by the followers she earned on Instagram and Twitter.
On recent events, Sofie also teamed up with fellow America's Got Talent stars Brian King Joseph and Bianca Ryan for a fiery collaborative performance.  The trio returned to AGT, showing their skills live in AGT on 14 August 2019. Biannca was the singer who won season 1 of AGT when she was just 11-years-old. Likewise, Brian was also able to secure the third-place as an electric violinist in AGT on the 13th season of the show.
Apart from the reality TV career, Sofie recently launched her athletic wear line, Fire Lily. Her clothing line deals with products like cropped tees, sports bra sets, vends leggings, jackets, and other sportswear. Her products designed to be comfortable from the gym to the streets. Her line's produced outputs can be worn from the gym to dinners as any casual wear.
Jaw-Dropping Facts about Sofie!!!
Sofie is no ordinary person, and the feat she achieved is even crazier. On 28th January, she announced that he broke the world record from the Farthest Arrow Shot Using Feet by a healthy margin. She became the Guinness World Record when she met her target, which was just 1 foot in diameter and 25 feet away.
But as she said, that was too easy for her, so she made it even tougher by hitting her target in a handstand. She also performed in the widely popular show The Ellen DeGeneres Show, where she showcased some of her delicate hand-balancing act. In her YouTube channel, she does incredible acts daily; she even rides the skateboard on her hands.
Due to her amazing flexibility, many had wondered about her unique features. As it turns out, she is not ordinary; according to Dr. Charla Fischer at New York University Langone's Spine Center, some people are born with more elastic ligaments tendons, joints, and various muscles. He also added the joints and muscles are tacts, but they can exceed the normal ranges of motion.
A Low-Key Dating Profile of Sofie!
The agile star who flaunts her flexibility and skills in social media is surprisingly secretive about her personal life and hasn't revealed anything about her boyfriend and relationship status.
The social media sensation who boasts 565K followers on Instagram posts pictures, showing her skills as a contortionist. She is also an adventurer, and she posted a photo alongside a cheetah, which proves she is not a faint-hearted person.
She travels around the globe to show contortion and hand balancing skills, which only increases her fan base and admirer.
As of now, she is possibly single and not into the dating scene just yet. But given her elegance and ability, a person has to be incredibly stupid not to fall for her. The beautiful artist challenges herself and dares to do impossible things for an average person.
Don't Miss: Who Is Lindsey Russell? Her Age, Partner, Family, Net Worth
Sofie's Short Bio and Family:
Born to a lesser-known family, she decided to change the trend and become a living legend. Sofie Dossi took birth as California native in Cypress, California, on 21st June 2001.
She currently ages 18, and wiki sources reveal that her family includes a brother Zak Dossi. She possesses a height on a short-ish side of 5 ft 1 inch (1.55 meters). She maintains perfect curves, and her agility and flexibility are out of this world. She holds American nationality and belongs to white ethnicity.