Andrea Russett is an American YouTuber and an actress who came to the public's eye via her self-titled YouTube channel, that currently has more than 3 million followers. Her social media presence on Instagram, Snapchat, and Vine has made her become a fan favorite for young teens all around the world.  
A die-hard Justin Beiber fan, Andrea first uploaded a Youtube video in the hope of winning a chance to meet her idol. Although she missed her chance, she became an internet sensation with viral videos. From there on, she decided to venture on YouTube and made a name for herself. 
Dating/ Boyfriend/ Gay
Over the years, Andrea's dating life has been the center of discussion. The YouTuber has had several boyfriends in the past.
She commenced her first relationship dating fellow social media star, Kian Lawley (best friend of JC Caylen). Their relationship began in 2013, but speculations regarding their possible matchup with one another had always been circulating in the air.
Within a year of their romance, Andrea and her former boyfriend Kian split up in 2014. They even tried to give one more shot in their relationship, but could not make it work and separated in amicable terms.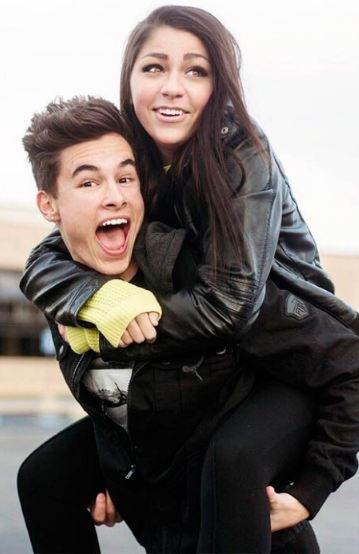 Andrea Russett along with her then-boyfriend Kian Lawley in 2014 (Photo: Instagram)
After Kian, Andrea was rumored to be in a relationship with singer Kenny Holland. The rumor was further ignited when a fan uploaded a video showcasing Kenny and Andrea's kiss on stage. They were romantically linked from 2014 to 2015.
Moving on, Andrea was linked with YouTuber Jack Gilinsky during early 2015. But neither of them confirmed nor denied their association. 
Moreover, Andrea was yet again linked with Youtuber Zane Hijazi in the summer of 2017. Pictures of them enjoying moments surfaced on Twitter which prompted fans to speculate that they could be dating. But, they remained mum on adressing their relationship.
After being linked with several men, Andrea posted a Youtube video titled 'Coming out + addressing the Sandra stuff' on 12 January 2019. In the video, she opened that she is bisexual and is interested in both men and women. Andrea also revealed that coming out as gay was harder to explain.
Net Worth
Andrea is Youtuber and an actress who has the estimated net worth of $2 million. Andrea first started her career as a radio jockey in a local radio station before she gained fame by her music and lifestyle based videos. In 2013, Russet signed a contract with 'Fullscreen, Inc.,' and opened her clothing line launching her brand FLAWD Clothing.
As an actress, Andrea landed a role in the comedy film, Expelled in 2014. She then co-produced and starred in Sickhouse in 2016. In the same year, the actress appeared in two short films Lovesick and A Peculiar Tale and also managed to do a cameo in the movie Mike and Dave Need Wedding Dates. 
From there on, she appeared on the reality television series Catfish: The TV Show aired by MTV. In 2017, she continued as the anchor of the weekly talk series Apologies In Advance.
Wiki & Bio
Andrea was born in 1995, in Fort Wayne, Indiana to parents Mark and Jacqui Russett. She celebrates her birthday on the 27th of June. She has a sister named Anna. Her family has always been supportive of Andrea and her decisions.
Interesting: Lil Windex Net Worth, Real Name, Height, Girlfriend
Andrea has a height of 5 feet 2 inches and has an approximate weight of 54 kgs. She's got about six tattoos on her body, which she was glad to share it with the world via her Twitter account.
She got enrolled in a Catholic High School, but after her junior year, she dropped out of high school and moved to California to pursue a social media career.