Angel Iris Murphy is reckoned to be the daughter of American comedian-actor Eddie Murphy and Spice Girl Singer Melanie Brown. Eddie was hesitant about accepting Angel as his child.
However, a DNA test confirmed that Eddie was the child's father on 22 June 2007 and later Eddie admitted paternity and agreed to pay a paternity compensation of £7 million until Angel reaches adulthood.
Angel's Parents; Eddie Murphy's Denies Parentage
Angel was born to parents Eddie Murphy and Melanie Brown (a.k.a. Spice Girl). Eddie is a famous comedian and actor while her mother is a singer and judge of America's Got Talent.
Controversies surrounded Angel even before her birth as Eddie publicly denied the claims of Mel B being pregnant with his baby. He said that they have to wait for the DNA test. Eddie and Mel B had a short fling and separated in December 2006.
DNA test proved that Angel was, in fact, Eddie's ninth children. After the test, a gruesome legal battle followed, and Eddie had to pay £35,000 a month as child support until Angel becomes 18.
In March 2018 it was reported that Eddie doesn't care about Angel and doesn't want to have any relationship with his daughter and Mel B.
Mel B's Affair With Producer While Pregnant With Angel Iris Murphy
Mel B's affair with film producer Stephen Belafonte started when she was pregnant with Angel. The couple later got married in 2007 where Angel spent her time with her two siblings, Phoenix Chi Gulzar, born from Mel B's past relationship with Dutch dancer Jimmy Gulzar and Giselle Belafonte from Stephen's former affair.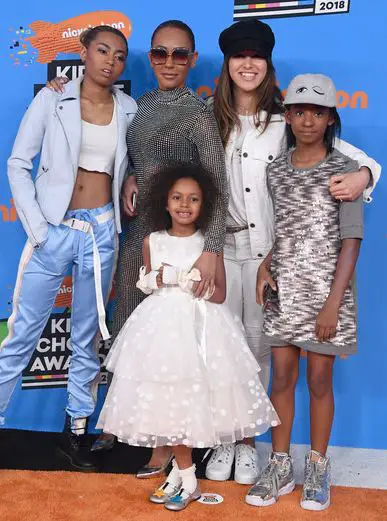 Angel Iris Brown (the little one) with (L-R, Phoenix, Mel B, Madison, Giselle) attends Nickelodeon's 2018 Kids' Choice Awards on 24 March 2018 in Inglewood, California (Photo: zimbio.com)
Angel got her new sibling sister, Madison Brown Belafonte in 2011 when Angel and Stephen became parents for the first time together.
However, a decade old relation hit the roadblocks in March 2017 when Mel B filed a case against her then-husband, Stephen for physically abusing her. The pair lived separately from 2016, but the divorce proceeding was later finalized in December 2017. 
After they parted ways, Stephen pleaded for visitation rights to his step-daughter, Angel. However, Mel B has strongly objected to the plea and said that Stephen is a bad influence on her child. She also claimed that Stephen used to show Angel horrific videos of ISIS beheading people.
Angel Never Wishes To See Her Step-Father 
Angel's grandparents' names are late Martin and Andrea Brown. Her grandmother Andrea posted a distressing letter on her Twitter on 26 March 2018 which was written by Angel that she never desires to see her step-father. She captioned the pictures A Cry for Help.
The innocent Angel said that Stephen is a horrible person and living again with him would be a terrible part of her life. In an emotional two and a half page letter, she wrote, 
"I'm very frightened of Stephen. When he is mad, it's terrifying. I never want to see him ever again. It's would be like re-living a horrible part of my life. I never want to see him ever again it'd be like reliving a horrible part of my life. The worst part about the times I lived with him is when I'd try to stop the fights and cursing. When I tried he would say 'oh shut up', and I would be so scared I wouldn't say anything else."
Currently, Angel resides with her mother and three siblings. She has eight siblings from her father's side. Eddie has children from a relationship with Nicole Murphy and his then girlfriends, Paulette McNeely and Tamara Hood. He also has a daughter named Izzy Oona Murphy from his another partner, Paige Butcher.
Short Bio
Angel Iris Murphy, the 11-year-old kid recently celebrated her birthday alongside her father Eddie, whose birthday also happens to be on the same day on 3 April 2018. She is born in the year 2007 and her birth sign is Aries as per wiki.