Ariel Mortman is an American actress well known as Hayley Woods, a member of Raven in Netflix show, Greenhouse Academy.
She is also recognized for her leading role in Disney based teen series, Northern Star.
The show ran two years in Israel with successful two seasons from 2014 to 2016.
Apart from acting, Mortman has also served at the Israel Defense Force. She completed her acting training at the Cameri and Nissan Nativ Acting Studios located at Tel Aviv.
Ariel Mortman Dating Boyfriend?
Ariel shares a pretty colorful love life as Hayley Woods in the drama-series, Greenhouse Academy. 
In the series, she had a short fling with Leo Cruz, played by Dallas Hart. Ariel's character is immediately attracted to Leo as both of them share an interest in study and music.
They start as a friend, but after Leo kisses, Hayley things begin to get romantic.
Read More: Cristin Milioti Boyfriend, Family, Net Worth
The couple's love life blossoms until the night of Halloween Dance when Leo performs a song for her on stage.
But, suddenly, Aspen Fairchild, played by Reina Hardesty, runs to Leo, hugs, and kisses him.
It turns out that Aspen is Leo's long-distance girlfriend, and this leaves Haley heartbroken as she abandons the party, implying things are over between her and Leo.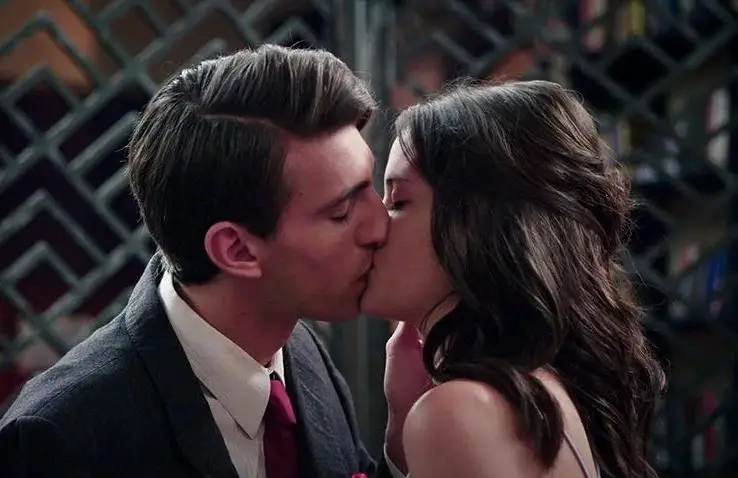 Ariel Mortman's on-screen romance with Leo played by Dallas (Photo: Greenhousefandom)
Her love life also develops with Daniel Hayward, played by Chris O'Neal in the series. 
They start hanging out together after they agree to discover what's going on in the Greenhouse.
Daniel confronts her that he has feelings for her putting their past issues aside in the last episode of season 2. Daniel kisses her, which leaves her dilemma between Leo and Daniel.
She is yet to choose her love interest between the two handsome hunks.
Don't Miss Out: Vicky Jeudy Wiki, Age, Husband, Parents, Net Worth
Despite her compelling progressing on-screen romance, her off-screen love life is yet to be fully explored.
Ariel prefers to keep her personal experience in the dark away from the limelight. She could be solely focusing on her career to reach the new heights in the entertainment industry.
Also, she might be dating a boyfriend to keep the relationship profile low-key at the same time.
Net Worth - TV Shows / Movies
The Americana Actress has accomplished great heights at a short span of her career in the entertainment industry.
On her path to success in the industry, she had been featured in several acclaimed movies and TV shows like Dreaming to Fly Northen Star and Keep It Cool.
There is no doubt her career in the entertainment industry has garnished her immense fame and wealth.
Although, her net worth, as of now, is yet to be reviewed. Ariel could be holding thousand as her net worth or exceeding thousands rang and touching a million margins.
Note: The average salary of an actress is estimated to be around $20K-$207K yearly.
Her Bio: Parents, Family
Ariel Mortman was born on 6th February 1994 in New York City. She stands at the height of 5 feet 8 inches (1.74 meters). 
Explore This: Violet McGraw Wiki, Parents, Siblings, Net Worth
Her parents, Scott Mortman and mother who raised her along with her siblings, Daniel Mortman and Edan Mortman.
Her father serves as an Executive Chairman at Africa Growth Corporation. He has been working as a business executive and attorney for over two and a half-decade long.
Similarly, he has served as Chair of Israeli Board of Directors; US Board member, and also the Interim CEO of Auto Store Company. 
Besides, Scott is a writer, and Ariel has even shared an article written by her father on the topic of women empowerment on her social platforms back in October 2017.
Also, Ariel keeps her update about her family life on social media. She was off to Victoria Falls, Zimbabwe, back in August 2018 with her family members.
As of now, she resides with her family and shares her immense love and intimacy.