While it's hard for some people to carry out the different tasks at the same time, some people don't fall into this category. An American Internet Personality Arin Hanson is one of them. Besides being a voice actor and animator, he has developed a broad identity as a cartoonist, singer, songwriter, and rapper.
Arin Hanson is also recognized as Egoraptor among the netizens and gaming enthusiasts. Besides, he is also best recognized for his voice acting skills in video games, namely Minigore(2009), Death Rally (2011), Detective Grimoire (2014), Dragon Age: Inquisition(2014) and so on other.
Bio-Age, Height
Arin was born on 6th January 1987. He hails from West Palm Beach, Florida, USA.
Talking about his body measurements, he has a height of 6 feet and 2 inches (1.88m) and weighs about 100 Kg.
Personal life And Dating
Arin Hanson is happily married to Suzy Berhow.
They first encountered each other at a local convention when Suzy was just 13 years old. They used to live in the distance, which was a 4-hour drive by a vehicle.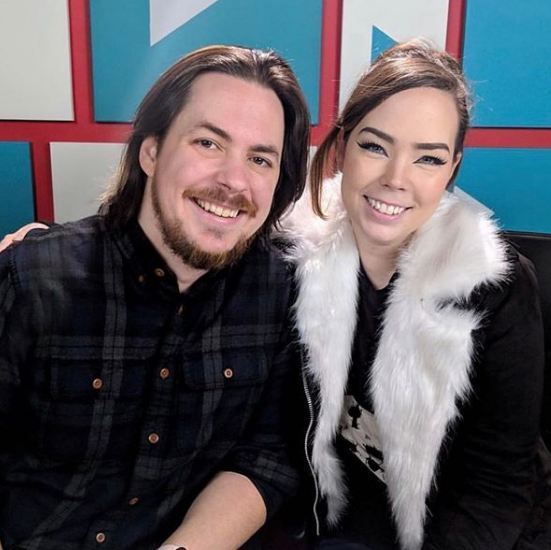 Arin Hanson with his wife Suzy Berhow in December 2019 (Photo:- Arin Hanson's Instagram account) 
But it didn't stop them from pouring their feelings for each other. So every night they used to talk over phones and exchange their feelings. Over time, their relationship prospered. Unknowingly, they successfully maintained their long-distance relationship for about four years.
Since 2002, they had been flourishing their love. But after four years, they thought to give it a break considering the practical aspect of their relationship. In between this period, Arin couldn't move on from his relationship with Suzy. So for a year, he began sending romantic love letters to woo her back.
Finally, it worked out. Suzy's heart got melted with his ardent feelings for her. So, she moved to California to stay with him when she was in her twenties.
Then, in 2011, Arin proposed Suzy, and they began their married life after having their nuptial bliss on 25 October 2013.
This May Mesmerize You:- Nick Wilson married status 
Wife's Info
Arin Hanson's wife, Suzy Berhow, is a model and YouTube Star who is also recognized for appearing alongside Arin in the Game Grumps.
Besides, she has equally amassed huge fans and followers in her social media accounts. She has over 400k Subscribers on her gaming YouTube Channel named Mor3mer.
Parents
Arin Hanson is the proud son of his father, Lloyd Hanson, and mother, Maurette Hanson. His father is a musician, whereas his mother is the founder of a Non-Profit organization named Healing Horse Therapy center.
Besides, his siblings include an older brother named Nathan Hanson. Nathan is exactly three years older than Arin.
Net Worth
The estimated net worth of Arin Hanson is not disclosed. However, as stated by the social blade, he earns $6.9 thousand to $110.1 thousand per year from his YouTube Channel Egoraptor.
Plus, he enjoys the combined fortune as his wife also makes $81 to $1.3K per year from her YouTube Channel Mortem3r.
Knock! Knock! You Can Open This:-  Liz white net worth
Interesting Facts About Arin Hanson
Arin is also fond of Sketch art so, he has collaborated with other profuse animators like Chris O' Neil, Ross O' Donovan and Rodrigo Huerta for many animation projects.
 
He has a YouTube channel named Egoraptor where he makes a parody of different gaming characters like Poke'mon, Ninja Gaiden, Final Fantasy and Metal Gear. He uses self-created flash cartoon characters to entertain his viewers and fans with his comical interpretation.
 
With his amazing voice and animations, Arin has been able to garner praise and attention on the internet. He is the creator of the animated web series named "The Awesome Series."
 
He lent his voice for Dr. Bruce Banner, who is known by Hulk in the movies. He dubbed this character voice for the 2006 video game called Marvel: Ultimate Alliance.
 
Arin is the co-instigator of the popular YouTube gaming channel Game Grumps where he makes live streaming of the games and makes hilarious comments about it. His friend Jon Jafari has partnered with him in this popular YouTube gaming show.
 
He is also credited for his other shows namely Starbomb and Sequelitis.
 

In 2007, Arin stunned his viewers eating a whole Ghost Pepper while reviewing a game. It is one of the hottest chili pepper in the world.
 

In 2015 he took part in the Nintendo world championship where he secured 5th place.