Words are not enough to honor and describe the most talented and successful personality of Hollywood Benji Schwimmer. He is a dancer, choreographer, actor and the winner of several platforms. He is not only commendable for his talents but also for his strength to come through such competitive platforms. 
Benji won the World Swing Dance Championships in the Youth Division in 1994, and the reality dance competition So You Think You Can Dance in 2006. The victory further led him to work as a choreographer for the pop star and American Idol's judge Paula Abdul. Also, he got to star in shows and films like Love N' Dancing (2009), Leading Ladies (2010), and Once Upon a Time in Hollywood (2019). 
Openly Gay; Has Boyfriend?
The ever-energetic dancer from the reality show So You Think You Can Dance, Benji came out gay publicly in June 2012. He openly announced his sexuality along with the struggle he had to go through while figuring out his sexuality. What more? He had also attempted suicide and had taken reverse-hormonal pills to kill his urges of homosexual.
Interesting: Omid Abtahi Married, Gay, Family, Net Worth
In an interview with MormonStories.org, Benji revealed he had a Yahoo! Group at his age of 17, trying to conflict with the LDS teens who wanted to re-identify as straight. Meanwhile, he also talked about his relationship with his ex-girlfriend and then with male love. He said he has never been so happy when he was in love with that male love,  who eventually broke up with him.
However, although his first relationship with male didn't work out, as of now, Benji is happily taken. In fact, he is engaged to product design engineer and design consultant, Daniele Gualeni.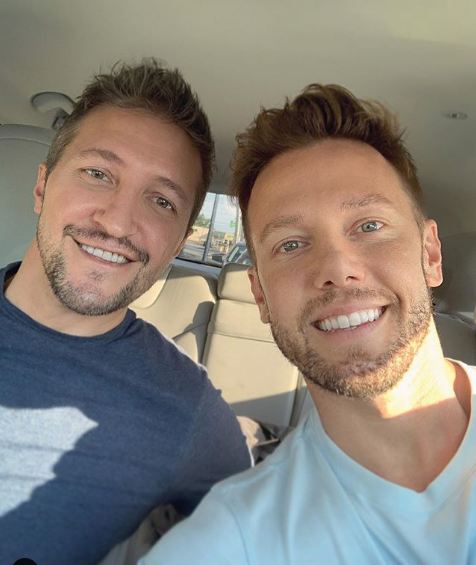 Benji Schwimmer and his fiancé Daniele Gualeni at Washington in August 2019. (Photo: Instagram)
Although their dating history is a mystery, they have recently flourish their relationship to an engagement in September 2019. Sharing the photograph of their hands with an engagement ring, Benji expressed his happiness via Instagram.
Currently, the pair are enjoying their engaged life and hopefully will get married soon. 
Enjoy Reading: Kim Sears Bio, Husband, Children, Family
Benji's Wiki And Family
The dancing star, Benji's real name is Benjiman Daniel Schwimmer, who was born on 18 January 1984 in Newport Beach, CA, the USA. He is the son of dancer parents, father Buddy Schwimmer and mother, Laurie Kauffman, and a brother of Dancing With The Stars' member Lacey Schwimmer.
Additionally, his cousins, David Schwimmer and Heidi Groskreutz, are also dancers. Hence, not a single doubt where do he garnered his dancing skills and creativity.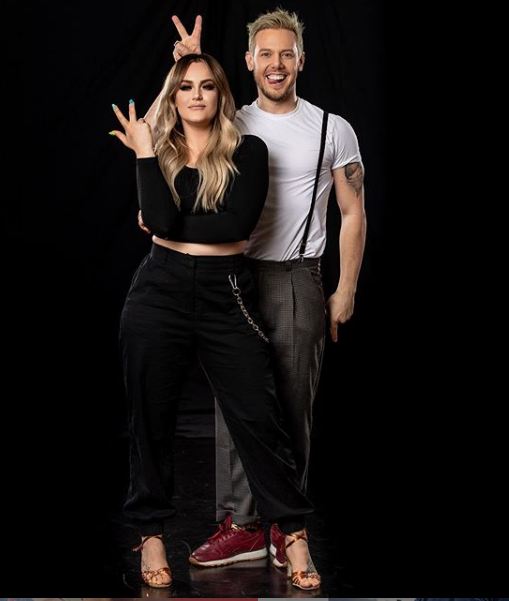 Benji Schwimmer and his sister Lacey Schwimmer, who is also a winner of 2006 U.S National Youth Latin Championships. (Photo: Instagram)
Benji was into dancing since his young age. He won the World Swing Dance Championship in the Youth Division in 1994 when he was only the age of 10. Eventually, he kept on engraving his moves into dancing and later won the biggest platform, So You Think You Can Dance in 2006. After that, success came following this CA born talent, who is also an actor and a choreographer now. 
Possessing a tall height, Benji has a sturdy body structure with short dark hair and a charming face.
'So You Think You Can Dance' Star: Hannahlei Cabanilla Wiki, Dating, Family
Net Worth
As a winner of several acclaimed platforms and a distinguished dancer, Benji's net worth must be insignificant digits. Sadly, the media and Benji has not disclosed any specious about his net worth yet.
Note: According to the Payscale's record in 2018, the median salary of dancers ranges $29,822 per year. In 2017, the ballet dancers were paid $1,100 per week with the highest salary of $2,100 per week and the usual dancers were paid an average wage of $14.25 per hour starting with the lowest $8.74 per hour and the highest $30.95 per hour. Since Benji is a prominent dancer and a winner of shows, his net worth undoubtedly ranges to the highest level.