Billy Tolley is an American reality star who is known for his TV series Ghost Adventures. Billy worked as an EVP expert in the Travel Channel's series alongside  American reality star Aaron Goodwin. He views himself as "skeptical-believer" in the wake of having numerous individual encounters to investigate and capture EVP's for himself.
How Much Is Billy Tolley's Net Worth?
Billy Tolley has acquired a net worth of $1.5 million. He has summoned his wealth from his career as an American reality television star since 2008. He has received seasonal-payments from MY Tupelo Entertainment as he worked as EVP expert on TV series Ghost Adventures from 2008 to 2018 and Ghost Adventures: Aftershocks from 2014 to 2015.
Billy started his career as reality TV star at the age of 35 where he joined the TV series, Ghost Adventures as Electronic Voice Phenomena (EVP) expert. He also appeared in Travel Channel's series Paranormal Challenge in 2011. His notable works from 2012 to 2016 include ABC News Nightline; The Late Late Show with James Corden; Today; and Deadly Possessions. In 2018, he played at the American pseudo-documentary horror film, Demon House.
Besides his career as reality TV star, Billy created mixtapes with his video editing and software skills. He became interested towards EVP's and formed his paranormal team Las Vegas Paranormal Investigations of Mysterious Phenomena Squad (P.I.M.P.S). In 2008, Billy signed for TV series, Ghost Adventures where he served as the equipment specialist. He appears alongside Zak Bagans, Aaron Goodwin, Nick Groff, and Jay Wasley in the bone-chilling series.
Married To Entrepreneur; Has Three Children With Wife
Billy is married to an entrepreneur, Diana Tolley. His wife, Diana is the certified Vibrational Sound Therapy Practitioner, who owns Enlightenment Center in Las Vegas called Violet Rays Energy Healing. She has utilized a mix of modalities and has united with her mentor and close friends to open up the Las Vegas Enlightenment Center.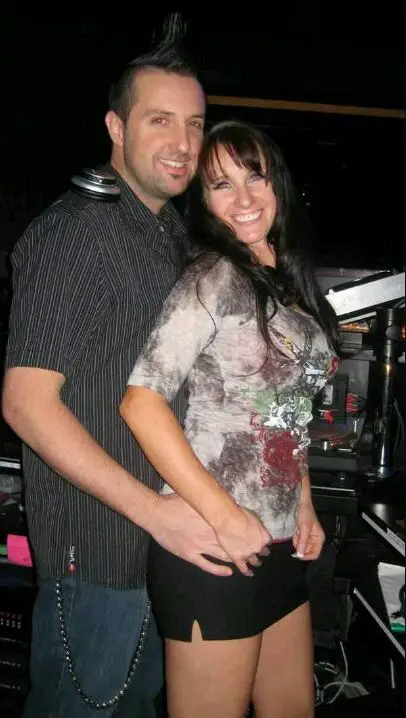 Billy Tolley with his wife, Diana Tolley (Photo: pinterest.com) 
Billy and Diana together have three children, a son, and their two daughters. They also have adopted dogs named Sophie and Phoenix. Billy on 18 January 2015 commented regarding their children on Facebook. He said that their kids were all grown and are 16 and above. The reality star also sarcastically mentioned his children were old enough to watch his show of Ghost Adventures.
The family of five lives in Las Vegas, Nevada alongside their two adopted dogs.
Billy's Family Acts Like Teenagers; Brother's Marriage
His parents married in the year 1966 and are rejoicing their 52 years of espoused life. Billy defines his father and mother as the 'cutest couple ever.' Even though they are at their old age, they act like teenagers. Billy also shared their sweet photo on 23 November 2015 on his Instagram where both his father and mother wore a dirt-bike helmet with their black sunglasses.
Billy also has a brother in his family member. His brother married on late January 2016. Billy shared the snap of his brother and wife who prepared for their wedding on 31 January 2016 through his Instagram.
Short Bio
Billy Tolley was born on 18 January 1973 in Las Vegas, Nevada. He stands at a tall height of 1.83 m (6') with an endomorph body type. As per wiki, he used to work in Las Vegas club with his name as DJ Inferno before joining Ghost Adventures. He belongs to Caucasian ethnicity.