The singer of the legendary band Poison, Bret Michaels, has given an enormous contribution to the rock industry with his songs Every Rose Has Its Thorn, Talk Dirty To Me, Something To Believe In, Ride The Wind, and All I Ever Needed. His songs have empowered many aspiring singers and bands as well as holds nostalgic memories of the '80s and '90s.
Apart from being a singer, Bret is an actor who has starred in the VH1 2007 series Rock of Love and the reality series The Celebrity Apprentice in 2010. Also, he is an owner of the production company called 'Sheen/ Michaels Entertainment,' which he founded alongside his partner Charlie Sheen. They have produced a thriller movie called A Letter From Death Row, which was written and performed by Bret.
Who Is Bret Michaels? His Bio
Bret is a singer, songwriter, actor, and TV personality. He is the lead vocalist of the glam-metal band Poison and the winner of a reality series The Celebrity Apprentice 2010.
Read About: Who Is Charly Jordan's Boyfriend? Wiki, Dating Life, Parents
Bret was born on 15 March 1963 in Butler, Pennsylvania, the USA as Bret Micheal Sychak. His parents are Marjorie Sychak and Wally Sychak, and his sisters are Nicole and Michelle Sychak. 
Growing up, Bret hoped to become a musician or a motorcycle racer. However, his journey to be a successful singer was not an easy one. He got diagnosed with diabetes at only the age of six, and throughout his career, he had to take insulin and measure his heath often. One side, it was his health, and on the other hand, his ordinary job was not letting him move forward. He worked as a delivery boy, a cook, and a maintenance man in his teenage. 
Who Is Bret Michaels Wife? Married Life
Although Bret is not married till date, he is a father of two. He raised two adult daughters alongside his estranged long-term girlfriend and mother of his daughters Kristi Gibson. Bret and Kristi had started dating long ago in 1996 and welcomed two daughters in their course of the relationship.
Although the duo was yet to have a legal relationship as a husband and wife, they were engaged in 2010. Bret had proposed Kristi to be his wife during the finale of his reality show Bret Michaels: Life As I Know It.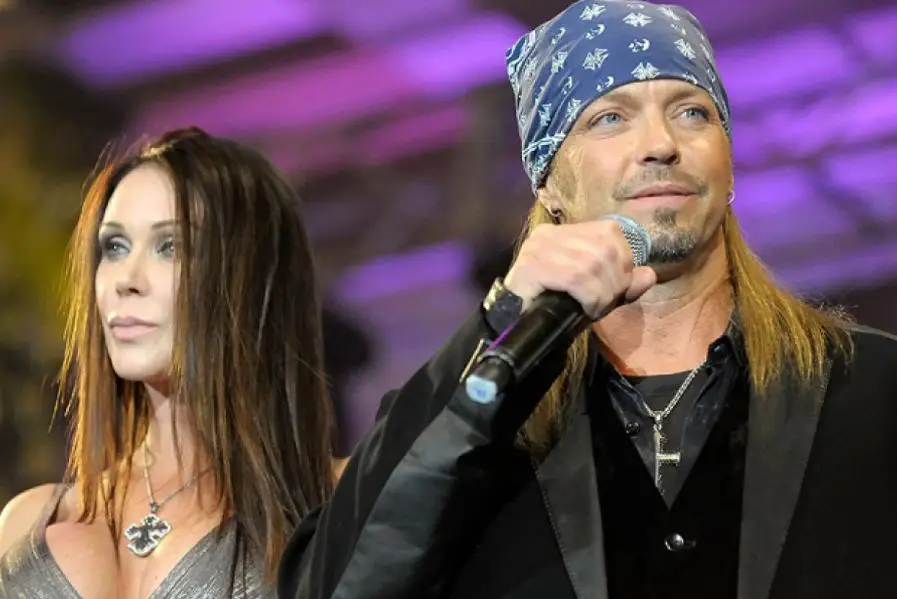 Bret Michaels and his estranged fiance, Kristi Gibson. (Photo: rollinstone.com)
Despite their approval, fate was not in their favor; as a result, their long 16 years of blissful romance ended in just a blink of an eye in July 2012. No appropriate reason behind the split was provided to the media; however, it was inevitable that the ex-duo remained a good friend and parented their daughters together even after they separated. 
You Should Not Miss: How Much Is Anwar Jibawi Net Worth? Family, Height, Religion
However, in between the long 16 years of relationship with Kristi, Bret had budded a relationship with another lady as well. He dated Rock of Love II winner Ambre Lake in 2008 and split shortly after dating few months. The reason behind this was their busy schedule and lack of dedication, as stated by Ambre to CruzVH1.
Bret's Daughters
Bret is the coolest and most supportive dad to his daughters Raine and Jorja. Unlike other fathers, Bret was more excited when his eldest daughter Raine, 18, made her runway debut during the 'Sports Illustrated Swimsuit' in Miami in August 2018. Raine told Fox News that Bret was so proud and excited to see her making her runway and would wait for her outside till the show finished.
As for now, she has landed a coveted spot in the new Sports Illustrated Swimsuit Issue in 2019. Before budding her modeling carer, she had appeared in her father's reality series Bret Michaels: Life As I Know It alongside her sister Jorja.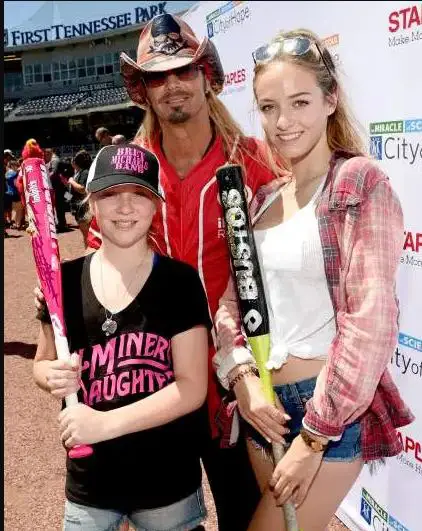 Bret Michaels and his daughters Raine and Jorja Michaels (Photo: heavy.com)
On the other side, Bret's youngest daughter Jorja is an actress known for Mistrust (2018) and Bret Michaels: Life As I Know It. Since she 13-years-old, Jorga has yet to imprint her name in the movie industry like her family. 
Net Worth
Rockstar Bret Michaels has an estimated net worth of $18 million, which he garners from his career as an actor and lead vocalist of Poison.
He formed the legendary band Poison in 1983, and within a year, moved to LA with his bandmates for a better opportunity. The decision brought colors into their life as the band soon became one of the most significant 80s' hair metal bands in the world. Also, he served as a judge in the 2005 season of the reality singing competition Nashville Star. 
Interesting: What Is Actor Case Walker Age? His Height, Movies, Dating Status
Additionally, he and the team also does many tours, which has undoubtedly added more revenues in their pocket. He and his band are set to tour in different cities of the USA, including Florida, New Jersey, and New York in December 2019.
Apart from his rock music and acting career, he owns a clothing line called Pets Rock, a clothing and accessories store for pets.