The ATM guy, Brett Raymer is the COO of Acrylic Tank Manufacturing is more than just an entrepreneur; he is television personality starring Animal Planet reality show "Tanked."
The television star is one to look forward to as he doesn't take everything for granted and works as hard as he can. Brett, who never really got scared to try a new venture, grabbed the opportunity with both hands and made his tank-building dream a reality.
How Much Is Brett Raymer's Net Worth?
The COO of Acrylic Tank Manufacturing has amassed the net worth of $5 million. He summoned his fortunes through his company and starring in the show Tanked. 
Read About: Katrina Weidman Wiki, Age, Married, Husband, Family, Net Worth
The Brooklyn native is graduated from Abraham Lincoln High School and was an athlete during his high school. Brett, who used to play tennis, football, and swimming, later found his future in Tank manufacturing field.
He is currently COO of Acrylic Tank Manufacturing (ATM) with his brother-in-law, Wayde King, which he formed after moving to Las Vegas. Brett reached the popularity milestone after starring in the Animal Planet reality show "Tanked" alongside Wayde.
Divorced First Wife; All About His Children
Brett was married to Melissa Bradford. Although nothing much about their wedding date is known, he and Melissa share two children named Kayla and Bryce. 
After a long relationship, Brett divorced his then-wife Melissa but maintains a healthy bond with Melissa. After their separation, Brett had the custody of his two kids and remains in contact with his former wife.
On 22 November 2014, Melissa showed her appreciation to Brett for being a great dad to his son, which reflects the friendly relationship even after the split. After his divorce with the first wife, he has now moved on and is now engaged to a lovely woman.
Dating Mother Of Two; Purposes Girlfriend After Six Years Of Togetherness
Brett started dating Trisha Chamberlain in July 2011. Trisha, who is the mother of two from her previous relationship, is relishing a romantic relationship with Brett for more than seven years.
Read More: Paul Teutul Jr. Net Worth, Wife, Wedding, Age, Wiki
After dating exclusively for six years, Brett purposed Trisha in a special ceremony in October 2017. Brett gathered his friends and family and purposed his lady love with a big diamond ring. His engagement was even televised in Animal Planet in December 2017.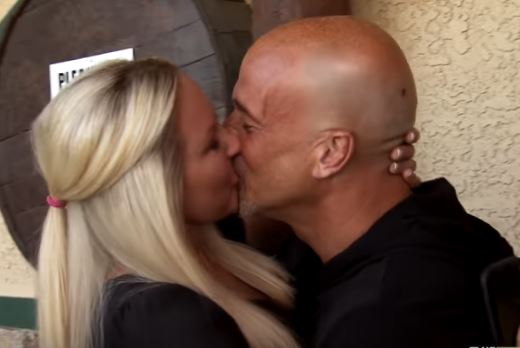 Brett kissing his fiancée after purposing her in front of friends and family shared on 16 December 2017 (Photo: Animal Planet's YouTube)
As of now, they are yet to married but reside in a luxurious Vegas home, which reportedly cost $1 million on remodeling. Brett and his fiancée reside in three-story and a 12,000-square-foot mansion with their four teenage children.
Short Bio
The tank manufacturer was born as Brett Raymer in Brooklyn, New York on 25 October 1969. According to Brett Raymer's wiki, he currently ages 48 and maintains an excellent physique worthy of making young guys fall weak to their knees.
Don't Miss: Tracey Emin Wiki, Married, Single, Net Worth, Now
The American TV host possesses a tall height and belongs to Caucasian ethnicity gives entrepreneur and young aspirant some serious career goal to pursue and make something out of nothing.
Brett has one sister Heather, who is married to his business partner, Wayde. Both Wayde and Brett consider Agnes Wilczynski, their kid sister. Agnes is the member of ATM after selling Wayde her Porsche.