Bryce Hall rose to the fame from his lip-synced videos in a musical.ly account. He has collaborated with popular musers like Whynot_Joey and Loren Beech. Bryce is also known for his YouTube channel name Bryce Hall, where he uploads the relating to vlog, pranks, and QnA videos.
How Does Bryce Hall Gather The Net Worth?
Bryce gathered the prominent part of net worth from Youtube. As per the social blade, Bryce's estimated YouTube earning between $1.7 thousand and $27.5 thousand yearly.
He started gaining popularity when he shared photos on Instagram. Later, Bryce started using Musical.ly where he shared lip-synced videos. Gradually, he got an enormous fan following and gained millions of fans on his Musical.ly account. Bryce also collaborated with internet celebrities like Whynot_Joey and Loren Beech on Musical.ly and even with Kyle Stewart on Vine.
As of now, Bryce has earned over 1.3 million followers on Instagram and Musical.ly. Currently, he is working on his YouTube channel named Bryce Hall that has over 542,604 subscribers. The young Internet star, Bryce began his career back in 2014, at the age of 15.
Bryce's Takes Girlfriend On the First Date; Hints About Ex Girlfriend
Back in February 2018, Bryce once tweeted claiming that his girlfriend is hot. However, the identity of his girlfriend is still a mystery to all his fans.

Recently on 3 June 2018, He shared a photo with a lady named Sara Slays on Instagram, and captioned it as his first date. Also, uploading the same photo, Sara mentioned him as her "Bae." He also uploaded a video on the same day with a title "I TOOK MY GIRLFRIEND ON HER FIRST DATE ( GONE WRONG )."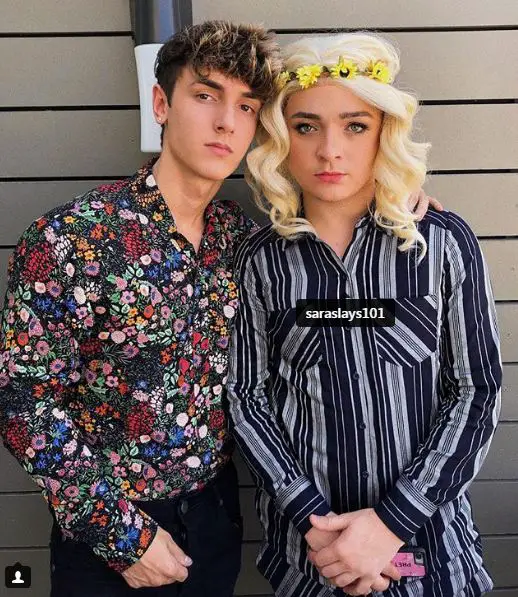 Bryce Hall poses for a photo with Sara (a character of Nick Bean) (Photo: Instagram)
Though the pair called themselves as boyfriend and girlfriend, the video uploaded on YouTube was just for fun purpose as Youtuber Nick Bean is the one, who transformed himself into Sara.
Previously, Bryce gave a hint about his ex-girlfriend when Mark Thomas accused him of having physical relation with eight women on Twitter. In reply to the tweet, he said that he only had sex once with his ex-girlfriend.
However, Bryce has concealed the identity of the lady whom he was talking about. Moreover, no any further evidence of his love affair has been popped-up so far.
Is Bryce Hall A Gay?
The rumors aroused when Bryce was seen as extremely close to Instagram star Mikey Barone. Furthermore, Bryce also appeared shirtless in Mikey's Instagram picture, in which Mikey wrote that they didn't shower together.
Since then rumors of Bryce being gay swirled around the internet. Bryce, however, is straight in his sexual orientation.
How Old Is Bryce Hall?
Born on 14 August 1999, the Instagram and Musical.ly star, Bryce Hall, is just 18 years old now. He stands at the height of 1.75 meters (5' 9''). Bryce holds an American nationality and belongs to white ethnicity.
He has an intimate bond with his family member especially his mother. On 24 February 2018, he surprised his mother on her birthday.
Last Updated on 8th July 2018