With the growing toughness in the internet world, it has become more challenging to the young internet sensations to make a place for themselves. And for those having a shy personality, they can barely surpass this toughness. Nevertheless, Mikey Barone has gained an audience on YouNow, with more than 80K fan following in spite of having a shy personality. Starting with the live-streaming app, YouNow, Mikey has won the heart of thousands of fans on social media sites, especially Instagram. 
Mikey Barone's Inclining Career
The Instagram Star, Mikey, started his career with the live-streaming app, YouNow. Well, he decided to join social media after watching 'Expelled' and being inspired by Cameron Dallas. Young sensation, Mikey continued his career with YouNow back in 2015, and within a few months, he started gaining attention from audiences. No sooner, he received enormous fan following and moved to other social media platforms like Instagram.
You May Like: Hunter McIntyre Wiki, Age, Net Worth
Talking about Mikey's journey on YouTube, he joined YouTube in late 2015 by creating a channel named 'Mikey Barone.' And as of now, he is famous with more than 367k subscribers on his YouTube channel. Not only that, Mikey currently has more than 692k followers on Instagram, 77.9k followers on YouNow and 218k followers on Twitter.
Dating Fellow Social Media Star; Who Is His New Girlfriend?
Instagram turned YouNow star, Mikey Barone is a handsome hunk who has been savoring the perks of dating with Nicole Anderson. His girlfriend Nicole is an Instagram star who has more than 110 thousand followers. Fellow social media sensations, Mikey and Nicole often flaunt their blazoning chemistry with their fans.
Mikey, during the late January 2019, shared a black-and-white snap of his frenzied kiss with his Instagram star girlfriend. Showcasing their strong relationship, he captioned, 'now dis be my baby.'
Read This: Ryan Sweeting Married, Wife, Divorce, Girlfriend, Baby, Net Worth, 2017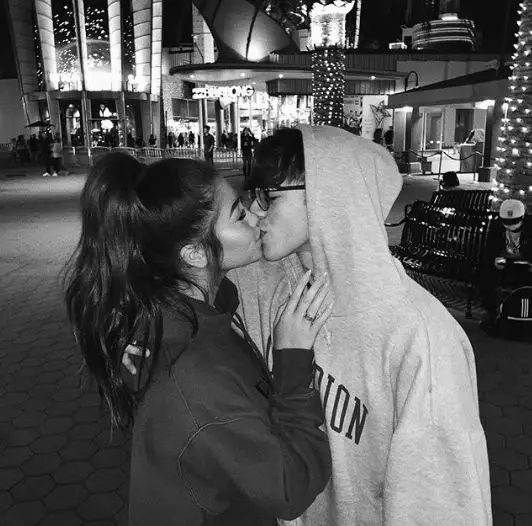 Mikey Barone and his girlfriend Nicole Anderson in late January 2019 (Photo: Instagram)
He confirmed his fans via his YouTube video in February 2019 that he and Nicole were dating each other. Mikey also revealed that at their first meeting, his lady love didn't like him. After he talked with her at Snapchat, their romance flourished at no time.
Recently, in March 2019, the twosome enjoyed at Los Angeles, California. Nicole showed her toned body wearing her favorite swimsuit, Haoka Swimwear. Enjoying the day with Mikey, she said that she has been eating healthy food and is working out daily.
Know About His Past Affairs
The charming personality, Mikey is 19-years-old in age; however, has become the crush of his thousands of lady fan followers. In this context, his fans are probably eager to know if he had an affair or not.
Talking about Mikey's love life, he was in a relationship with YouTuber Taylor Alesia. As a pair, they looked so cute together, and the pictures of them were surfaced all over the internet. Well, Mikey's relationship with Taylor didn't last long, and the couple had a split.
Don't Miss: Michelle Wie Married, Husband, Boyfriend, Dating, Net Worth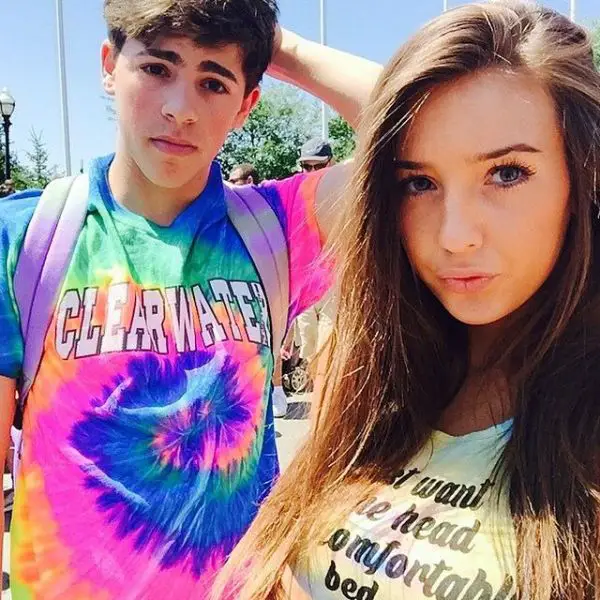 Mikey with his ex-girlfriend Taylor Alesia (Photo: pinterest.com)
Later, Mikey was seen together with singer Maggie Lindemann in her Snapchat videos. The rumored pair shined after they were seen cozying up. Despite that,  their blossoming romance did not come forth.
Is He Gay?
Mikey has a very good bond with his friend Bryce Hall that most of the people are left baffled whether they are a couple or not. The two boys often play along with their fans by pretending to be very close on their collaborations video on YouTube. The intimate relation among them left the fans questioning whether Mikey is gay or straight when Mikey posted a shirtless photo of them on Instagram with a caption stating that they didn't shower together.
When there is no evidence of Mikey's possible love life, his closeness with Bryce has created many speculations on his sexual preference. Despite that, neither of them have commented on this matter. However, based on Mikey's past affair, he seems to be straight.
Short Bio
Born on July 2, 1999, Mikey Barone lives with his mother Bella Barone and his stepfather. Mikey whose hometown is Providence, Rhode Island, belongs to white ethnicity. He has lived all around Rhode Island as his family used to move from one place to another almost twice every year. 
The talented and famous teenage star stands at the height of 5 feet 5 inches and has wowed most of his fans by posting several shirtless pictures on Instagram. Not only that, but he is cherished by his fans also for his forearm tattoo.