If you aren't living under the rock, then you have definitely heard of Kardashian family. And if you know them then, there is a chance you might also know this beautiful producer best friend of Kim Kardashian, Carla DiBello.
Carla was a producer on Kourtney & Kim Take New York. This businesswoman is not just successful in her professional career, but her beauty is something that can give any model the run for their money.
Carla Dating A Russian Rapper?
When you are as beautiful as Carla, it is hard for you to stay single for a long time. Being both beautiful and successful, it is obvious for Carla to be in a relationship. Carla has a mega-popular boyfriend, Russian rapper Egor Kreed. Her Russian rapper boyfriend Egor skyrocketed to fame after posting "Lyubov v seti" on YouTube in July of 2011. He has a contract with Black Star Inc.
Have You Heard Of: Mario Dedivanovic Wiki: Gay, Partner, Background, Net Worth
If you are part of the Kardashian world then, keeping your love life hidden is next to impossible. However, Carla has managed to keep her love life hidden away from the public eyes.
But Carla, who has managed to keep her love life under the radar, could not hold herself back on Valentine's day of 2017. On 14 February 2017, Carla shared a picture of a gorgeous bouquet of red roses and signed it to "E".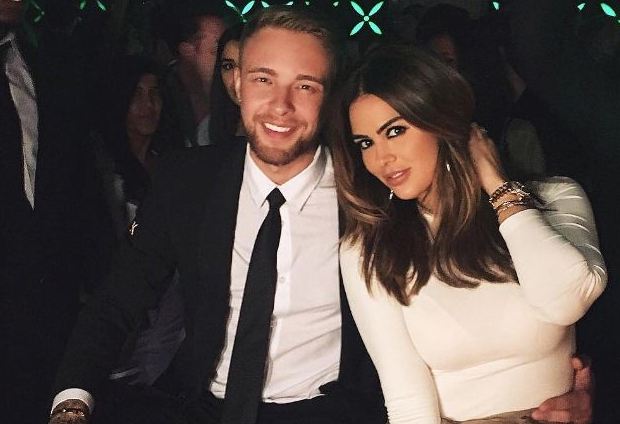 Carla DiBello and her boyfriend, Egor together, at an event (Photo: peopletalk.ru)
As of now, there is only the news of pair dating, but it wouldn't be a surprise if the couple gets engaged in the near future. But only the future will determine whether or not the rapper will be her husband. 
View This: Damon Thomas, Kim Kardashian's Ex Wiki: Age, Net Worth, Job, Family, Facts
What Is Carla's Net Worth & Earnings?
Carla is much more than just the best friend of Kim Kardashian. She is a driven and successful businesswoman who has made a fortune for herself. And if you are wondering how much is this gorgeous businesswoman's worth, then let us inform you, Carla has a net worth of $1.5 million.
Carla is a Los Angeles based producer and a businesswoman. She began her career by working at Wynn Resorts in Las Vegas. She has been working as a producer for a long time. Carla pursued her career as a producer in the early 2000s by working as an assistant to producer Avi Lerner.
Have You Seen: Larsa Younan Wiki, Age, Kids, Net Worth, Siblings
She has worked as an associate producer on the projects like Black Dahlia, The Wicker Man, Home of the Brave, The Contract, King of California, 88 Minutes, The Death and Life of Bobby Z, and Street Kings.
Carla was also a producer for the reality show, "Kourtney and Kim Take New York". She has also produced episodes of Keeping Up with the Kardashians, and the 2010 reality series, The Spin Crowd. Carla has also worked for Harper's Bazaar Arabia.
Carla DiBello Wiki:
Carla was born on 28 March 1984 to DiBello family. Her ethnicity is Italian American. She has a twin brother named Anthony. Despite being a twin, Carla and Anthony share different birthdays; Anthony was born on 27 March 1984, at 11:55 and Carla were born six minutes apart on 28 March.
She is slightly taller in height than her famous friend, Kim Kardashian, whose height is 5 feet 2½ inches. And her body measurements are the reason of envy for a lot of women.