It doesn't take time to change direction, does it? When this reality star debuted on the show, she was proud of her marriage but now claims that their divorce is inevitable. Charrisse Jackson Jordon is one of the stars of Bravo TV's reality show, 'Real Housewives of Potomac' and is at the very edge of two-decade of married life with former NBA player turned Coach, Eddie Jordan.   
Divorce is Inevitable!
It seems like it has been decades since fans of RHOP saw the proud, happy and friendly Charrisse Jackson-Jordon, but it has been just two years which explains how much the RHOP world misses the flamboyant nature of Charrisse.
She married her then-boyfriend, Eddie Jordan on 1997, and the relationship is now two-decade-old. But their married life is crumbling, and they are not celebrating their 20 years of marriage blissfully.
When she debuted on the show, 'Real Housewives of Potomac,' she was proud of her marriage but not anymore. By the end of the first season of RHOP, the couple was not talking to each other.
In the second season of RHOP, nothing seemed to head the right way, as Charrisse said that their divorce is unavoidable. Though both stars have already hired an attorney, they still haven't filled any lawsuit. She said they are lazy in this department, but things are sure to end. She even clarified by saying that:
"But it's gonna happen, unfortunately, it is. I'm not excited that it's gonna happen, but it's inevitable. It's gonna happen."
As per her words, the relationship is basically over, but the couple still wants to co-parent their two children and said that they want to maintain the best humanly environment possible.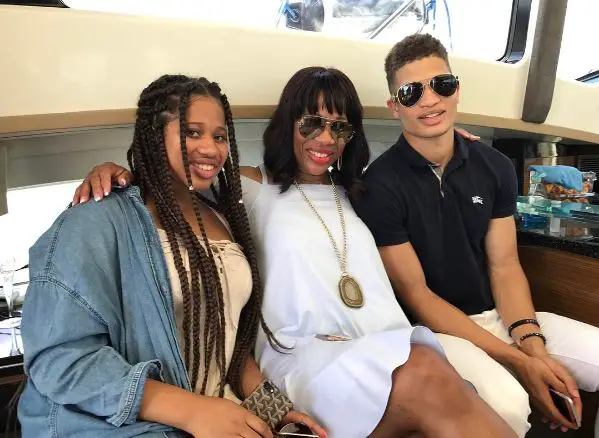 Caption: Celebrating Birthday with her Kids on 16th July 2017
Source: Instagram
Charrisse and her husband, Eddie is the parent of two, son Jackson, and daughter Skylar Jordan, aged 18 and 16 respectively. Although the couple hadn't talked to each other in years, Charrisse still sees a great father in Eddie.
Conflicts with Other Housewives:
The show aired on Bravo TV on 17th January 2017 and showcased the lifestyle of six housewives hailing from Potomac. She entered the show as one of the six casts which include the likes of Robyn Dixon, Ashely Darby, Karen Huger, Gizelle Bryant, and Katie Rost. In the second season which aired on 2nd April 2017, Katie Rost was dropped to the Guest role while Monique Samuels debuted as the sixth profound housewife.

Caption: Charrisse's rage against Ashley on 23rd April 2017
Source: Twitter
Charrisse is pretty vocal about her life choices and is very protective of her family. Ashley and Charrisse locked horns, and she even took Twitter to tell Ashley to focus on her life, and she knows nothing about her.  
Before giving a piece of advice to Ashley, she challenged her by saying:
 "Have a couple of kids before you judge my life."
Charrisse also had a public spat with housewife Gizelle Bryant. Though she doesn't have a hard feeling for all, she is friend with Robyn Dixon and is seen promoting their show in the different occasions as well.
How Much Net Worth Does She Possess?
The socialite and reality star, Charrisse has a heart of gold and uses her fortunes and fame to raise fund for charity. Back in 2014, she won the charity dancing competition called "D.C. Dancing Stars." She amassed her net worth through her appearances in RHOP, and her expected net worth reach $8 million.
Charrisse's Short Bio and Family:
Born as Charrisse Jackson, she stepped into the world on 16th July 1965 in New Jersey and currently ages 52. As per wiki sources, she now resides in Potomac with her family of two teenagers. Belonging to Afro-American ethnicity, she holds the citizenship of America and doesn't reveal about her parents much. The dusky beauty, who stands at a tall height of around 5 feet and 6 inches, sweats hour in the gym to maintain a healthy body shape.