From battling Cancer to working more than half of her life as a media reporter, the life of American journalist and author, Cokie Roberts was itself a fairytale. She had been a perfect example of a role model and is a source of inspiration to have enough strength and perseverance for the people despite whatever circumstances that may arise in a person's life.
Death From Cancer
It's such an unfortunate that the world has lost a gem. American journalist Cokie Roberts is no more with us, and she couldn't continue her battle with cancer. Cokie passed away from the complications of her long-battling with breast cancer at the age of 75.
Explore On: Nick Wright FOX Sports, Wiki, Age, Bio, Wife, Family, Salary, Twitter
Tributes for the reporter poured in after her passing away news was announced on 17 September 2019. She was regarded as one of the founding mothers of the ABC network and trusted voice when it came to matters of political updates and discussions.
Former US president Barack Obama and former first lady Michelle Obama gave their condolences describing her as a role model to young women during the period when men had dominance in the profession and how she played a great part for changing the media world.
However, the current President, Donald Trump's criticism for the reporter was not lightly taken. Earlier, the president tweeted:
"I never met her. She never treated me nicely. But I would like to wish her family well. She was a professional and I respect professionals. Never treated me well, but I certainly respect her as a professional."
After his comment, he was harshly criticized by the general public and Cokie's well-wishers. The president was accused of finding a way to make the reporter's death all about himself.
Nevertheless, it was back in 2002 that Cokie was diagnosed with Breast Cancer. The doctor perceived a suspicious lump of a small tumor in her left breast. Due to the early-stage detection, Cokie won the battle with the disease with a successful lumpectomy at Washington's Sibley Hospital. Well, her working schedules were not affected.
Career and Net Worth
Cokie Roberts was a Journalist and an author who was working as the reporter on a contract with the National Public Radio. She was also the regular roundtable analyst for the ABC TV series, 'This Week with George Stephanopoulos.' Since 1992, Cokie was also serving as the senior news analyst and commentator for the National Public Radio (NPR).
Before working with the NPR, Cokie was a reporter for CBC News in Athens, Greece. The 75-year-old had achieved so much from her career and was one of the veteran correspondents who was probably enjoying her net worth in millions. Despite that, the talented Cokie was low-key when it comes to revealing her actual earnings.
Married Life and Children
Cokie had a great companion; her husband Steven V. Robert, with whom she got married back in 1966. The pair wrote a weekly column of United Media in the newspaper around the United States. Mr. Steven is also a Journalist and writer by profession. It had been more than five decades that Cokie enjoyed a marital life with her husband before she passed away on 17 September 2019. Since Cokie shared an incredible bond with her husband, there were no rumors of their divorce.
See This: Briana Lane Bio: Married, Dating To Children, Baby Daddy, Net Worth & Boyfriend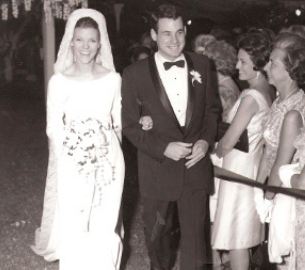 Cokie Robert and Steven Robert at their wedding in 1966 (Photo Credit: tabletmag.com)
Cokie and her husband were also blessed with two children; a daughter Rebecca Roberts and a son named Lee Roberts. Rebecca has followed the footstep of her parents and is also a Journalist by occupation while there is not an adequate professional background of Lee.
Family Life
Cokie was the third and the youngest daughter in her family. Her father, Hale Bloggs was the former House majority leader of the U.S. House of Representatives and also the congressman from Louisiana while her mother, Lindy Boggs was the member of the U.S. House of Representatives.
Mr. Hale was declared dead when he was lost on a plane which vanished in Alaska in October 1962 while Mrs. Lindy lost her life on March 1, 2001.
Cokie eldest sister, Barbara Boggs Sigmund, is also no more with us as her eight years battle with cancer defeated the lady and was declared dead at the age of 51 in the year 1990. Her elder brother, Mr. Thomas Hale Boggs Jr. was a prominent Washington D.C. attorney who died on September 15, 2014, due to heart attack.
Her Short Bio
As per the wiki, the American Journalist was born on December 27, 1943, in New Orleans, Louisiana, United States. Cokie, who died at the age of 75, attended an all-girls school, Academy of the Sacred Heart, before graduating from the Stone Ridge School in Washington D.C. in 1960.
She had completed her education, receiving a BA in Political Science from Wellesley College in 1964. Well, Cokie Roberts belonged to white ethnicity.