While there are personalities who are famous for their astounding works, Jarrius Robertson became the apple of everyone's eyes being the super fan of the Saints. It was in February 2017 when Jarrius was watching the NBA All-Star Celebrity Game but couldn't resist until he moved to the court and scored a shot at the last minute.
Not only the sweet moment grabbed everyone's attention but also led liver patient Jarrius to participate in the NBA All-Star weekend festivities in New Orleans. Furthermore, he was offered to sign a contract to become an honorary Saint by the Saints. 
Who Is Jarrius Robertson? Wiki, Height
Every NBA lover might recognize Jarrius as the super fan of the Saints. However, it is not enough to describe him. Jarrius is a 17 years old New Orleans native born on 26 March 2002 in New Orleans, who has a sad side of the story. Jarrius has been fighting with the disease called biliary atresia since he was six months.
Moreover, he had also done a liver transplant when he was only one-year-old. Despite the success of the operation, he went in a coma for around one year, and while everybody was losing hope, it was Jarrius who wasn't willing to give up. He was still breathing when the doctors and his parents decided to let him freed from pain by removing the respirator. 
Since then, he has undergone more than 13 surgeries and two liver transplants. His disease has affected his growth. As a result, his height stands only 4 feet tall and weighs 52 pounds. 
Growing up fighting with the disease, the brave warrior Jarrius first met the Saints in 2015, and since then he has been a great fan of them. 
Jarrius Parents, Facts On His Father's Accusation 
Jarrius is the son of his parents Jordy Roberson and Patricia Hoyal. His parents raised him with many pain and struggle, as he was diagnosed with the critical liver disease since he was not even the age of one.
Thankfully, their struggles were shared by the world and were supported financially with Jarrius foundation called "It Takes Lives to Save Lives."
However, the money wasn't used appropriately. The news became headline when Jarrius mother Patricia accused Jordy of misusing his son's operation cost in January 2019. His father was charged with gambling, buying cocaine, and spending it for his personal use.
Soon, Jordy got arrested for the accusation of withdrawing more than $49000 on 1 February 2019. He got reprimanded in August 2019 for the crime he has done. He was charged 20 years in prison, $1million fine as cocaine charge and $250000 for fraud. 
Net Worth
Jarrius was considered as a member of saints when he signed a contract to become an honorary Saint. Besides, he also has a foundation that helps him raise money for his treatment. He was donated $25000 by the Saints and by NFL Commissioner, Roger Goodell. But, his net worth is yet to surface, as of now.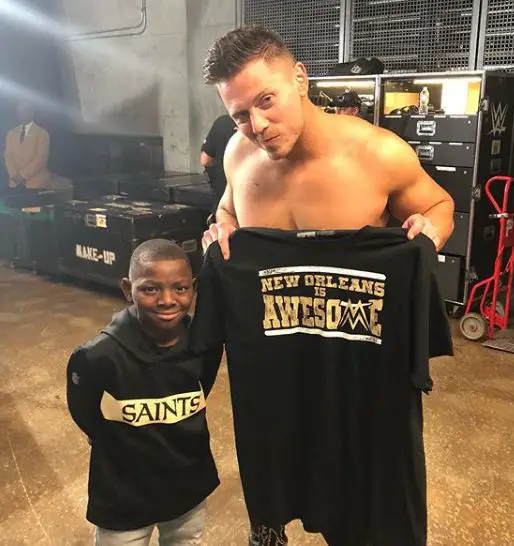 Jarrius Robertson considers Mike "The Miz" as his best friend. (Photo: Jarrius' Instagram)
Apart from that, Jarrius has received the Jimmy V Perseverance Award in 2017 and also the Warrior Award in 2018 at WWE Hall of Fame Induction Ceremony. WWE presented Jarrius award for his immense courage to fight with his life taking disease and becoming an inspiration of many others who are in their rare condition.