Colin Farrell is one of the biggest names in the Hollywood Industry. He is adulated for his multifaceted acting and adaptable roles.
He made his first breakthrough as an actor from The War Zone, which was released in the year 1999. Since then, Colin has been compelling the audience and movie critics with his impeccable acting. Some of his acclaimed movies include Phone Booth (2002), The Recruit (2003), S.W.A.T (2003), Intermission (2003), Miami Vice (2006), In Bruges (2009), Ondine (2009), and The Lobster (2015) and so on.
For his notable performance, Colin was even awarded the Golden Globe Award in 2009 for his movie In Bruges. He won this award in the category of 'Best Performance by an Actor in a Motion Picture-Comedy or Musical.'
Bio
Colin Farrell was born on 31 May 1976 in Castleknock, Dublin, Ireland. His birth name is Colin James Farrell. He has an appealing height of 5 feet and 10 inches (1.78m).
Colin Farrell Girlfriend: Who Is Irish Actor Dating Now?
Colin Farell is a kind of actor whose artistic personality and secret aura is enough to attract any woman. In this context, he can't remain out of gossip when it comes to his personal affairs.
Precisely, at present, he is in a relationship with Kelly McNamara. Kelly McNamara is a personal assistant of U2 guitarist Edge.
The reporter of dailymail.co.uk snapped the lovebird's image while they were strolling together in February 2018. The most interesting thing was, they were spotted together exchanging kisses while heading to lunch in Los Angeles.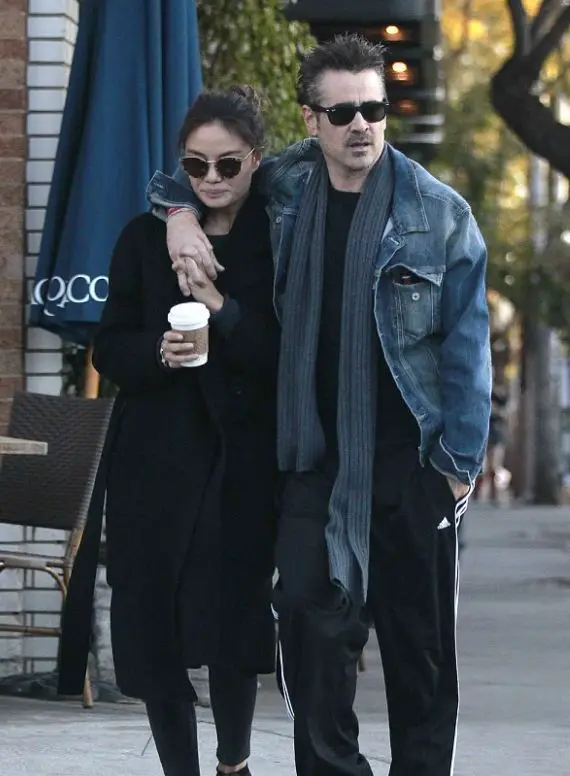 Colin Farell with his girlfriend Kelly McNamara in 2018 (Photo:dailymail.co.uk)
In an interview with Ellen, in The Ellen Show in March 2019, he disclosed that he has been nurturing his love affair with Kelly for three years.
Colin and his girlfriend first encountered each other when Colin Farell was hanging out with the band in 2015. From that time, they started seeing each other, and their love flourished. 
Despite his relationship with Kelly, he is also rumored to have been in secret affair with actress Angelina Jolie. As stated by, OK! Magazine in 2019, it's been two months that they are having a secret affair.
To back this statement, the Magazine has mentioned that Angelina Jolie attended the premiere of Dumbo on 11 March 2019 along with her children to support Collin. Collin Farrell has a prominent role in this movie.
Wife And Children
Although Colin Farell hasn't got married yet, he is rearing his two children named James Padraig Farrell and Henry Tadeusz Farell. They both are 15 and 9 years old, respectively. James's mother is American Model Kim Boardenave. Even though Collin had an affair with Kim, they never got married.
Likewise, Henry's mother is Alicja Bachleda-Cyrus. His parents met each other during the shoot of the Irish movie Ondine in 2009. Regardless of their affairs, they got split in 2010.
Take A Snoop:- Alaina Anderson kids
Furthermore, in The Ellen Show of March 2019 episode, Colin opened up about his relationship with his children. He mentioned that he took a break of 11 months to spend quality time with his children. He also poured his emotions regarding the rare disease of his elder child, James, who is battling with Angelman Syndrome.
Past Relationship
While tabloids and magazines mostly got blessed with the contents regarding his personal affairs, Colin enjoyed the limelight it offered. His relationship rumors, gossip, and affairs with star celebrities, singers, and artists remained abuzz throughout his acting career.
Delving into his past relationship timeline, Colin was rumored to have married actress Amelia Warner in 2001. To bolster this rumor, their wedding ceremony on a beach in Tahiti was enough. However, it was deemed unofficial. Later, Amelia got married to Jamie Dornan in April 2013, and together, the couple is blessed with three children.
Similarly, from 2002 to 2003, Colin built his sybarite image dating four women named Ashley Scott, Maeve Quinlan, Kim Bordenave, and singer Birtney Spears.
Likewise, he was rumored to have been in an affair with Lake Bell in 2006. Likewise, his name was also connected with an actress Carmen Electra in the same year. Furthermore, the list of his rumored girlfriend includes Lindsay Lohan, Rosario Dawson, Demi Moore, Angelina Jolie, and Michelle Rodriguez.
Rumors apart, in 2006 when his private tape with actress Nicole Narain got leaked, people knew that they were dating since 2003.
This May Mesmerize You:- Lucky Mechlenburgh boyfriend details
Gay Marriage
For some, it may sound surprising and could be a topic for healthy gossips; but keeping all the possible rumors at bay, actor Colin Farrell advocated for the rights to Gay Marriage in Ireland back in November 2014. It only came to his sense when his gay brother had to go to Canada to marry his spouse, Steven. He even published a letter in Ireland Sunday World to fight for the Gay Right in Ireland.
About 67 percent of the Irish population was already in favor of the same-sex marriages back in 2015. And to everybody's excitement, the Irish government legalizes same-sex marriage on 16 November 2015.