90 Day Fiancé's star, Darcey Silva, age 44 found a love interest in Dutch boyfriend, Jesse Meester. The couple nurtured the heart of fans through their lovey-dovey chemistry in the Reality Show. But, the things never worked in their real life as Darcey and Jesse are having a turbulent relationship.
Darcey Silva is famous for appearing in the 90 Day Fiancé's spinoff 90 Day Fiancé: Before The 90 Days. She is an owner of her own fashion wear company House of Eleven.
Darcey Allegedly Threw Shoes at Jesse; Jesse Threatens To Call Police!
On 6 September 2018, Silva and Jesse had a terrible fight and Jesse threatened to call the cops on her. The drama began after Darcey allegedly stepped on Jesse's shoe. After she stepped on his shoe, Jesse got pissed off and told her what she was doing. She claimed with People's Magazine that Jesse then pushed her out of the door.
Jesse asked her how would she feel if he did the same on her shoe. After then she replied saying to take her $1,000 shoe, go ahead and step on it. Jesse claimed that she even threw the shoe at him. While she denied the claim as said she threw the shoe toward the bag.
See Also: Sherry Holmes Wiki, Age, Married, Boyfriend, Dating, Affair, Parents
After then, Jesse told that he was going away from his and calling the police. Further, he carried his luggage bag downstairs and said he felt not safe anymore as termed her paranoid.
Darcey's Boyfriend Wants To Sue Charges Against Her!
With the release of the season two of the 90 Day Fiancé: Before the 90 Days, the relationship between Darcey and Jesse has fallen apart. Meanwhile, the fight started to unfold on the recent few episodes. As confirmed by In Touch Weekly on 9 October 2018, Jesse revealed that he wanted to sue charge against Darcey.
As shown in the teaser of the upcoming episodes, Jesse told that he never put hands on her. Meanwhile, in the next clip, he warned her saying he wanted to sue charges against her. The actual reason that let Jesse warn her is yet to come forth. Similarly, she was arguing after Darcey pushed him out the door. 
Further, in the teaser, Darcey's daughter suggested her saying she deserved someone better in her life rather than Jesse Meester. The full episode of the 90 Day Fiancé: Before the 90 Days is yet to release.
Darcey Silva's Turbulent Relationship With Jesse Meester; End Of Dating Affair? 
Darcey Silva and her boyfriend Jesse, who is a Dutch entrepreneur, are having a turbulent relationship. The two reportedly have broken up with each other.
Darcey and Jesse got together via online. She even flew overseas to spend time with him. Meanwhile, Jesse also came to spend time with her in New York City. After the couple joined the Reality TV show, Darcey introduced her boyfriend to her two daughters, Aniko and Aspen. 
Since the couple got together, they are having a rough time at the time. Darcey and Jesse even had the most complicated relationship last season of the show. However, she and Jesse were maintaining their healthy bond with each other till 8 January 2018 as Darcey uploaded a sweet photo of together in her Instagram.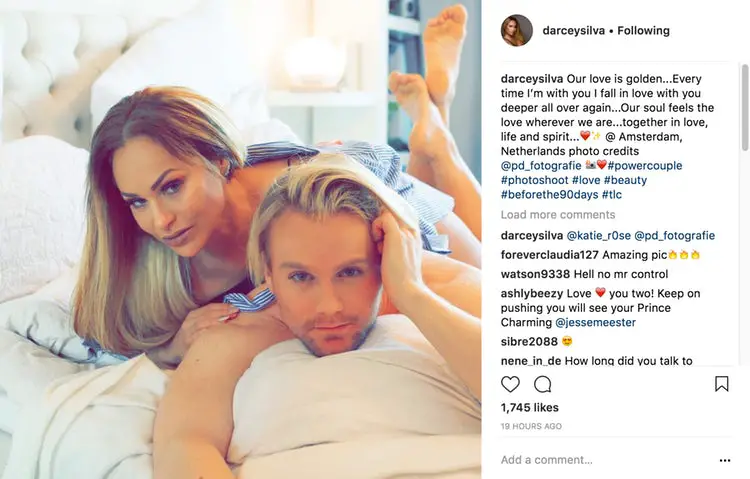 Darcey and Jesse spend time together in Amsterdam on 8 January 2018 (Photo: Instagram) 
She even captioned the photo saying she fell in love with him when she was with Jesse. She also wrote that their souls fell the love wherever they were.
But, Darcey and Jesse are reportedly separated from each other now. As confirmed by the InTouch Weekly, Darcey, who has kept her Instagram account on private, uploaded a photo of her and wrote in the caption that New beginning is the best feeling and it's time to shine again. At that time, the pair were surrounded by a rumor of separation.
Don't Miss: Lilia Buckingham Wiki, Age, Parents, Height, Dating, Net Worth
Meanwhile, InTouch Weekly, on 1 September 2018, confirmed the reason for their separation, as Jesse talked about his tumultuous relationship in a podcast interview Reality Life with Kate Casey. He said that his partner never had bad intention, but getting to know more about her, he found lots of things going fake in their relationship. He said:
"In my relationship, Darcey doesn't per se have bad intentions, but getting to know her more, you get to see that a lot of it is fake. I can say now to you that I have a business, I'm a very successful man, that I did this and I did this — but that doesn't mean that it's true" 
Further, Jesse told that he doesn't care about the entertainment industry, but when it's about his real life, he doesn't want to fall in love with the facade. Nevertheless, he doesn't want to disrespect her. He told that he is going to keep things respectful. He continued;
"I'm gonna keep it respectful — may peace be upon her — but it's just very sad when you witness something like that."
Since Jesse, himself came up with the reason that he and Darcey are not in proper term with each other, it indeed gave a hint that they possibly might have split from each other now.
Darcey was previously married to Frank Bollok. Aniko and Aspen are her daughters from her first marriage with ex-husband Frank Bollok. Her ex-spouse, who is a co-owner of The Twilight Lodge, is now engaged to a woman named Kristell Mapelli.
Related To 90 Day Fiancé's Star: Anfisa Arkhipchenko Wiki, Age, Job, Baby, Boyfriend, Net Worth
How Does Darcey Silva Accumulate Net Worth?
Darcey Silva accumulates the net worth as an entrepreneur and a reality star. She gathers the prominent part of the revenue from her clothing line named House of Eleven, which she opened along with her sister.
Darey's company has designed fashion wear for a celebrity like Demi Lovato, Nicki Minaj, Jessica Alba.
The 44-year-old entrepreneur also earned the revenue appearing in the 90 Days' spin-off the 90 Day Fiance: Before the 90 Days. As per the thehollywoodgossip.com, lead cast members in the reality show enjoy estimated earning of $1,000 per episode. However, the InTouch Weekly confirmed that some of the participants get nothing from the show. In the show, she appeared with her 25-year-old partner, Jesse Meester.
Like Darcey, Paola Mayfield also appeared in the 90 Day Fiancé alongside her engineer husband, Russ Mayfield.
Short Bio
Darcey Silva was born on 23 September 1974 in Connecticut the USA. She grew up alongside her twins sister named Stacey, as per the wiki. Darcey and her twin sister Stacey Silva were arrested for a "catfight" in January 2018.
The information about her parents is unknown. Holding American nationality, Darcey belongs to white ethnicity.