After a miscarriage and an inevident fractured relationship with her beau, Paola Mayfield is currently rejoicing her second pregnancy phase.
Colombian Fitness model Paola is again expecting her first child along with her lover, Russ Mayfield, after facing a miscarriage in the past. And the soon-to-be mum's social media uploads are filled with multiple pictures of her growing bump along with the care and attention bestowed by her partner.
Welcomed A Baby 
The 90 Day Fiance star, Paola Mayfield and Russ Mayfield welcomed their first child together back on 1 January 2019. Paola gave birth to a baby boy named Axel Mayfield who weighed at seven lbs., 5 oz during the delivery. 
A lovely couple of the reality star revealed that they were hoping for Christmas baby it ended up with a New Year's baby. However, they wouldn't change their experience for anything else. 
Also, Paola shared an adoring picture of her and Russ with their newly born baby on Instagram and captioned that it was a fantastic way to start the New Year. Also, she thanked her husband for being supportive through the entire part of the time.
Know More About: Park Shin-hye Boyfriend, Dating, Weight Loss, Net Worth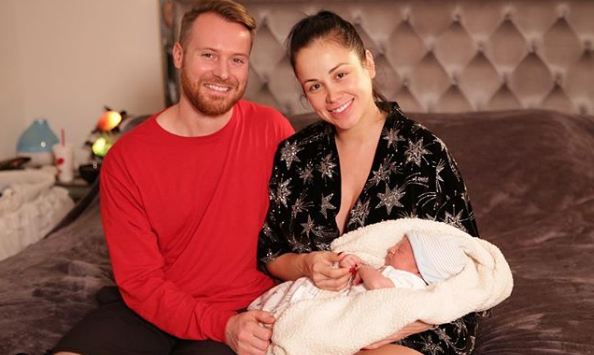 Paola Mayfield and her husband with their newly born baby (Photo: Pao's Instagram) 
Similarly, after five months of her delivery, she shared the picture of herself with her baby boy, Axel on 14 June 2019 and mentioned that motherhood has changed her life. As of now, Paola and her husband, Russ treasures the blissful moment with their son, Axel. 
Daunting Miscarriage Reportedly Caused Rift With Russ!
Paola Mayfield had a miscarriage back in 2015 while filming the episodes of TLC's documented series, 90 Day Fiancé along with her engineer husband, Russ Mayfield.
One of the doctors in the TV series also explained her about the cause of her miscarriage. He clarified the reason behind her miscarriage was O-negative blood with Rh-negative, which is rare. When the blood group creates Rh incompatibility between the fetus and the mother, it leads to birth failures. 
Rumors also floated that Paola accused her partner, Russ Mayfield for not standing with her emotionally and physically during the miscarriage. Conversely, Russ stated that she shut him out and didn't want to talk about miscarriage. 
While there was constant news about their relationship rift, their multiple social media uploads falsified the much speculation of their divorce.
Becomes Pregnant Again; Reveals Baby's Gender
It must have been very depressing for the couple to lose their child, so they are getting very cautious about Paola's second pregnancy.
The fitness expert shared the news of her pregnancy on her Instagram handle on 25 July 2018. The couple exclusively revealed the gender of their baby on the social media post shared by Paola on 11 August 2018. She shared a picture from the baby shower and announced that they are expecting a boy.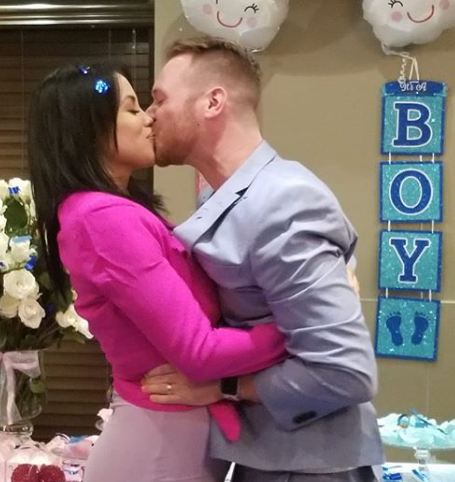 Paola Mayfield with her husband, Russ Mayfield at their baby shower on 11 August 2018 (Photo: Instagram)
However, Paola revealed that she doesn't care if it was a boy or a girl; she wants a healthy baby. Paola, who admitted of rooting for a girl, stated that Russ is very excited as baby boy is also a blessing.
When the soon-to-be mommy is waiting for the due date of her baby's arrival, she faced a backlash from some people for exercising while pregnant. As a response, Paola clapped back to the people in one of her Instagram stories for slamming her.
Do Not Miss: Cindy Landolt Wiki, Bio, Age, Married, Boyfriend, Dating, Height
Did Long Distance Relationship Thrust Them To Divorce?
Paola Mayfield got married to American reality TV star, Russ Mayfield on October 2013. But right after their marriage, Paola decided to move to Miami to push her modeling and fitness career. She wanted Russ to join her but did not tell him about one of her friends in Miami.
Meanwhile, there were many rumors regarding the sourness in their relationship. Amidst their divorce rumors, in an interview with The Hollywood Gossip in 2018, Paola made it clear that they are still together. Although Paola admitted of fighting and patching up with Russ, she revealed not being unfaithful to her beau.
The pair is still together, and Paola even posted a picture from their wedding on their fourth wedding anniversary on Instagram on 7 October 2017. The fitness enthusiast thanked her husband, Russ and shared her feelings to be with him till her last breath. She also expressed her gratitude for Russ in making her a better person and loving and supporting throughout her life.
You Can Also Read: Terri Carrington Wiki: Age, Divorce, Affairs, Net Worth- Rodney Carrington's Ex-Wife
She even wished her husband on his birthday by sharing a photo of them on Instagram on 25 June 2018. She is genuinely obliged for the supportive and caring nature of Russ, who is always backing his wife.
Short Bio
The Reality-Star celebrates her birthday on 14 May. She is 32 years of age as she was born in the year 1987 in Colombia, as per wiki. Her birth sign is Taurus.