Deena Nicole Cortese has made her appearance in the great shows like the Ellen DeGeneres Show, Wendy Williams, and Jimmy Kimmel Live. If you're wondering who Deena is, she is a reality star who appeared in the MTV Jersey Shore in 2011 after beating another reality star Angelina Pivarnick.
Besides that, in 2012, she made a headline as she was arrested for dancing inappropriately in the street of Seaside Heights; however, she got bailed after pleading guilty and paying certain charges.   
Net Worth
Ther reality star of the Jersey Shore and Couples Therapy, Deena is estimated to have a virtuous net worth of $1 million. 
She reportedly earned an estimated amount of income, $40,000 from each episode of the show 'Jersey Shore' which is less in comparison to other senior reality stars of the show as she had appeared in only the third season of the show although she was selected in the first season.
Popularly knows as Blast in a Glass, Deena also makes a significant amount from her sponsored Instagram ads. Besides, she also has many other luxurious properties, including her house.
Bio- Education
Originally from New Egypt, Deena Nicole joined New Egypt High School, where she indulged in the cheerleading and dancing team. After her high school graduation, she joined the Brookdale Community College from where she dropped her education.
However, she didn't stop there- further took a dental course and got a license from the dental assistant.
Prior to her license, she was already selected for the Jersey Shore, but she went for her course, and two years later, she re-auditioned and got a life turning opportunity making her appearance through the season 3. 
She was 24 years old then according to her birthdate 12 January 1987.  
Husband & Children
Deena got married on 28 October 2017 to her boyfriend of six years Christopher Buckner, a reality star who has appeared in Jersey Shore and Couples Therapy along with Deena after 11 months of engagement.
The couple had their first meeting on Italian eatery San Marzano in 2011, and since then they have been flaunting their relationship.
Not only they are a beautiful pair within, but also they make their overwhelming presence with their matching physical attributes when they attend the events. While Deena stands a cute height of 5 feet with average body weight, her husband stands slightly tall and bulk as it should be.
After two years of their blissful married relationship, the couple was further blessed with a beautiful son Christopher John "CJ" Buckner on 5 January 2019.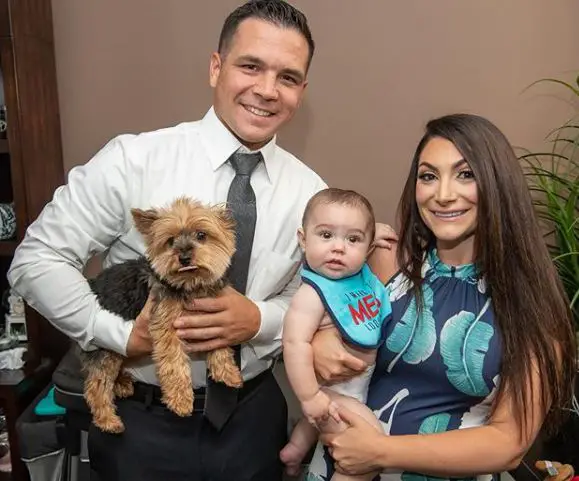 Family: Deena and her husband Christopher with their newborn child Christopher John. (Photo: Deena's Instagram)
Besides Christopher junior, they have no other biological or adopted children.
As of 2019, the family of three is cherishing their moments and often spends their time vacationing at different places.
Parents Details
Deena was born and raised by supporting parents, mother Joann and her father who died in June 2016 due to Leukemia. Both her parents supported Deena and Chris's relationship.
Before her father's death, it was his wish to see his daughter marry her long-time boyfriend, Chris. However, unfortunately, he couldn't evident his dream.