Devenity Perkins is a TikTok(Musical.ly) Star, who collaborates with her older sister Daniella Perkins. The two sisters reached the stardom through their joint YouTube channel, Perkins Sisters, which has over 2.4 million subscribers. 
Devenity has her personal self-titled YouTube channel, which has more than 27K+ subscribers. In her video, the joyful and fun-loving social media star likes to turn any ordinary situation into lively and hilarious moments.
Besides YouTubing, Devenity has more than 1 million followers on her solo TikTok account "littlest_rebel" and 629K+ followers on her Instagram account 'Devenityityperkins.'
Rise To Stardom With Sibling
Devenity collaborates with sister Daniella Perkins who is almost three years older than her. Sister Daniella is a social media star-turned-actress known for lead role Nickelodeon based comedy series Knight Squad and as the cast of Legendary Dudas. 
Together, the two siblings sisters, Devenity and Daniella, also launched the WzTheBuzz website in 2008. On the website, they reviewed places, restaurants, and trending fashion, which they initially made a business platform in 2011.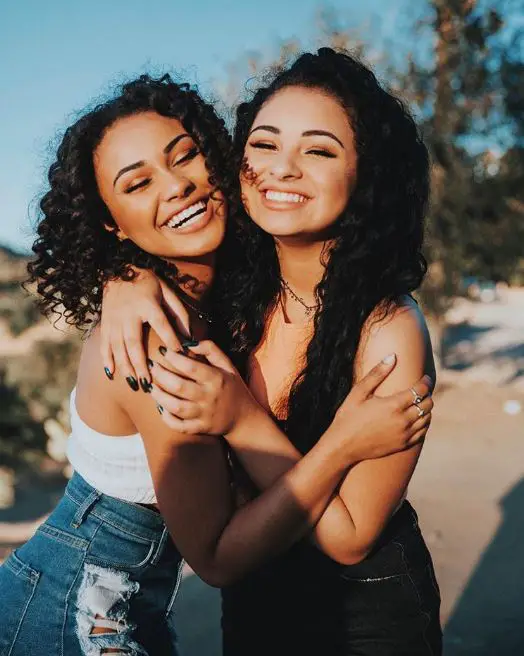 Devenity with her sister Daniella (July 2017) (Source: Instagram)
Apart from that, on their collaborative YouTube channel, Devenity and Daniella's most loved videos include Boyfriend Tag? Dani's Version, Trying Online Dating, and Taco Bell Challenge. From the look of their videos, they seem to enjoy each other's company.
Don't Miss This: Oliver Moy Wiki, Girlfriend, Parents, Net Worth
Who Is Her Boyfriend?
Devenity Perkins's dating history explicates her faulty relationship with a reality TV star Landon Baker. The former couple reportedly started dating in 2016. Initially, the rumors about their relationship spiraled due to their flirty nature on social media posts. Later, they made their relationship more transparent as they were spotted hanging out with each other several times.
Unfortunately, the relationship between Devenity and her boyfriend couldn't flourish for long, and unfortunately, they decided to part their ways. Despite their separation, the ex-flame didn't give any clarification regarding their departure. However, it was assumed the break-up wasn't mutual, and Landon was the one who decided to part their way.
After the break-up with Landon, Devenity reportedly started dating a rapper Suigeneris in 2019. Suigeneris is a trap and hip hop artist, who released his debut album, The Cheat Code, released in March 2018.
You Don't Want To Miss: Aaliyah Mendes Height, Siblings, Boyfriend
Unfortunately, like her post-relationship, Devenity's affair with Suigeneris also couldn't sail smoothly for too long, So, they split after six months of a dating relationship. 
As of now, her relationship status is obscure. Any details regarding her possibly dating romance is low-key.
Wiki- Age, Parents & Siblings
Devenity, who celebrates her birthday on 13 August, born in the year 2003. Hailing from Fullerton, California, her birth name is Devenity Perkins.
Talking about her family, she has a sister named Daniella Perkins, who is also a social media star. Sadly, the two siblings' father is missing from their family—he passed away on 17 January 2019. Since the loss of dad, she is trying to heal and cope with such a devastating event.
Keep Exploring: Gilmher Croes Wiki, Girlfriend, Family, Net Worth
Facts- Height
Standing at the height of 1.55m (5 feet 1 inch), Devenity possesses a slim build and weighs approximately 49kg. She has naturally black hair with dark brown eyes. Besides that, her distinctive body features include her beautiful curly hair and a petite body.