Domhnall Gleeson is mostly known for his role as Bill Weasley in the Harry Potter franchise. He is also known for portraying the character of General Hux in the blockbuster film Star Wars: The Force Awakens. The Irish Film and Television Award-winning actor also starred in the British series, Black Mirror in an episode, Be Right Back.
What's Net Worth Of Domhnall Gleeson?
Domhnall Gleeson has accumulated a net worth of $7 million from his career as an Irish actor since 2001. His blockbuster movie series of Harry Potter and the Deathly Hallows Part 1 and Part 2 grossed a box office of $2.3 billion which was made at a production budget of $500 million. Domhnall has received his payments from Heyday Films, as he played a role of Bill Weasley in the series of Harry Potter.
Likewise, Domhnall also increased his fortunes from another hit movie, Star Wars: The Force Awakens in 2015. The Walt Disney Studios and Motion Pictures movie grossed $2.068 billion at the box office. The movie hit the theatres in the production budget of $306 million.
He started his acting career in 2001 from the British TV drama miniseries, Rebel Heart with the role of Byrne. Since then, he has appeared in many movies and TV series. His notable works include Never Let Me Go; Unbroken; Star Wars: The Last Jedi; and Catastrophe. 
In 2018, he is set to appear in a gothic drama film, The Little Stranger which is in a post-production phase. Domhnall is also filming for his upcoming movie, The Kitchen with the role of Gabriel O'Malley. The Warner Bros. Pictures crime drama movie is set to hit the theatres on 20 September 2019.
Spotted With His Rumored Girlfriend; Alleged Couple Met At DIT 
Domhnall is reportedly dating a TV producer Juliette Bonass. The actor was seen strolling around Disneyland in Anaheim, California with his rumored girlfriend Juliette on 27 May 2016. The duo headed over Carthay Circle for some food, and they walked over the theme park area in Tomorrowland.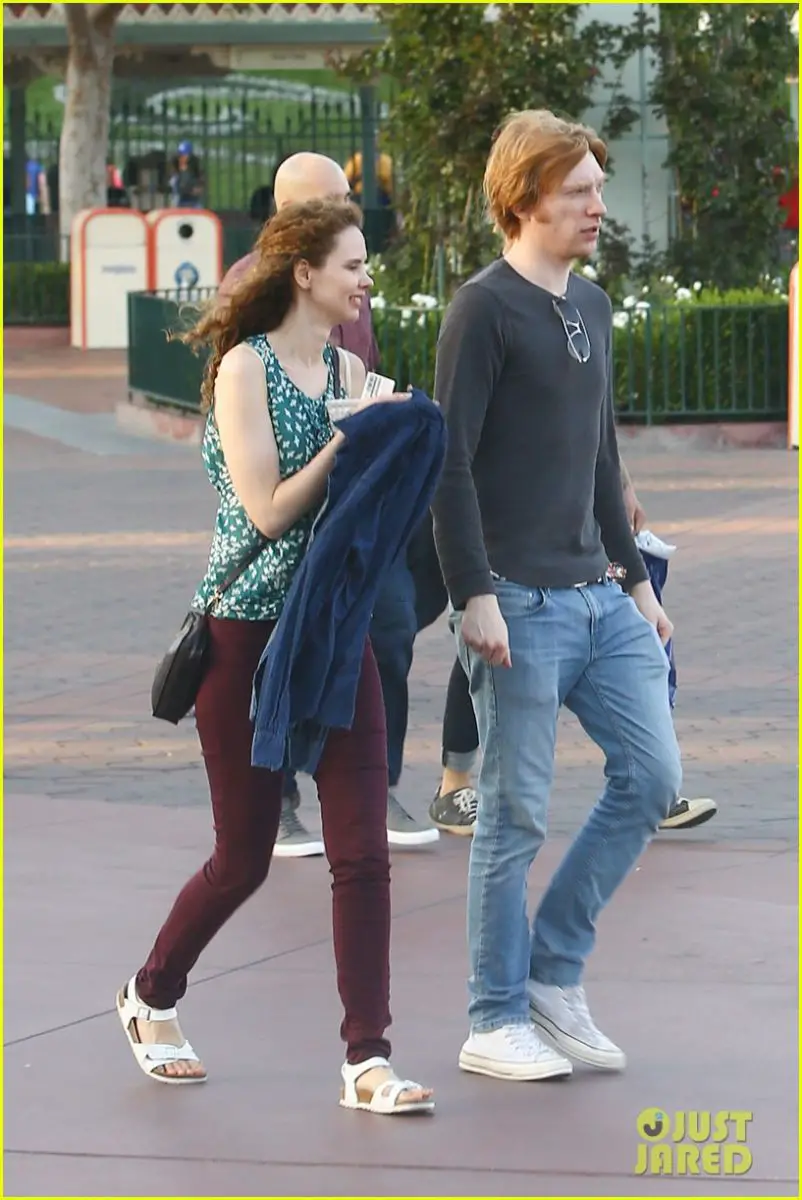 Domhnall Gleeson and his rumored girlfriend, Juliette Bonass strolls around Disneyland on 27 May 2016 (Photo: justjared.com) 
Juliette met Domhnall in Dublin Institute of Technology (DIT) and remained close friends. She also collaborated with the Irish actor and has done comedy sketches with him for charity.
In conversation with Maggie Armstrong in 2015, his rumored girlfriend described Domhnall as 'hard working' guy who was working as an actor even during their fourth year in DIT. 'He was focused on his education as well as his acting career;' the TV producer further recounts her memory of Domhnall.
Although there was romance sparkled between those two, Domhnall and Juliette are yet to comment on their relationship. As of June 2018, the 35-year-old actor is reportedly unmarried and doesn't have a wife.
Domhnall Opinion On 'Marriage'
In an interview with BuzzFeed on April 2015, Irish actor Domhnall Gleeson talked about his strong opinions on 21 random things. Domhnall did not hesitate to answer all the questions except one. When he was asked about his view of marriage, he replied 'Pass.' The actor also described the dating application, Tinder as 'Pubes.'
When asked about a celebrity crush, Domhnall named Audrey Tautou as his crush. He also added that it is awkward because he might work with her in his next venture. He was also affirmative to the question of Buzzfeed that he might date her after working together.
Domhnall's Family Life; Actor Father
His father Brendan Gleeson is an Irish actor and film director. Brendan is mostly known for his role on the series of Harry Potter movies. He has played the role of Alastor "Mad-Eye" Moody and is known by his nickname 'Breese's Gleese's.' Brendan has also won IFTA Awards, Emmy Award, BAFTA Award, BIFA Awards, and Golden Globe Award.
Domhnall describes Brendan as 'an amazing father.' His mother name is Mary Weldon. He also has three younger brothers in his family, Fergus Gleeson, Briain Gleeson, and Ruairi Gleeson.
Short Bio
Domhnall Gleeson was born on 12 May 1983 in Dublin, Ireland. He graduated from Dublin Institute of Technology with BA in Media Arts. Domhnall has the height of 1.85 m (6' 1") and is of Irish descent. He currently resides in his native hometown of Dublin, Ireland.