Cleveland-born tattoo artist Donna Lombardi, who is a cast member of "Black Ink Crew," shared wedding vows with her boyfriend of years at a prison. But she is relishing a relationship with her new controversial boyfriend.
Donna rose to the fame appearing in the VH1 reality series, "Black Ink Crew." She is a tattoo artist and a cosmetologist and has been working as the apprentice in the tattoo shop, "Black Ink Crew."
Donna Lombardi Married Maxwell
Donna Lombardi married her boyfriend Maxwell in 2016. She reportedly started dating Maxwell in 2015 and termed him as husband way before their marriage in prison.
She often used to give a glimpse of her romantic love with her husband on Instagram. On occasion of Maxwell's 23rd birthday on 29 January 2015, she uploaded a photo of her husband enjoying a birthday party together.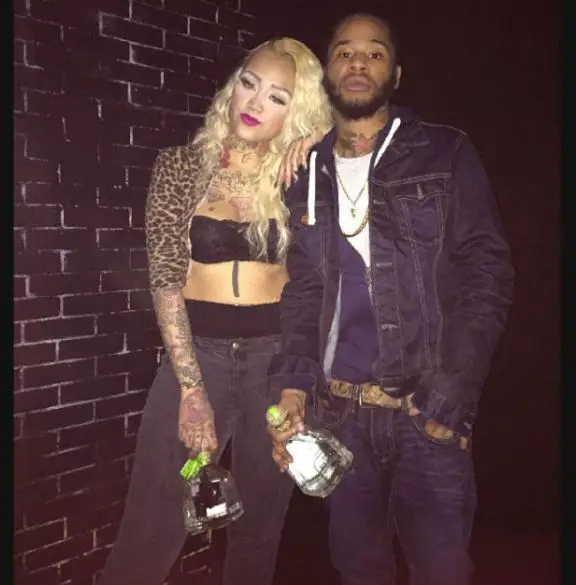 Donna Lombardi with her husband Maxwell in 2016 (Photo: Instagram)
Later, on 5 May 2015, Donna shared a video where she wrote in the hashtag "The Day After He Proposed," which hinted that Maxwell proposed her on 4 May 2015.
Although they never revealed about their marriage, on 27 June 2016, one of the twitter user named Cocoa butter congratulated Donna for her wedding and wrote that she got married at a prison. Official Twitter user Whipclip also confirmed on a Twitter post on 27 June 2016 that Donna might have been imagined getting married in jail, but she did share the wedding vows.
Don't Miss: Steph McGovern Married, Husband, Partner, Boyfriend, Gay or Lesbian
Before Maxwell, the reality star was reportedly in an on-and-off relationship Teddy, O'Sh*t. After relishing her married, Maxwell and Donna had a split, and she is currently dating a new guy.
Donna Split With Maxwell
Donna and Maxwell already have split from each other, but she has not revealed as if she divorced with her then-husband. Moreover, the Cleveland native moved on with a new boyfriend named Mohamed, nicknamed Mo. 
In December 2017, Donna revealed with VH1 News that her ex-husband, who is at a prison, threatened her as she was dating a new boyfriend, Mo. After she received a threatening call, she asked her cast member Miss Kitty and Young-Bae if she should break up with him to save him for all sorts of drama. Her co-stars then suggested her to stick with Mo.
While Donna was suffering from drama, she had to endure mental stress because of her miscarriage. During the March 2018 in the 28 episodes of the VH1 reality show, she had an ectopic pregnancy that left a surgeon to remove one of her fallopian tubes. As per the InTouch Weekly magazine, she told
"The doctor just performed an emergency surgery to remove a fallopian tube [and] part of my uterus, and I just lost my baby."
Her boyfriend tried his best to support her while Donna was depressed as some parts of her reproductive organs were gone. After then, Moe helped and encouraged her, saying everything would be alright. She said;
"You've gotta look at the bright side of it. They could have taken your whole uterus. You can still have babies … Everything's gonna be good. You've just gotta get better and be strong. I'll take care of you a little bit. Everything's gonna be alright."
As of now, Donna maintains a healthy bond with her boyfriend, Mo.
Cheated With Mo?
Yes, the Black Ink Crew member Donna Lombardi cheated on her boyfriend Mo with Alex, a fellow crew. She was caught hooking with Alex in camera in a bathroom stall. Shocked to see the news, Mo dumped her on-screen in Miami. But, Donna didn't remain single for a long time and started her relationship with Alex. Alex had also confirmed that he had feelings for the lady.
Since then, the two have been enjoying a happy relational life and are not shy about sharing it with their fans. Alex Robinson got the attention of the media in 2019 when he suffered from a back injury. The injury is due to the fight that broke in the previous season, and fans have been blaming Donna for being the catalyst.
Despite the shortcomings, Donna and her beau Alex celebrated its first anniversary on 23rd of July 2019.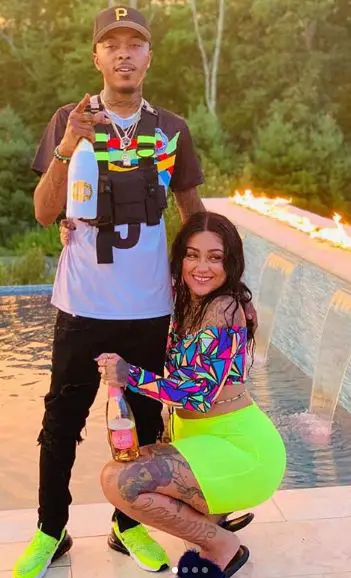 Anniversary click: Donna Lombardi with her current boyfriend, Alex Robinson(Photo: Donna's Instagram)
Also, the Valentine post in February 2019 had everyone in shock. The couple dropped a striking photo and wished everyone on occasion.
How Does Donna Summon The Net Worth?
Donna summons the net worth as being the professional tattoo artist, piercer, and a cosmetologist. She has been earning the revenue working for the Tattoo line named Black Ink since 2015 at the age of 23. She also gathers the income as being the reality star and appearing in the Reality TV show Black Ink Crew. 
The tattoo artist joined the Black Ink Crew as a Ceaser Emanuel's apprentice during the season 3 in 2015. The owner of the tattoo shop, Ceaser, started the tattoo shop in 2011. Later in January 2013, the show began airing in the VH1, where Ceaser's tattoo line began featuring with show name Black Ink Crew. Donna and her team Young Bae, Cristina Lattimore, and Paul Robinson completed the sixth season of the show in 2017.
Back in September 2017, Pickney had reportedly not paid any rent of Yonker's apartment. She then got a deadline for departing on 18 September 2017.
See Also: Braun Strowman Wiki, Married, Wife, Girlfriend, Family, Tattoo
Donna Lombardi's Family
Donna Lombardi is quite secretive about revealing the identity of her parents. Donna, however, adores her mother. She even shared a photo with her mother back in 2015. On 16 May 2015, Donna Instagrammed a selfie with mom (Instagram name as hOllywOOd_70) having a Porch Monkey Pose together. Donna makes sure not to expose the rest of the family members to social media fans.
Related To Black Ink Crew's Star: Jakeita Days Wiki: Age, Married, Boyfriend, Affairs, Ethnicity, Parents, Net Worth
On June 17 of 2019, Donna shared a childhood picture of her dad holding her and her young sister. The picture came with two things: a father's day wish and a thankyou note for her father for being the source of her inspiration.  
Short Bio
Born in 1992 in Cleveland, OH, Donna Lombardi blows the birthday candle every year on 20 September. Her real name is Taylor Monet Pinkney. Donna holds American nationality and belongs to mixed ethnicity (Black and white accent), as per the wiki. She is few inches short in height than her former husband, Maxwell, whose Instagram name is King Max Major.
Facts To Know About Donna Lombardi
Here are some points to know about Donna Lombardi:
Donna Lombardi was reportedly labeled as "h*e" for having sex with three other employees including Ted, O'Sh-t, and Walt at the shop.
 
During March 2018 in the 28th episode of the VH1 reality show, Donna had an ectopic pregnancy that left a surgeon to remove one of her fallopian tubes.