Being an actress is not easy work. Some find it easy, while some find it tedious. In the case of American Actress Emily Arlook, her ability to dive deep into any role and bring about the character to life makes her easy to succour in Hollywood. Amongst her acting credit, her portrayal in the TV series Grown-ish overwhelmed the zest of many of her fans.
Arlook might not be at the top of the most renowned celebrities' list, but she sure is one of the most skilled actors operating today.
Married To Husband?
What most of Emily's fans are curious about is the fact about her sexuality as a lesbian. Cut to the chase, Emily is not lesbian because she is reportedly a married woman. That's what it looks like as evident by one of Emily's reported husband's Instagram post.
Everyone is well aware of the fact that Emily has been in a relationship with actor Will McCormack for quite several years. Their relationship has not been a secret because both Emily and Will like to share information about their relationship on their social media. From the look of it, the adorable pair began dating in 2013.
Read More: Ester Dean Net Worth, Gay, Dating, Family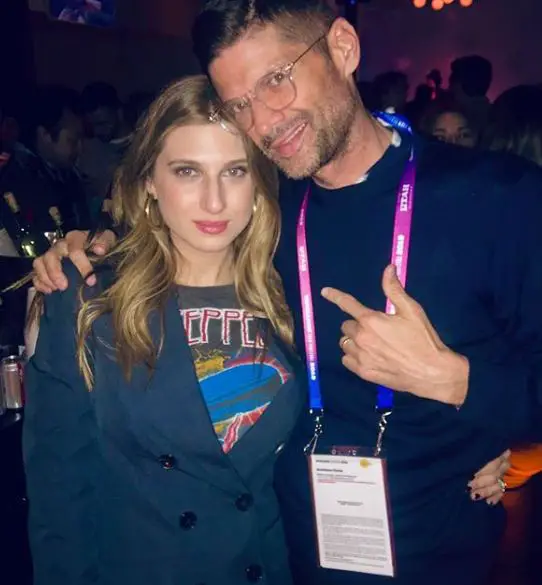 Emily along with her man Will. (Photo: Will's Instagram | 30th January 2019)
It's been half a decade since their intimacy chose a romantic path. Meanwhile, on the 30th of January, Will shared a picture of him alongside Emily, where he called Emily his wife. This led to a lot of questions as to when did the pair tie the knot. Not to forget, Emily had also introduced Will as her fiancé in one of her interviews with Heyalma back in 2018.
Despite the hints, Emily and her man Will yet have to spill bean about their secret wedding.
Net Worth: TV Shows & Movies
How much could she be worth might be easy to answer by taking a look at her career journey? Having first gained traction in the entertainment industry through her role in Just Add Water, Emily slowly fine-tuned her skills. She's yet to have starred in a major box-office blockbuster movie, but she's made the best with what she's been offered.
When it comes to Television, Emily has been making headlines ever since her breakthrough role as Nomi in theTV show Grown-ish hit the screens. Emily plays the role of a bisexual Jewish student. The term bisexual usually seems to make people think about either being gay or a lesbian. But the term is very vast, and Emily does not fail to show it off. Apart from that, she has also acted in a few other projects including Pillow Talk and Big Time Adolescence.
Regardless of the career success at the age of 29, Emily's exact net worth remains under the radar.
Note: An estimated salary of the average actor/actress is about $50,529 per year.
Wiki & Bio
Emily Arlook was born on the 24th of July, 1990 in Los Angeles, California to parents Richard Arlook and Debe Arlook. Her father is the President of the Arlook group while her mother works as a photographer. She grew up with two siblings, older sister Rachel and younger brother Ethan.
Interesting: Greg Biffle Wife, Divorce, Net Worth
When it comes to her height, she stands at 5' 7" tall. She holds American nationality and belongs to white ethnicity.