Frank Giustra is an entrepreneur, businessman, and also a producer. He has founded six different companies, including Wheaton River Minerals Ltd., The Radcliffe Foundation and Lions Gate Entertainment Corp. Also, he has remained the head of eight different companies including Catalyst Copper Corp (2014), William J. Clinton Foundation (2013), Fiore Financial Corp (2007), and Leagold Mining Corporation (2016). 
Besides, he has produced many acclaimed films like Best of the Best (1989), Night of the Cyclone (1990), and Blade Runner 2049 (2017).
Frank Giustra's Net Worth
Canadian businessman and philanthropist, Frank Giustra has a net worth of $1 billion, which he garnered from his filmmaking and mining business.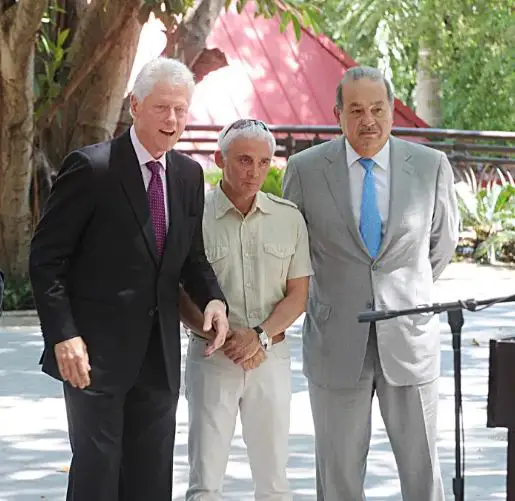 Frank Giustra (middle) alongside former US President Bill Clinton and Mexican businessman Carlos Slim at Haiti on 17 June 2010 (Photo: heavy.com)
Besides that, he also deals with Clinton's Foundation. The Clinton Giustra Enterprise Partnership was launched in 2007 by Frank and former President Bill Clinton with the purpose of creating social and economic development in poverty-stricken countries. As stated by the New York Times in 2007, Frank donated $31.3 million to the Clinton Foundation with a word to give $100 million more.  
Frank Giustra's Married Status
Frank is divorced from his former wife Alison Lawton. He and the finance specialist-human rights activist former wife Alison were married in 2000 but separated in 2008.  
Also A Businessman: Who is Ghislaine Maxwell? Meet Her Boyfriend & Family
They had first met while Alison was on her duty and eventually ended up getting married. From their marital life, they share two children: a daughter and a son. Their first child, a baby boy, was born in November 2000 and daughter in 2004.  
Who Is Frank's Former Wife?
Alison is a finance specialist, a human rights activist and also the producer of documentary films on the humanitarian crises, including Uganda Rising. Her film Uganda Rising was screened at the Fifth Avenue Cinemas in Vancouver in June 2007 and also received an award at the 2007 Hot Docs Canadian International Documentary Festival in Toronto. 
Continue Reading: Amy Shira Teitel Bio Unveils Age, Married Status, Education & Net Worth
Apart from her success in the documentary, she is also a founder of a dot-com incubator which was established in the late '90s. Further, she also founded her own investment firm Winfield Venture Froup Lts in 1997.
Facts Related With Frank Giustra: 
Alison was the inspiration behind Frank donating $100 million to the Clinton Foundation in 2007. She approached Frank to promote social responsibility in the developing world by donating his profit from the mining industry. 

As per Page Six, Frank owns a $14.1 million waterpoint mansion in Canada where Prince Harry and Meghan Markle are staying after stepping back from service as senior royals. Prince Harry and Meghan alongside the owner of the luxurious house has desired to keep the owner name a secret, however, on the basis of multiple sources' knowledge, Page Six claims the owner is the 62 years old billionaire, Frank Giustra. 

Music producer David Foster and his wife Katherine McPhee bridged the Prince and princess with the Canadian House.