Funny Mike is a comedian, rapper, and social media star who a huge presence on social platforms. His comedic and entertaining content has helped him amass millions of loyal fan followers on his social accounts—has over 4.12million subscribers on YouTube channel FunnyMike and more than 5.7 million followers on his Instagram account FunnyMike. 
Mike also became on highlights during the period he created an alter ego Savage 22 based on British rapper Savage 21. Further, the rapper and comedian had planned to release mixtape Savage Mode imitating the British rapper.
Married? Kids Details?
Funny Mike is a lovable partner and a proud father. Yes! He is currently in a relationship with the Instagram star Jaliyah Monet, who is also known as Life of Jaliyah.
The couple's idyllic relationship started sprouting after Funny Mike developed a crush on Jaliyah, he started following her on Snapchat and Twitter. Mike took many approaches to get in touch with his beautiful Instagram star girlfriend. However, only after numerous attempts, he was finally able to win her heart over. After then, Mike and Jaliyah started dating.
Explore More: Matt Slays Wiki, Wife, Parents, Net Worth
Not only in personal life, but also the couple is equally striving together in professional life. Together, they even share the YouTube channel The MJ Family, which was previously known as FunnyMike&Jaliyah. Their channel has managed to secure 2.32 million subscribers, with over 148 million total views.
Along the romantic journey, Mike and his sweetheart Jaliyah got blessed with their first baby, a daughter Londyn, who was born on 12 February 2019.
Now, the heartthrob pair have moved a step forward in life—they are parenting their kid. And, as evident from their social media updates, the family of three are certainly cherishing their moments together.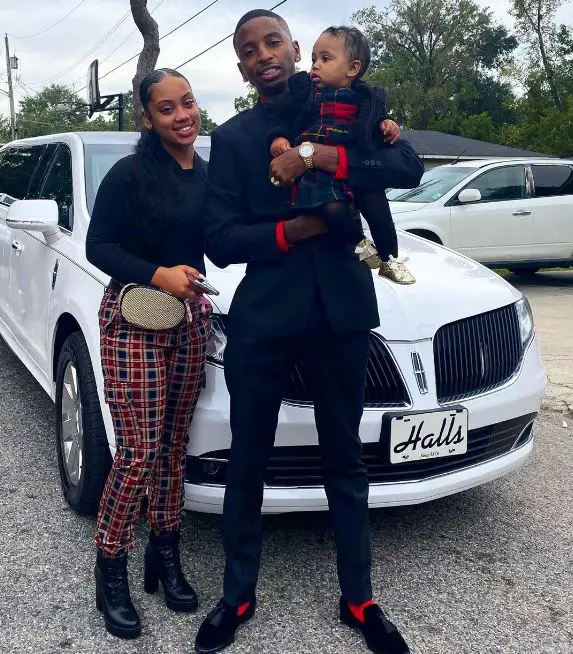 Funny Mike with his girlfriend and daughter(October 2019) (Source: Instagram)
Most recently, Mike and Jaliyah celebrated their second anniversary on 24 October 2019. From the look of it, they are heading stronger over the period. Though the couple is living their life to the fullest, Mike is yet to give an opinion on his marriage plan.
Net Worth
Funny Mike is, unquestionably, living his best life. All his social media posts with a lavish lifestyle give us a hint about how massively successful this social media star is. He is often seen enjoying glamorous sports cars and the prosperity of high-end society.
So, from where does he derives his income? Well! His exact profession is not known yet, but he probably earns the fortunes as being a social media star. Mike has won the heart of millions of fans from his creative and comedic YouTube content.
With such massive and influencing presence in social, he has assuredly managed to amass immense stardom and wealth co-parallelly.
Note: His joint YouTube channel with girlfriend The MJ Family is estimated to make around $24.9K to $397.7K income annually. Also, from his A-graded single YouTube channel, FunnyMike, he reportedly makes the moderate income.
Wiki- Real Name & Family
Funny Mike, who celebrates his birthday on 8 October, was born in the year 1996. Hailing from Baton Rouge, Los Angeles, US, his real name is MacArthur Johnson.
As a comedian, Mike became known as Might Mike, whereas he is popularly recognized as Girlhefunny on his Instagram and YouTube account.
Taking an insight into his family background, he is close to his mom and a sister. He often features them on his vlogs and social media posts. On his one of the tweet in December 2018, he wrote that he destroyed his sister's old car and surprised her with a new one. He had also bought his sister a new house with five bedrooms and three bathrooms in November 2019.
Keep On Reading: Maddie Lambert Wiki, Height, Boyfriend, Net Worth
LIkewise, Mike is pretty close to his mother, whom he adores the most. His respect for his momma is visible on his social media post. Recently, he gifted his mom a brand new car as an early Mother's Day present in May 2019.
Unfortunately, his father is missing in Mike's family—his father recently passed away in late October 2019.