YouTube fans might recognize Gabriella DeMartino from her channel Fancy Vlogs by Gab and her joint YouTube channel with her twin sister Niki DeMartino, Niki and Gabi. She also often has been compared to Ariana Grande as her look-alike.
Gabriella, who is known as 'Gabi,' is an actress and writer. She has worked in Blood Queens, If life was a Scary Movie and Ariana Grande's Music video Thank You Next.
Keep reading the amazing story of this famous Vlogger.
Wiki: Bio-Age & Family:
In most cases, children tend to follow the footsteps of their parents. However, Gabi had different plans for herself; despite her both parents father Jeffrey DeMartino and her mother Nelida DeMartino being a dentist, entertainment industry attracted the youtuber.
The YouTuber was born on 5 May 1995 in Pennsylvania, United States. In the family, she has two siblings; a twin sister Niki DeMartino, her other half of the youtube channel Niki and Gabi and her younger brother Anthony DeMartino born in 1999.
See more: Veronika Khomyn Wiki, Age, Job, No Makeup, Net Worth, Family
Gabi, who has a weight of 49 kg, stands 1.6m( 5 ft 3 inch) tall and has the slim body measurements with dark brown hair and light brown eyes. She possesses mixed ethnicity, including Hispanic, White, Cuban, and Italian ancestry.
Dating A Boyfriend; Affairs!
At present, the fashion and beauty vlogger is dating social media star, Collin Vogt. The couple started dating back in 2015 and have been together ever since. She has even appeared in a few videos of her boyfriend's YouTube channel Collin Vogt.
Most recently in April 2019, Gabi celebrated her fourth easter with her man.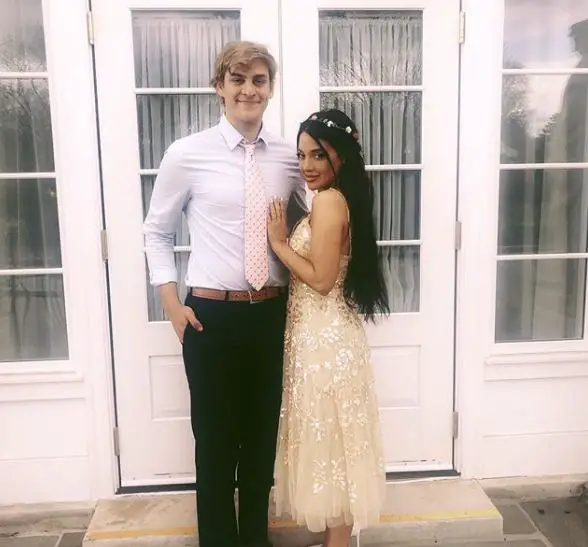 Gabi with her boyfriend Collin Vogt on her 4th Easter(photo; Gabi's Instagram)
In the past, she was dating Brandon Grupe, and they collaborated on a YouTube channel GabiandBrandon. She started dating him in 2010 during her high school period. But, unfortunately, the pair broke up in 2015 and Gabi accused her then-boyfriend of having multiple affairs.
Imitating Ariana Grande?
The youtuber has frequently been called out for impersonating famous singer Ariana Grande.
Though, it is not untrue that she shares a hefty chunk of affinity with the singer. Early in January 2019; when she got a nose job, she was accused of trying to imitate Ariana Grande. In July 2017, the controversy caught fire when Gabi herself made a video with titled "I Lived Like Ariana Grande For A Day Parody."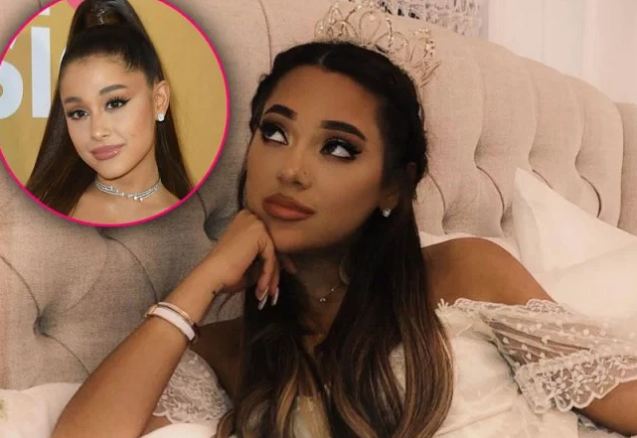 Gabi compared to Ariana Grande (Source:j-14)
Later, Ariana responded to the criticism and poked fun at her.
But, Gabi explained her surgery had nothing to do with Ariana. She justified that; her previous face was holding her back from her passion for full make-up, and she aspired to look like her mother, a former beauty queen.
Apart from controversy, Gabi has had a Lip augmentation, porcelain veneers placed onto her teeth, and underwent a nose job. Often she shares tutorials and tips showcasing the result of having no makeup and with makeup.
Gabi's Net Worth & Facts:
At present, the net worth of this famous vlogger hasn't been reviewed. But, from her successful channel and sponsorship deals, it can be said that she's definitely drawing immense wealth in her life.
The youtuber first started youtube channel along with her twin sister Niki and few friends called 00RemakeGirls in 2012, the channel included their parody content.
However, fans were amused not just by their content, but their makeup and style pick as well. The twin sister saw it as an opportunity and created a separate channel called NikiGabiBeauty, which was changed to Niki and Gabi. 
Read this: Thom Yorke Wife, Height, Children, Facts, Net Worth
The fashion and beauty vlogger has over 8 Million subscribers on her channel with twin sister; Niki and Gabi and more than 2Million subscribers on her channel Fancy Vlogs By Gab. They post topic related to fashion, beauty & style as well include other contents from music videos to pranks in their channel and have made their mark on the entertainment sector. They have been signed by numerous brands to endorse their products.
So, as for 2019, Gabi indeed might be earning the fruitful amount of revenue, which is yet to come forth.