The Family Worship Center (FWC) singer of the Jimmy Swaggart Ministries, Grace Larson Brumley, has made quite a household name among Christians across the US. She is a worship leader and one of six lead vocalists of the Crossfire Youth Ministries. 
Is Grace Larson Still Married? 
The soulful Christian singer found the love of her life, Skyler Brumley, at the Jimmy Swaggart Ministries and bonded over their faith. The beautiful couple shared their wedding vows on 14 February 2015, just after five months of their engagement on 12 September 2014.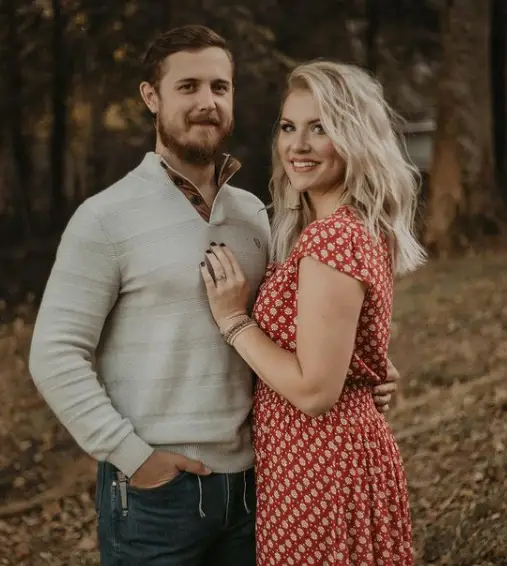 Grace Larson with her husband Skyler (Source: Grace's Instagram) 
Grace and Skyler are blessed with two beautiful children. Their first child, a son Wyatt was born in 2017. Later in September 2018, Grace announced her pregnancy with baby number two via an Instagram post. In the post, her eldest son is holding a board that says- "Big Brother Est. May 2019," also the caption read- "I think this says it all!... ROUND TWO! - HERE WE GOOO!!!"
The family of three welcomed their fourth member, a baby girl, Allie, on 11th May 2019. 
You might be interested in: Erin McElroy Wiki, Age, Husband, Facts
What Is Grace Larson's Net Worth? 
Grace Larson rose to stardom after her hit single At The Cross. Larson released several songs, including I Am, Whisper Jesus, The Promise, and many more. Her song The Promise garnered huge attention and hit over 4 million views on the At The Cross Youtube channel. 
She is also a teacher at Family Christian Academy, an outreach of the Family Worship Center. Besides, Grace runs her own company named FirstFitness Nutrition.
When it comes to net worth and earnings, it would be safe to assume that Grace Larson's net worth falls in the range of over thousands. 
Wiki & Bio
Grace Larson was born on 8 December 1991 in Baton Rouge. The soulful singer family includes her mother, father, and three siblings, Rachel, Joseph, and Joy.  Her father is the President at World Evangelism Bible College, where Grace was a student.
You might like: Dr. Jessica Griffin Wiki, Age, Husband, Net Worth
It seems like singing is in her family's genes as all her brothers, along with her father, are singers for Jimmy Swaggart Ministries. Grace's brother Joseph is a singer and a pianist with Crossfire Youth Ministries.