Celebrity chef, Grant Achatz, is best known for his three Michelin stars winning a Chicago restaurant called Alinea. Also, he is a chef- who won the 2007 James Beard Award for Best Chef Great Lakes and the 2003 Star Chef in America. He was considered one of the Best New Chefs of 2002 by Food & Wine. 
Further, Grant is also known as the author of recipe cookbooks called Alinea (2008), On the Line: A Chef's Story of Chasing Greatness, Facing Death, and Redefining the Way We Eat (2012), and The Aviary Cocktail Book ( 2018)
Grant Achatz's Bio
Grant was born on 25 April 1974 in Michigan. He grew up in a family amid the restaurateurs- his parents, grandparents, uncles, and aunts owned a restaurant. 
Following his family background business, he learned the basic skills of the culinary field from an early age. Later, as soon as he finished high school, he joined the Culinary Institute of America. 
Restaurant Info
In 2017, the Business Insider released "World's 50 restaurants" lists in America. The best restaurants were selected on the basis of the food critics, diners and experts. 
Also, A Businessman: Malaak Compton Rock [Chris Rock's Ex Wife] Wiki, Age, Net Worth
Among the 50 restaurants list, Grant Achatz's Chicago based restaurant, Alinea, scored the top spot. The restaurant- which has launched since 2005- was known to have been experimented with Avant-garde dishes following the molecular gastronomy skills. 
Previously, it was also named the "Best Restaurant in the World" by the Elite Traveller in 2015.  
Net Worth Related
Considering one of the world's greatest chefs, Grant Achatz earns his net worth as the owner of his Chicago-based restaurant, Alinea, and as an author of his multiple books. 
Who Is Grant Dating?
Talking with Food & Wine in March 2017, Grant said he was dating Briseis Guthrie, a creative restaurant consultant.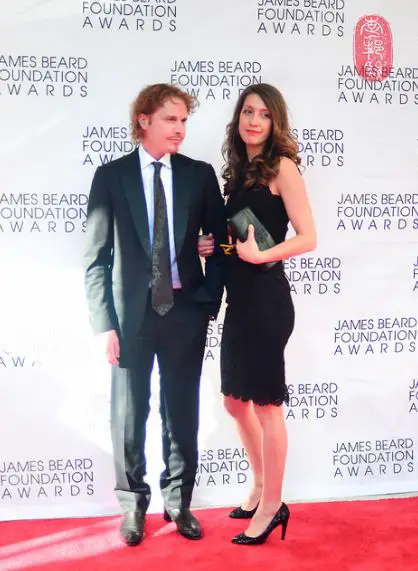 Grant Achatz with girlfriend Briseis Guthrie (Photo: Flicker.com)
According to her LinkedIn profile, she previously served as the Creative Manager at The Alinea Group for seven years and seven months, starting from December 2011 to June 2019.
Learn This: What's David Charvet Dating Status Now? Personal Life & Net Worth Details
Furthermore, she holds seventeen years of Hospitality experience, starting from an entry-level host to a runner position and a creative development.  
Interesting Facts
Alinea is only the Chicago-based restaurant to retain three stars in 2019. Additionally, it is also the winner of the James Beard Foundation Award for Outstanding Restaurant 2016. It was also nominated in the 2006 Best New Restaurant.

Before Alinea, Grant was a sous chef at the French Laundry. He also worked as executive chef of Trio in Chicago. 

Grant is divorced from his ex-wife Angela Snell, whom he married in 2006. They together are parents to sons Kaden and Keller. 

The book, On the Line: A Chef's Story of Chasing Greatness, Facing Death, and Redefining the Way We Eat, is written by Grant and his business partner, Nick Kokonas. The book is based on Grant's real-life story. He was diagnosed with the four-stage of tongue cancer but thankfully, he fought against it and became cancer-free.