Australian comedian Hannah Gadsby became famous after winning the national final of the Raw Comedy competition for new comedians in 2006. She is best known for starring in Netflix's Nanette.
She co-starred the ABC television network show, Adam Hills Tonight and comedian Josh Thomas's series; Please Like Me. Hannah also has a guest appearance on Good News Week, Spicks and Specks and New Zealand TV 3. Her decision to quit the comic industry is still firm and wants to make a statement that her jokes are not humility.
Hannah Quits!
Hannah Gadsby has called her time after revolutionizing the stand-up comedy with Nanette, which released on 19 June 2018 on Netflix. She said that her self-deprecating jokes are not humility but humiliation and wouldn't continue on the same road. She said it took much effort to crack America and added that,
"And it's just kept going. And I think I could still keep going. But I will not. I have to stop."
She revealed that she only did Nanette to share her experience in a homophobic society. The comedian has bidden goodbye with strong criticism towards modern comedy, which is based on objectifying a woman.
In Nanette, she conveyed her emotional and painful experience in a subtle hint of humor, which keeps the viewers engaged.
Read Also: SSSniperWolf Wiki, Age, Boyfriend, Net Worth | Famous YouTube Star Facts
Openly Lesbian Hannah Gadsby; Who Is Her Partner?
Hannah Gadsby is lesbian and often refers to her sexuality in her stand-up comedy routines. She had been performing comedy stand-up about her family, her weight, and lesbian for well over a decade.
The stand-up comedian has hidden the information about her partner. In an interview with timeout.com in March 2016, she talked about her past relationship. In an interview she stated;
 "I got to the end of the Festival last year and I'd just broken up with my girlfriend and thought, 'I can't keep this cycle going, I need to change things up.'
So, she had previous relationships but is yet to reveal about her present affairs.
Well, she is lesbian, but back in August 2016, she opposed the plebiscite on same-sex marriage in Tasmania. She said that the plebiscite is a very bad idea and fears that, it is going to be another open season for hate. She also added that she grew up closing herself off and rot quietly in self-hatred.
She also claimed that she doesn't care about marriage equality and doesn't have an aptitude for relationships.
Blends Sexuality And Weight In Her Stand-up Comedy
Hannah is known for her sarcastic comments about homophobic society. She tries to deliver the humorous angle based on "fat and depressed lesbian." In one of her performance in 2014, she said that if she went through weight loss and fell in love with a man, she would get laid.
She hinted that just because, she doesn't have a well-toned body and isn't straight, the conventional society finds it hard to accept her.
Reunites With Family: Moves To Tasmania
In 2015, she was diagnosed with Attention Deficit Hyperactivity Disorder (ADHD). After being diagnosed with the ADHD, she revealed that she would take a break from her hectic schedule and head back to her hometown. In March 2017, she described her hometown as more inclusive than the one she experienced as a young and gay lady which drifted her away from her family.
This is not the first time she reconciled with her family. In a conversation with Syndey Morning Herald, she revealed that she rang her parents when she was homeless and suffered from acute pancreatitis. 
She was the youngest among five children in the family and is native of Smithton.
How Does Hannah Gadsby Summon Net Worth?
Hannah Gadsby summoned her net worth from her career as a stand-up comedian. She alongside British comedian John Robins won the cash prize of £10,000 (AUD 16,300) at the 70th anniversary of the world's largest arts festival, the Edinburgh Fringe. Hannah also derived fortunes co-starring on the ABC television network show, Adam Hills Tonight and TV shows Please Like Me in 2015.
Australian-born-comedian Hannah has written two documentary specials for the Artscape program on ABC TV: Hannah Gadsby Goes Domestic (in 2010) and The NGV Story (in 2011).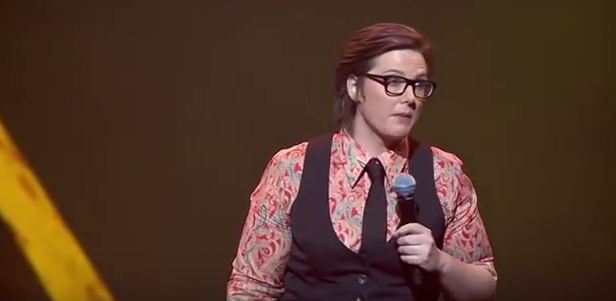 Hannah Gadsby attends Melbourne Comedy Festival 2012 (Photo: Youtube)
Before her career in stand-up comedy, Hannah worked as a cinema projectionist and as a tree planter on a farm. She also appeared on the local and international comedy festival circuit like Kiss Me Quick (2009), Australian Art History With A Comic– Art History Lecture (2009 and 2010), Edinburgh Fringe Festival (2012), Melbourne International Comedy Festival (2014), and Melbourne International Comedy Festival (2017).
More About: Stand-up Comedian Nate Bargatze Wiki, Age, Married, Wife, Girlfriend, Dating, Net Worth
Short Bio
Hannah Gadsby, 40, was born on 12 January 1978 in Smithton, Tasmania, Australia.
Hannah completed her high schooling from Smithton High School. Later, she went to Launceston College and the University of Tasmania in Hobart. Further, she completed her Bachelor's degree in Art History and Curatorship from Australian National University in 2003.