Hilaria Thomas Baldwin is a famed fitness specialist serving as a yoga instructor.
She started her career as a dancer but drifted her passion to the fitness sector as she had a severed bone in her leg.
Despite her tumultuous health status, she never tumbled down to turn her passion for the glory, which she eventually did. And her career paid her the fair price with immense wealth and successes.
Some people also know Hilaria as the wife of American actor Alec Baldwin.
Expecting Fifth Baby With Husband
After facing miscarriage in April of 2019, Hilaria and her husband Alec Baldwin are expecting their fifth baby.
The 35-year-old Spanish born announced the news about her pregnancy on Wednesday, 18th September 2019. She showed her baby bump on Instagram quoting: 
When you've had so many babies, 6 minutes pregnant = looking like 6 months pregnant
Hilaria added that she was happy to hear the sound of the heart of her baby even though it is still very early.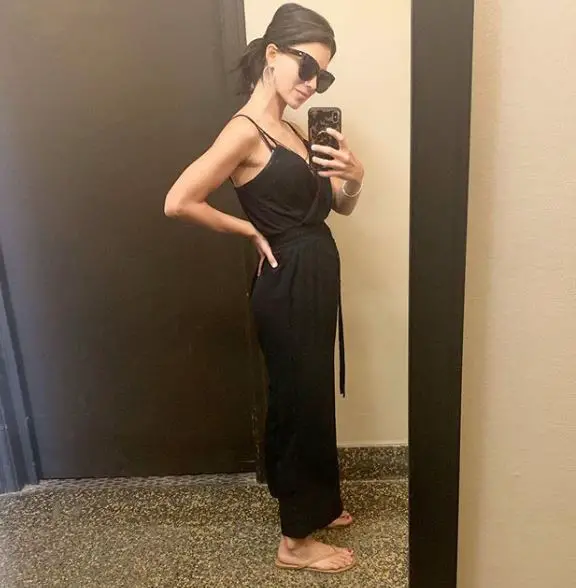 Hilaria showing her baby bump on 19 September 2019 (Photo: Instagram)
The first few months were tough, filled with exhaustion and nausea for her. The couple had shown interest in having another baby when they made an appearance on Kevin Nealson's YouTube-based series Hiking with Kevin.
Do Not Miss: Danielle Brooks Net Worth, Measurements, Married, Parents
She has also put out requests the paparazzi not to follow her and sources to buy independent photos encouraging them.
She wants to have peaceful moments during her special hours and healthy inscription for her and her baby, which doesn't include being chased by flashy cameras around.
Baby's Gender Reveal!
Being a mother to four beautiful children and a step-mother to a 23-year-old daughter has not stopped Hilaria from wanting more kids.
As of now, she is on her way to having her fifth baby with her celebrity husband, Alec. The two are very much excited about the arrival of a new member of their big family.
Hilaria has been teasing the world, showing off her baby bump and talking about how her kids Carmen, Rafael, Leonardo, and Romeo, are excited to have a little brother or sister join them in their home.
As for the gender of the baby, it was revealed to be a girl, much to the excitement of Carmen, who desperately wanted a baby sister.
The gender reveal was done together with the help of her four kids who were made to pick up baby dolls wrapped in white swaddle blankets, placed in baby carriages.
And as Carmen unwrapped her doll, she revealed that the baby was going to be girl much to her excitement. So, congratulations to Hilaria and her family for their happy news!
Married Life With Alec Baldwin
Hilaria Baldwin's love life was graced with charm after sharing wedding vows with her husband, Alec Baldwin, whom she met first at a restaurant in New York in 2011.
They were romantically entangled dating for a tear until they decided to get married.
Finally, the couple tied the nuptial knot on 30th June 2012 at the Basilica of St. Patrick's Old Cathedral in Manhattan in the presence of their near and dear ones. 
You Also Need To See This: Keke Vencill Bio, Age, Married, Husband
They have welcomed four children, Carmen Gabriella, Rafael Thomas, Leonardo Angel Charles, and Romeo Alejandro David, in the course of their romantic life.
After half-decade of their marriage, the duo renewed their wedding vows once again in 2017.
The lovebirds visited New York's Wolffer Estate Winery and celebrated their fifth anniversary along with their kids. Hilaria took Instagram to share the story about the light incident they went through.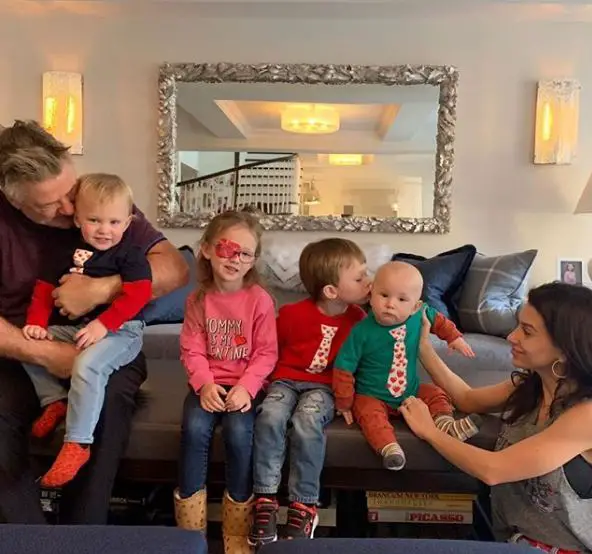 Hilaria Baldwin with her husband and children in 2019 (Photo: Hilaria's Instagram) 
Despite their four children, Hilaria and her husband are still looking forward to having their fifth child.
She stated that she would go trying to get a daughter as her daughter wants a sister. Currently, the couple is relishing the married life of six years happily. 
Another Miscarriage
Hilaria Baldwin and her husband, Alec Baldwin, were expecting their fifth child this year, 2019. Also, they had revealed the gender of their baby. But things turned out to be contrary to what they had expected. Hilaria suffered another miscarriage and lost her upcoming daughter. 
The revelation of her Hilaria's miscarriage was made on Instagram on 11 November 2019, where she wrote that she and Alec were despondent to share that their baby passed away at four months.
Also, the couple added that they are not okay, but soon, they will be fine. However, they were lucky to have four healthier babies, and they will never lose sight of them.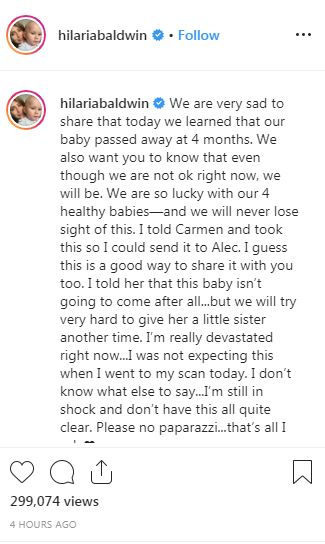 (Photo: Hilaria's Instagram)
Besides that, Hilaria posted a picture of holding her stomach to Instagram Stories and wrote, 'Today didn't go as planned. I'm unfortunate. Tonight is my last night with her... such a strange experience.'
After the announcement, many celebrities including, Justin Beiber's wife Hailey Baldwin, showed sentiment to the loss of a baby.
Hilaria Was Not Expecting The Tragic Moment
Hilaria Baldwin, who recently attended her 20-week scan with her doctors, admitted that she did not expect the miscarriage. The incident became devastated to her as she just previously suffered the miscarriage seven months ago.
In a video that she shared on her Instagram, she told one of her babies, Carmen, that she does not know how long it will be until the next baby comes. Also, she promised her that she would try hard to make a younger sibling one day. 
Know About Hilaria's Net Worth 
Back in 2009, she had a severed bone in her leg after she went through a bad fall. The incident led her to practice yoga in New York, and from there on, she began her profession as a yoga instructor.
After three years, she founded her studio, Yoga Vida, which now credits its service in collaboration with Union Square, Noho, Tribeca, and Dumbo.
And Hilaria Baldwin, age 35, through her work, makes a substantial net worth and income.
Besides, she is also a lifestyle correspondent and covers stories regarding fitness, fashion, celebrities for Extra, which led her to honorable award, Daytime Emmy Award.
Explore This: Kristinia DeBarge Married, Boyfriend, Cousin, Net Worth
Similarly, her husband Alec Baldwin, an American actor, has an estimated net worth of $65 Million.
Short Wiki
Hilaria Thomas Baldwin was born to parents; Spanish mother and an American father in 1984 in Majorca, Spain.
She celebrates her birthday on 6 January. She embraces Caucasian white ethnicity and holds an American nationality.
She stands at the height of 5 feet and 4 inches (1.63 meters). Hilaria is embedded with long black and silky hair.
And to shape her body maintenance, she intakes a proper diet that includes protein shake in breakfast but avoids dairy and meat products.
Hilaria pursued her education from New York University, where she earned a significant degree in Art History and Dance.