Jaclyn Schwartzberg has stormed the internet after her divorce from her husband, Ryan Buckley. Jaclyn Schwartzberg appeared on the reality series, 'Married at First Sight' where she married Ryan Buckley in their first meeting. 
She is a sales representative and previously worked as a teacher for Dubai American Academy, Collegiate American School, and International School of Boston.
Married At "First Sight"; Splits With Husband After Ten Months Of Married Life
Married at First Sight star Jaclyn Schwartzberg, 30, married her firefighter husband, Ryan Buckley on 25 August 2017. But after just ten months of the relationship, the couple have divorced and announced their split on 27 June 2018.
More About Married At First Sight: Doug Hehner, Jamie Otis' Husband: Wiki, Age, Family, Job, Net Worth, Height
The couple's close source confirmed the split and revealed that they remain close friends and are grateful for the experience they learn while being married to a stranger.
The couple met for the first time as single bachelors at the wedding venue in the season six of the Lifetime's hit reality show, Married at First Sight. Then, Jaclyn married to Ryan, at the age of 29, after the show's expert matched the pair on 25 August 2017.
Jaclyn Schwartzberg with her then-husband on the Married at First Sight. (Photo: eonline.com)
The pair was the only couple among three that felt comfortable enough to have a physical relationship with each other on their wedding night.
Though they chose to stay married on the season finale, the couple often clashed over their different lifestyles. At that time, Jaclyn was recovering from the death of the past boyfriend, who died of an undiagnosed autoimmune disease.
In the show, the differences between the couple surfaced when Ryan, 30, questioned Jaclyn commitment towards their relationship. He claimed that Jaclyn still has a feeling for her deceased boyfriend. Jaclyn also doubted Ryan's sincerity when Ryan awkwardly recited his wedding vows again in a dinner date.
Though the couple split with each other, the separation did not come out as a shock to Ryan as like he already knew about the contrast of their relationship. He even told his parents, 
"When we start fighting, it gets kind of out of control and it's just like now we are all of a sudden jumping to the end conclusion. We don't know if this is something we are going to want for the rest of our lives."
Life After Divorce; In A Happy Place
After they announced their split on 27 June 2018, she posted a picture of her castmate of Married at First Sight on 28 June 2018 and revealed that she and her ex-husband are in happier place and in a healthy way.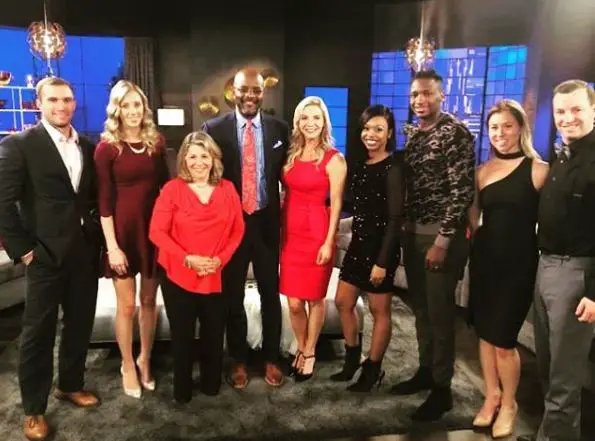 Jaclyn says they have split but are much happier, shared on 28 July 2018 (Photo: Instagram)
She then considered her marriage with Ryan as the learning experience and believes she had a growth in this time. After her split, she even had a vacation in Mexico in mid-July 2018. She also said that her friends helped her to buy a bandanna headband, which her trip to Mexico successful.
Read About Reality Stars: Kelly Dodd Wiki, Age, Birthday, Wedding, Husband, Divorce, Net Worth
On 9 July 2018, Married at First Sight expert Dr. Jessica Griffin gave an exclusive interview for International Business Times and revealed her sadness about the split. She also added that the split between married couple made her think if she could have done more or was Ryan a good choice for Jaclyn. She concluded her interview by saying that she would always advocate for a healthy and happy relationship.
By the looks of Jaclyn's pictures, she seems to enjoy her every day. She shared multiple images of her trip to Sedona, Arizona on 5 August 2018 and captioned the pictures, Just a few of my favorite people in one of my favorite places.
How Does Jaclyn Schwartzberg Gather Her Net Worth?
Jaclyn Schwartzberg gathers the net worth from her job as a sales representative and teacher. She has been collecting her fortunes from her job as Account General Manager for Pearson since April 2018. She also receives the earning from her work as Technical Sales Consultant at Company Nameitslearning AS since March 2016. 
Before her profession as a Sales representative, she collected the payroll working as a teacher. As per indeed.com, an average salary of Teacher is $52,024 per year.
Short Bio
Born in 1988, Jaclyn Schwartzberg celebrates her birthday on 7th of May every year. Jaclyn belongs to white ethnicity and holds America nationality.
She completed her Master's degree in Education from University of New Hampshire (2008-2011). She also received the Volunteer experience from Oyster River High School.
Don't Forget: D'Andra Simmons Wiki, Age, Wedding, Husband, Divorce, Net Worth
In her family, Jaclyn has a sister named Jodi Jaeggi, with whom she shares a wonderful relationship. On 13 August 2018, she shared pictures of her sister, brother-in-law and their two children on Instagram and captioned that Just a Lil pre-birthday celebration breakfast.