You name the dare, and he probably had done it already. James Murray as one of the Tenderlions has faced strange and awkward pranks in public on his prank based TV show. Murray has been successful to glue the audiences in their home seat through his series of unpredictable stunts of pranks. James is known as one of the New York comic drama troupe of the TV series "Impractical Jokers" since 2011.
Career and Profession:
James had an early idea of his smarts on production and video-maker since his college days. The video making escapade all paid him well when he stood to make his prank-based TV show "Impractical Jokers." Already a heap of firsthand know-how for shows including TV series, reality shows, he has focused more on management based positions in video making and production.
However, his major career breakthrough came out when TruTV ran his hidden-camera public prank TV series called 'Impractical Jokers.' Being part of the maker and even included as pranksters of the show, he has his other three friends to test out who is best under pressure in complete awkward situations.
How much is James's Net Worth?
His number of appearances in movies, TV series and reality shows just speaks for his economic side. His salary figures are still unknown in public eyes. However, his net worth is calculated to be $1 million.
Married for One Day with Sal's Sister!
His lifelong friendship with his three friends, Salvatore Vulcano, Joseph Gatto, Brian Quinn had a core part of his life. His deep attachment was later leveled up with his show to make his fortune for life.
The show's pranks were never too much when James marriage was Sal's punishment as one of the show's episode. With no known previous girlfriend, he married Sal's sister, Jenna Vulcano just to give a punishment for Sal.
Murr was legally married to Jenna in front of Sal, his family, and friends but lasted for a day only. The marriage was soon annulled after.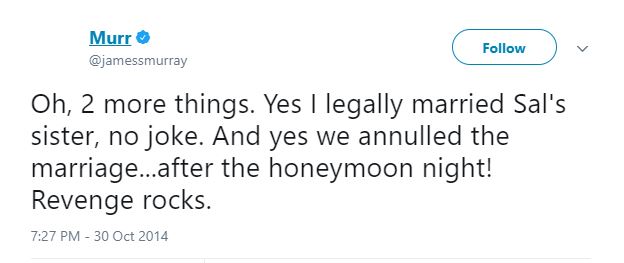 Joke or not, he got a wife for a day which Murr states the punishment as revenge prank for his skydiving punishment. He even took it twitter to express the comic side of the joke. 
Aside from his one-day marriage, he has no further relationship made public. There was no sign of current girlfriend from Murray's side.
Date with Childhood Crush!
Of the four, Murray had the worst of punishments from nipple pierced to skydiving when he has height phobia, and even worst had to face his childhood crush with such embarrassment.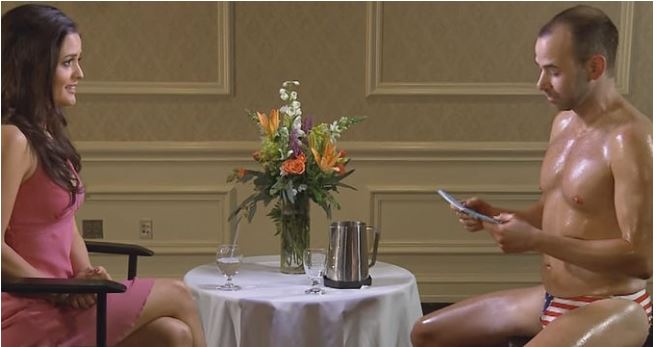 Caption - James with his date with Danica McKellar
Source - www.channelguidemag.com
He was oiled up and made to wear a speedo thinking for a bodybuilding competition. However, it was a date with Danica McKellar, his crush. He might blow off the chance to get with his crush while it remained as hilarious prank to remember.
It's not Sal; Murr's a Gay!
Sal had the rumor of his life when he opened up about being gay on national television. He shocked the audience and his friends when he came out as gay. His coming out gay inspired James Murr to come out as gay.
Later, Sal revealed that he is not gay but said that in live TV to help his friend to come out who had a tough time dealing with his confession.
James's Short Bio:
As per a wiki source, James Murray was born with the birth name James Stephen Murray on May 1, 1976, in Staten Island, New York which makes his age 41. He graduated from Georgetown University with a BA in English. James stands at a tall height of 5 feet and 11 inches and has a healthy body shape and a tattoo of skydiving in his thigh. American comedian belongs to white ethnicity.