If embarrassment brings you success and fame, a person will go for it. As the show, 'Impractical Jokers' suggests, "four lifelong friends compete to embarrass each other," and gets embarrassed on a daily basis for the entertainment purpose. With large fan base under his belt, Sal Vulcano depicts a sensitive man in the show making him weak leak for the loss. The comedian lives a low key dating profile and doesn't reveal much about his personal life.
Career and Progression:
The graduate from the St. John's University has a degree in finance. His success story started when he formed a group called "The Tenderloins" in 1999. He then became the cast member of "Impractical Jokers" which is a TruTV hidden camera show.
The show which includes lifelong friends James "Murr" Murray, Joseph "Joe" Gatto and Brian "Q" Quinn, compete with each other where one has to complete the embarrassing task to get rid of punishments. Before the show started, they have mentioned that all four friends have taken an oath to complete the punishments which make the show fan favorite.
Impractical Jokers!
Sal is often called the most sensitive guy in the show and usually takes a "thumbs down" than to complete the task. His behavior and nature make him vulnerable to lose and has a maximum number of punishments among four friends.
He has admitted that he is ailurophobic and germophobic and his friends make full use of his fears. In the show, he has mentioned that he had physical confrontation three times. His career in "Impractical Jokers" helped him summon a decent net worth of $400,000.
His Married Life a Mystery!
The fun-loving comedian has literally gone through everything in his show, but when it comes to revealing about his personal life, it's a different story.
In 2016, in a turn of events, he mentioned that he is a gay. But he later clarified that he just said that to help James to get out of the closet.

Sal's friends and Impractical Joker Joe Gatto hinted that he is not gay and is happy to make out with women.
Is Sal Married?
There is saying that "Never trust the words of a comedian." You never know when the man is serious or speaking his heart out.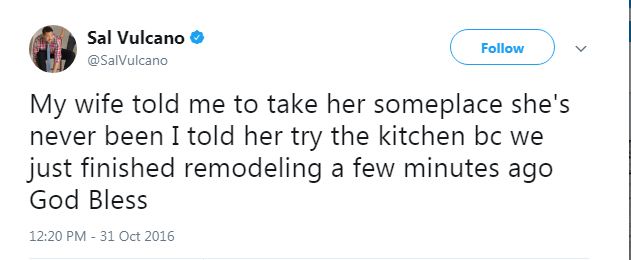 In a tweet on 29th December 2016, he mentioned that he suggested his wife visit the kitchen that has been just renovated. Although, his tweet was a joke or a real event remains to be seen.
He has never been captured with any girls that can be tagged as his girlfriend and Sal remains confidential in revealing anything about his relationship and married life officially.
Tattoos: Wished for and Disgraced!
Sal Vulcano loves inking his body with an impressive tattoo. He hosts Tribal tattoos on his body and also has a tattoo on his arm quoting a song lyric which he dedicated to his friend.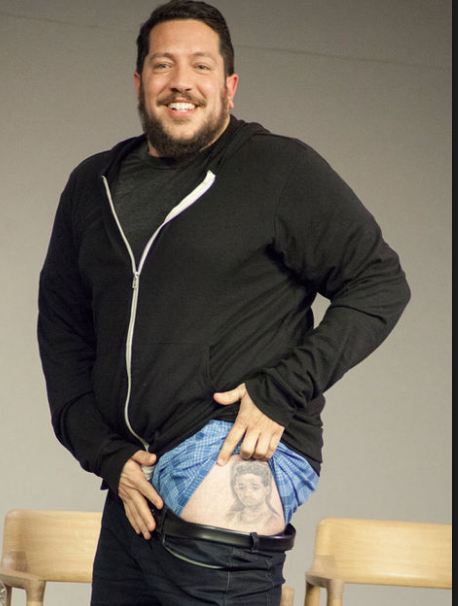 Caption: Sal showing his Jaden Smith tattoo
Source: TMZ
In spite of having many tattoos that he wished for, he has one that he didn't call. In the show, after losing an episode, his friends gave him an embarrassing tattoo. He has a tattoo of Jaden Smith on his thigh, Yes, you heard it, right.
Did Sal Shade some Weight?
Sal possessed a beefed up body shape. But in a recent episode, he went through weight loss and now had a healthy body shape.
Although he remains secretive about his fitness regime and diet plan, his body shape did spark some interests for the seventh season which is set to premiere in early 2018.
Sal's Short Bio and Family:
Sal Vulcano took his first breath in Staten Island, New York City with the birth name Salvatore Edward Anthony Vulcano. He was born on 5th November 1976 and currently ages 41. His parents split when he was young and has a sister in his family named Jenna. In a show, an episode depicted the marriage ceremony of Jenna and James in Sal's punishment.
As per wiki sources, he belongs to mixed ethnicity as he has Italian, Cuban, and Puerto Rican ancestry. He stands at magnum height of 5 feet, and 9 inches and Sal maintains healthy body shape.