Jared Stanley Richard Sandler a.k.a. Jared Sandler has established himself as a promising candidate in the Hollywood industry. Despite his relation with famous Hollywood comedian/actor Adam Sandler, he has successfully entrenched his domain and freed himself of living under his uncle's popularity wingspan.
Jared is known for his portrayal in Big Daddy, and Eight Crazy. His area of expertise includes acting, producing, screenwriting, and directing.
Wiki- Family
Jared Sandler was born on 11 July 1993. He completed his graduation from the University of Southern California's School of Dramatic Arts.
The blooming actor is a son of Scott Sandler and Denise Cohen-Sandler. His father comes from Russian cultural background and mother from Austrian, German, British, Polish and Russian Jewish descent.
You Will Also like: Bryan Chatfield Sandlers Wiki, Age, Job, Net Worth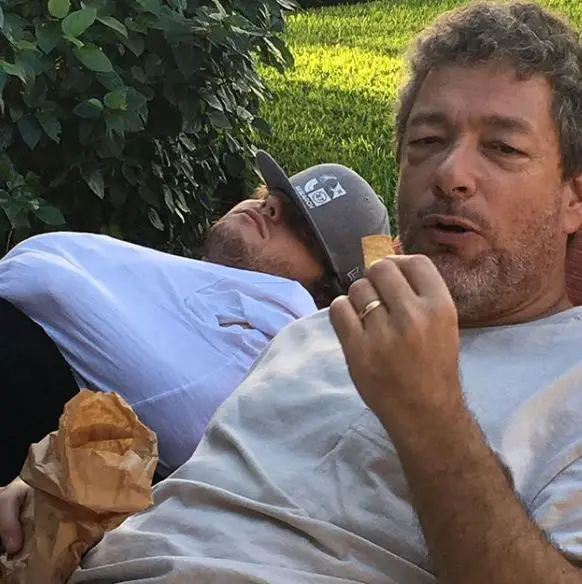 Actor Jared Sandler with his father(Photo: Jared Instagram)
With such diverse cultural roots from his parents, Jared sure has a distinctive personality. In the family, he has a sister named Jillian Sandler. His uncle Adam Sandler is a famous actor and comedian.
Personal Life- Married?
In the reel life, Jared Stanley indeed has experienced a romantic flair with his on-screen partner. On the occasion of Valentine's Day 2019, Jared gave the glimpses of his shooting where he and his co-star Kay Fairwaway were enjoying their on-screen romance.
Aside from this on-screen relationship, the actor Jared has remained secretive about his real-life affairs. As confirmed in 2016, he had a girlfriend, a lady named Ashley. However, it's been more than three years since Jared has low-keyed his love story. So his current affair with his lady-love remains under tha radar.
Whether he would turn Ashley into his wife or has they already split remains the topic of gossip to fans. Whatever is the case, we have to wait till Jared himself come forth to talk about his relationship matters. At the moment, he is not married.
Net Worth
The Manchester-born-actor Jared started his movie journey from the age of 6. His movie credits include notable appearances in Big Daddy, Eight Crazy Nights, The Benchwarmers, Grown Ups 2 and Shameless. Likewise, he has also directed and produced his own short film Samezies, which received good appreciation from the audience. Besides that, Jared has appeared in TV shows The Goldbergs and Kevin Can Wait.
As of now, he is working on his upcoming movies. His upcoming films include The Frat Haze and Pizza and Whine with completion status of pre-production and post-production respectively. His movie Cafe Dj was completed in 2015 but has not hit the media to this date.
Don't miss: Amie Parnes Wiki, Bio, Age, Married, Husband, Education
Apart from his acting career, the 26-year-old celebrity seems to enjoy music to a large extent with bands like Foo Fighters, Sum 41, Pierce the Veil and Avril Lavigne as his favorites.
As being an actor, Jared surely takes a handsome amount of money annually. Digging deeper into salary stats, he might enjoy an average pay of about $49,986  as an actor and around $20,000 as a comedian.