"Never say Never" is the ideology of this reality star and entrepreneur. Jenni Polus, who is known for her work and appearances with Jeff Lewis on the show "Flipping Out," recently welcomed her second baby in the second attempt through IVF. Even before the birth of first child, she suffered a miscarriage but never gave up on the idea of having a baby of her own.
Career and Professional Life:
Before becoming a TV star, she played tennis and competitive matches in high school. But she turned towards acting and considers herself to be an actress, rapper, and voice-over artist. Though she landed minor roles in shows like "Charmed" and "Moesha," she became a household name in 2007.
In 2007, she became one of the stars of Bravo TV's reality show called "Flipping Out" which stars Jeff Lewis and his lifestyle. She is now the executive administrative assistant as well as the co-executive producer of Interior Therapy.  
How much is Jenni Pulos's Net Worth?
The reality star and an entrepreneur rose to fame as the assistant of Jeff Lewis. During her successful years, she amassed stupendous fortunes through her TV role and different ventures with Jeff. Her appearances in the show mainly contribute to her net worth which reaches an eye-catching mark of $2.5 million.
Grand Welcome to Second Baby!
For two years, she climbed the never-ending tiles of IVF treatments, and when she finally got rewarded with an adorable baby daughter, it was bound to overcome her with emotion.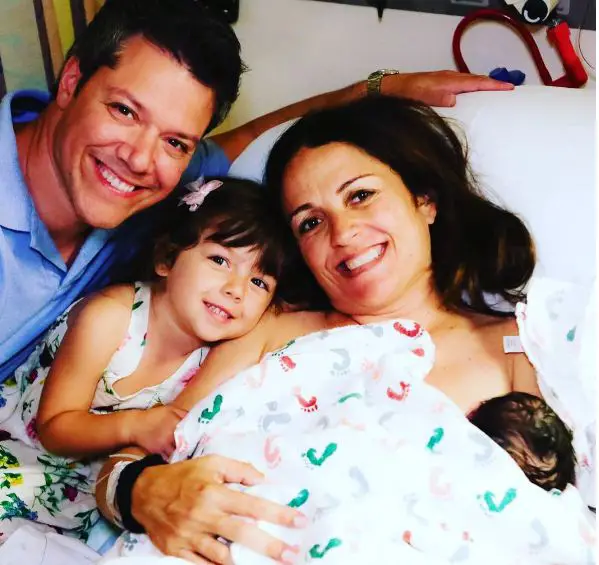 Caption: Moment of Miracle as she holds Georgia on 8th June 2017
Source: Instagram
Jenni Pulos gave birth to a daughter, Georgia Grace as her second daughter during the second attempt on 7th June 2017 and shared the glimpses of her daughter on Instagram on 8th June with husband, Jonathan and her eldest daughter. She announced her pregnancy on 12th January through an Instagram post which featured her eldest daughter Alianna, 4.
The reality star defeated complications on her pregnancy when she received doses of a hormone called progesterone. Jenni then had to take antibiotics for ten days, and in her own words, Miracles do happen.
Now with a healthy baby daughter on her lap, she leads a happy family with her husband, Jonathan Nassos who is an orthopedic surgeon. She married Jonathan in May 2012 after six months of engagement.
Failed Marriage with First Husband, Chris!!!
Jenni was married to "Flipping Out" star, Chris Elwood before the filming of the hit reality series.
But their marriage was everything but settled, and Jeff caught Elwood on hidden camera slacking which provided a boost to their failing marriage. Inevitably, Jenni filed for divorce, and the couple got an official divorce in 2008.
Jenni's Short Bio:
Born in the Portland, Oregon, she was born on 3rd January 1973 which makes her age 44. Belonging to Greek-American ethnicity, she is the proud citizen of America. For a woman in her forties, she maintains her body shape, and her height profoundly complements her shape and personality. She now makes a peaceful living with her family of four. Though her wiki stays secretive about her parents, her success in the reality biz would indeed please her family.