The name Jenny Nicholson is prominent in the acting, writing and social media world. She is an actress known for TV series Pitch Off with Doug Benson (2016), Friendship Is Witchcraft (2011) and Movie Trivia Schmoedown (2014). 
Also, she is known for her book- Friendship Is Witchcraft is her written animated TV series My Little Pony. Additionally, she runs her self-titled YouTube channel that has 480K subscribers.
Jenny Nicholson Bio, Age And Birthday
Jenny Nicholson was born as Jennifer Elizabeth Nicholson on 6 September 1991 in San Mateo Country, California. 
Is She Dating?
Jenny has been indicating that she is single via tweets since 2017. On 11 May 2017, she tweeted a video where she was interviewing a man. She titled the tweet with, 
"Why I am single".
Likewise, on 13 February 2018, her tweet referred her single amid by Valentine's season. She jokingly wrote that Valentine's day was fun as a single because she could wear a scary mask and lit the neighbors' car on fire.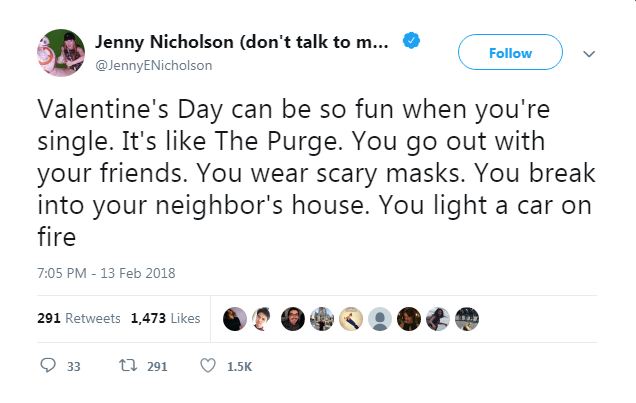 Jenny Nicholson indicated she was single via her tweet on 13 February 2018 (Photo: Jenny Nicholson Twitter)
Additionally, on 6 February 2019, she again hinted her single status with a tweet that said, 
The last 4 times I've gotten Postmates, instead of a single delivery person, it's been a boyfriend and girlfriend making a day of doing deliveries together, which is cute but not the vibe I need when I'm getting restaurant food brought to my house to eat alone.
Details On Jenny's YouTube Channel
Jenny created a YouTube channel on 2 April 2009. Her first video titled Voldemort Isn't Funny was posted on 4 April 2011 and became a major foreshadowing of her future channel contents. 
Inspiring: Dr. Simone Whitmore Bio: From Married Life, Divorce, Father To Net Worth
Later, she started uploading more videos related to commentary, criticism, and discussion of franchises, movies, and TV series after making a video on Stars Wars. She has also reviewed movies like Fantastic Beasts and Where To Find Them (2016), 2016 film Doctor Strange, and 2015 film Fifty Shades of Grey. 
Among all of her videos, her video Suicide Squad Sales Pitch, published on 14 August 2016 was her most-watched video with above 3 million views. 
Facts About Jenny Nicholson 
Jenny's wiki interprets her as a huge Star Wars Fan and she is the part of Star Wars fandom. She was even interviewed by the YouTube series Defunctland in July 2018. She shared her thoughts on Star Wars and other movies as well as TV series. 

She became the 100th most subscribed creator on Patreon on 2 October 2019. 

She is represented by a talent agency called Vidward in Portland, United States.

You May Like: Rebecca Jarvis Age, Husband, Wedding, Baby, Height, Now & More

She has a secondary YouTube channel called Terrible Snakedog. The channel has 2.97K subscribers. 

She owned a show called Millennial Falcon that featured on ScreenJunkies.

Jenny made her web show debut appearance in 2017. She appeared as "Herself" in an episode titled Aladdin vs The Little Mermaid vs The Lion King, the talk show series Screen Junkies Movie Fights. 

She has voiced for the animated TV series My Little Pony.